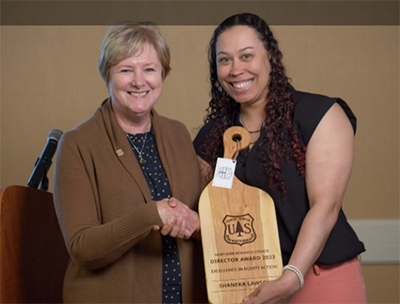 Dr. Shaneka Lawson, a USDA Forest Service Research Plant Physiologist and FNR adjunct assistant professor, has been honored with two awards this fall, from the U.S. Forest Service and the Women of Color STEM Awards respectively.
On Sept. 27, Lawson received the Director's Award for Equity Actions from the USDA Forest Service Northern Research Station (NRS). The award recognizes exemplary leadership and commitment in collaborating with partners, promoting innovation, diversity, equity, and inclusion within Station science programs, and/or with respect to the communication and applications of research findings to benefit communities. The award and Lawson's efforts and research fall under the Forest Service Equity Action plan, which states that delivering the Forest Service's mission in a purposefully equitable manner requires changing traditional perspectives, processes, actions, and performance measures to ensure the full suite of benefits, outcomes, and opportunities to participate are made available to all, especially in rural and urban places that have been marginalized or overlooked.
Lawson has initiated efforts in each of the Forest Service's Five Strategic Focus Areas (SFAs) to identify research targets for further investigation. Specifically, she is currently meeting SFA #1 (Ecosystem Resilience) by working on a soils project with all minority investigators to evaluate soil microbial populations in forests. SFA #2 (Watershed Stewardship) is being met through a collaboration with the Pokegon band of Potawatami that investigates a fungal disease infecting wild rice populations growing at swales within Indiana Dunes National Park. To meet SFA #3 (Enhancing Nature), Dr. Lawson has designed interactive games such as bingo, Jeopardy, and ring toss featuring forest facts for use during outreach activities with underrepresented youth. SFA #4 (Innovation and Access) and SFA #5 (Increased Scientific Capacity) are met with each project pursued or currently being developed by Lawson.
Northern Research Station Director Dr. Cindi West presented Lawson with the Director's Award at the annual Northern Research Station Director's Award ceremony in Madison, Wisconsin.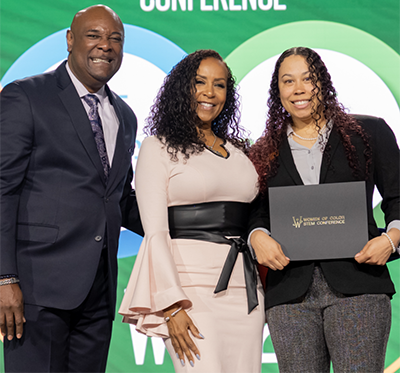 On Oct. 14, Lawson was honored with the Community Service Award at the Women of Color STEM Conference in Detroit, Michigan. Lawson was chosen from more than 150 candidates nationally across business, industry and academia. Candidates are evaluated in a panel review process based on the scope of the nominee's responsibilities, the effect of her achievements within the company or facility, breadth of community outreach activities, and effect on other minorities seeking science and technology careers. Lawson's nomination packet included letters of recommendation and support from USDA executives and directors of minority programs within academia and the community.
Over the last nine months, Lawson has partnered with and contributed to projects with a host of external groups within minority communities. These groups include: Keep Indianapolis Beautiful, Aspire House, the American Legion, Alpha Kappa Alpha Sorority Inc., Indy Parks & Recreation, RecycleForce and Earth Day Indiana. She has also been a valued partner to Purdue campus groups such as the Diversity Action Team for the College of Agriculture and the Office of Multicultural Programs. In fact, the majority of Lawson's projects involve external partnerships. These collaborations have primarily focused on objectives from the Forest Service's strategic focus areas of Innovation and Access and Increased Scientific Capacity.
The Women of Color STEM Awards are sponsored by CCG magazine with support from several companies (Abbott, The Boeing Company, Raytheon Technologies, etc.) and the U.S. military (U.S. Army, U.S. Navy).
Lawson was accompanied to the WOC STEM banquet by Anna Briatico, Associate Deputy Chief for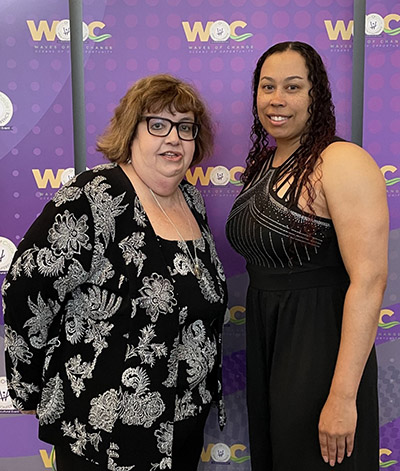 Research and Development from the Washington Office of the U.S. Forest Service.
Lawson, who received her PhD from Purdue in 2011, has been a plant physiologist and Special Emphasis Program Manager with the Forest Service's Northern Research Station based at Purdue since October 2011. Her primary research involves use of RNA-seq and molecular biology for comparative analysis of differentially expressed genes related to abiotic stress in tropical and Central Hardwoods Region forest tree populations. Most recently, Lawson's research focus has been improving establishment practices of pure and mixed hardwood plantations by refining soil suitability indices and investigating the composition of microbiome beneath hardwood forests.
In 2022, Lawson received the U.S. Forest Service Cultural Diversity Award and was named as a REM Presidential Safety Award honoree.
For more about Dr. Lawson's research with the Forest Service as well as her other awards, publications and organizational ties, visit her bio on the Forest Service website.