Not many seniors can say they already have a job lined up prior to the fall semester. But for Medford, Oregon native Jacquelyn Brown, an offer was on the table from Land O'Lakes in August, 2016, following her second internship with the company. Opportunity knocked and Brown answered.
The path to the job offer began during Brown's sophomore year. She was connected to Land O'Lakes through her career advisor. What made the internship a unique opportunity was that it was available at only a few schools, including Purdue.  "If I hadn't attended Purdue," she said, "having the opportunity to apply for the internship wouldn't have even been possible."
After her first internship with Land O'Lakes was a success, she took part in a second with the company following her junior year. Upon completing her final presentation at the end of the second internship, Land O'Lakes made her the full-time job offer to join its two-year rotational supply chain program, upon graduation. In this role, she'll take part in company initiatives in both sourcing and manufacturing.
The timing couldn't have been better. "The offer worked out really well because I spent the fall semester studying abroad in Hong Kong," said Brown. "That's the time when the career fair takes place and most seniors are beginning their job search."
In her new role, Brown will spend the first year in Nashville, Tennessee at a Purina manufacturing plant. During her first two months on the job, the company will cover her expenses as she proceeds through their training program. The second year of the rotation will take her to the company headquarters in Minneapolis, Minnesota.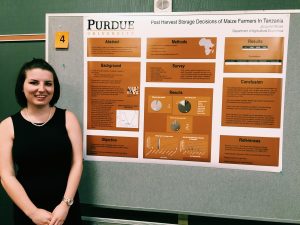 With two years of Land O'Lakes internships under her belt, Brown already knows a lot about the company and the career paths she may pursue.  At the top of the list are sourcing and business optimization. "Through Agricultural Economics, I have built a strong background in quantitative and economic theory," she said. "Though I started at the university with a focus on sales, I've shifted more toward the analytical side. I know not just how to crunch the numbers, but explain them as well."
As Brown prepares for graduation in May, she's thankful for the opportunities the College of Agriculture – and the Agricultural Economics department – has provided her. "Throughout my time on campus, the College of Agriculture consistently provided a good support system for helping me determine my career path and providing information about internships and jobs