What if you could save the planet by eating bugs?
That not only might be a possibility but in some parts of the world, eating insects isn't a novel idea. Some researchers and chefs are working to demystify the concept of edible insects.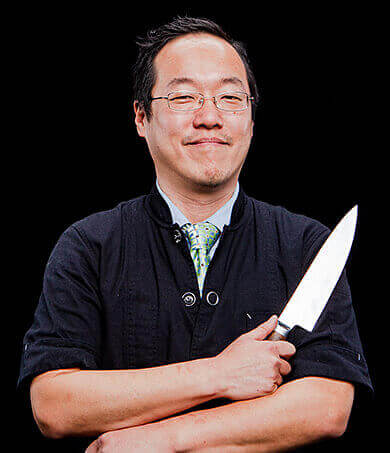 Andrea Liceaga, associate professor of food science and director of the Sensory Evaluation Laboratory at Purdue University who has focused on developing alternative proteins and insect-based products like cricket protein powders, and Joseph Yoon, professional chef and executive director of Brooklyn Bugs, will discuss the benefits of eating and cooking with insects during an Ideas Festival event titled "What IF Eating Insects Saved the Planet?" The event is 5:30-7 p.m. Thursday (April 4) in the Wilmeth Active Learning Center, Room 1132. Jill Ditmire of Indianapolis' WFYI Radio will moderate their discussion.
This Ideas Festival presentation is among many events celebrating Purdue's sesquicentennial celebration, 150 Years of Giant Leaps, which acknowledges the university's global advancements made in a variety of fields. This event aligns with one of the celebration's Giant Leaps themes, Sustainable Economy and Planet.
"I've been eating insects since I was little," Liceaga said. "I'd eat grasshoppers, ants, some worms. It's very common in Mexico where I'm from."
While insects are eaten in many cultures, the practice has not been widely adopted in the U.S.  A 2013 report from the Food and Agriculture Organization of the United Nations shocked scientists and foodies alike by suggesting eating insects offers a sustainable path for agriculture and a means for feeding a ballooning global population. Part of wide-scale adoption of insect proteins involves helping the public overcome phobias about bugs and erasing the stigma that surrounds the consumption of insects, which Liceaga and Yoon will discuss at this event.
Yoon founded Brooklyn Bugs to introduce edible insects to the American public and normalize the consumption of insects. He crafts delicious, insect-based dishes, which he serves at events across the country. Like Liceaga, Yoon believes wide-scale adoption of edible insects and insect-based proteins is one of many viable methods for combating climate change and growing food insecurity.
"What we're aiming for is wide-scale adoption," Yoon said. "I want people buying insect-based foods for dinner, not just a one-time snack. We want people to say 'that cricket macaroni and cheese was delicious.' You don't have to eat only bugs. You don't have to eat bugs every day but if people swapped in insects one day a week it would have a huge environmental impact."
"I'm a chef," he continued, "I have to be behind the food I serve. First and foremost, I try to create food that will be delicious. It will also happen to have bugs in it."
Samples of his dishes will be available at the April 4 lecture and will feature a number of edible insects including grasshoppers and black ants. Yoon will also cook for Spring Fest attendees on April 6-7 at Purdue. The Spring Fest menu includes mealworms, silkworms, scorpions and other edible insects and will be available in the Nelson Hall of Food Science.