Each year the Purdue Academic Advising Association (PACADA) recognizes two individuals who demonstrate outstanding academic advising practices and qualities. This year, for the first time since the award's inception in 1988, both recipients are from the same college and the same department—the College of Agriculture's Department of Agricultural Economics. 
Andrew "Andy" Oppy received the 2021 PACADA award for Outstanding Advisor and Jodie "Jo" Thomas for Outstanding New Professional. Their awards were announced at the Feb. 11 PACADA annual business meeting, and they received their awards on Feb. 24 during a drive-thru celebration by Ross-Ade Stadium.
"Our advisors are the 'face of the department,' and we are extraordinarily fortunate to have Andy and Jo positively impacting the lives of agricultural economics students," said Jayson Lusk, distinguished professor and department head of agricultural economics.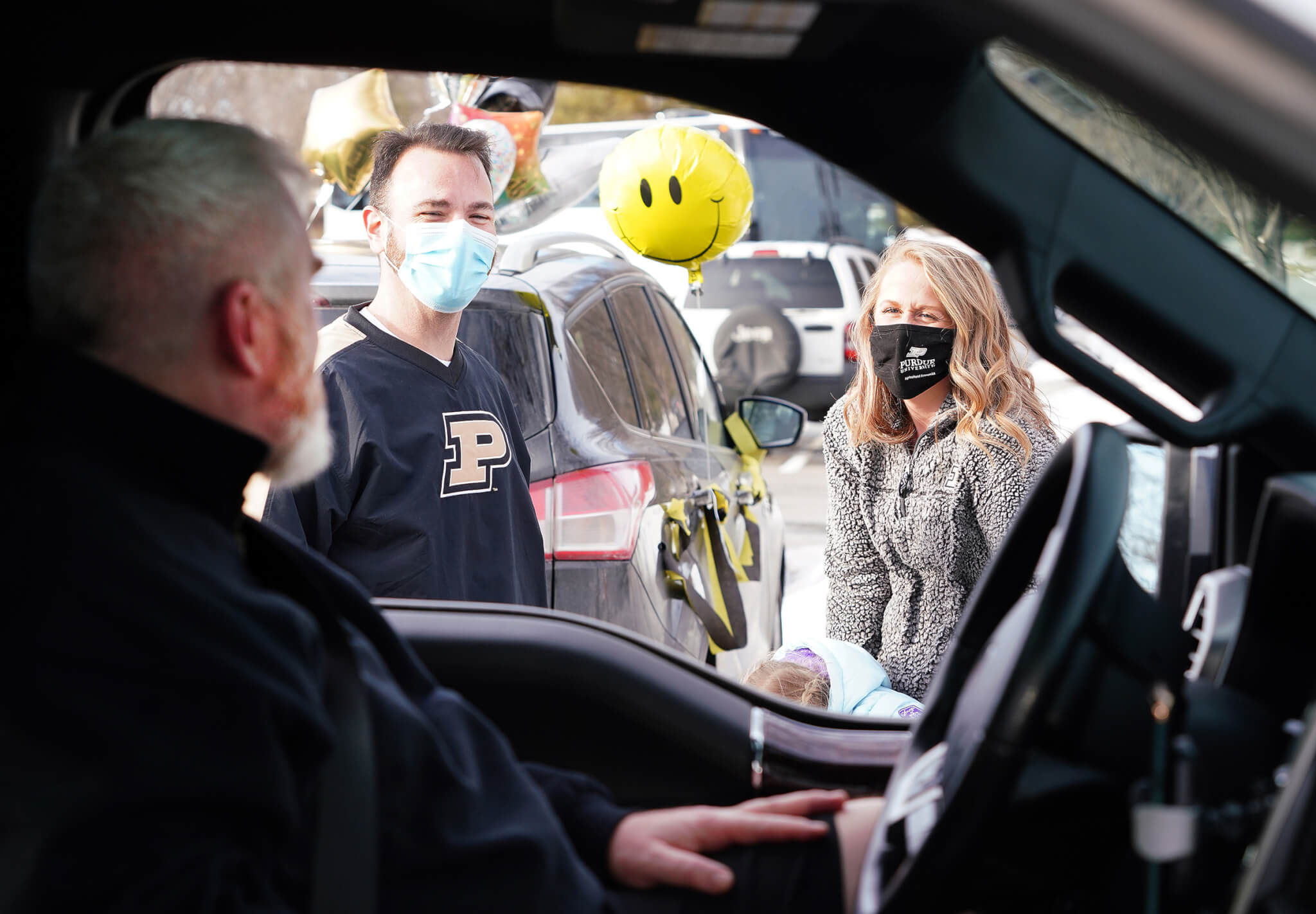 Oppy's longstanding commitment to understanding and advancing the personal and academic goals of his students is a flagship of his advising style. Advisees cite Oppy's openness, trustworthiness and genuine interest in their lives as qualities that make him an exceptional academic advisor.
"Andy's energy, dedication, and enthusiasm have brought tremendous value to our students, faculty, administrators, clubs and employers. Simply said, he is an outstanding man," said LeeAnn Williams, director of advising and student services for agricultural economics.
Thomas' ability to adapt to the ever-changing needs of her students makes her a valuable and reliable resource for her advisees. Students say working with Thomas makes them feel empowered as she treats them like young professionals and coworkers. "She's been so much more than an advisor to me,"
Agricultural Economics and Political Science Major Halee Fisher commented.
In addition to receiving recognition plaques, Oppy's and Thomas's names will be engraved on a plaque of past PACADA award recipients that resides in Schleman Hall. 
"As advisors, we are passionate about helping students succeed. The pandemic has certainly presented new challenges for all of us, but Purdue advisors going above and beyond to help and care for our students is nothing new. Advisors don't need awards to realize the positive impact we can have on students' lives, but it is certainly very special to receive this type of recognition for doing something that we love," said Jacqueline Boudreaux, senior academic advisor, animal sciences, and co-chair of the PACADA Awards Committee.