"T
here were constant concerns about droughts," said Val Zayden Schull, referencing their childhood in California's agriculturally-rich San Joaquin Valley. "My father is a farmworker, and they're the ones who will be severely impacted by climate change. If farmworkers can't work, they can't provide for their families."
A first-generation college student, Schull double-majored in biological engineering and natural resources at Cornell University, where a professor encouraged them to follow their research interests to Purdue.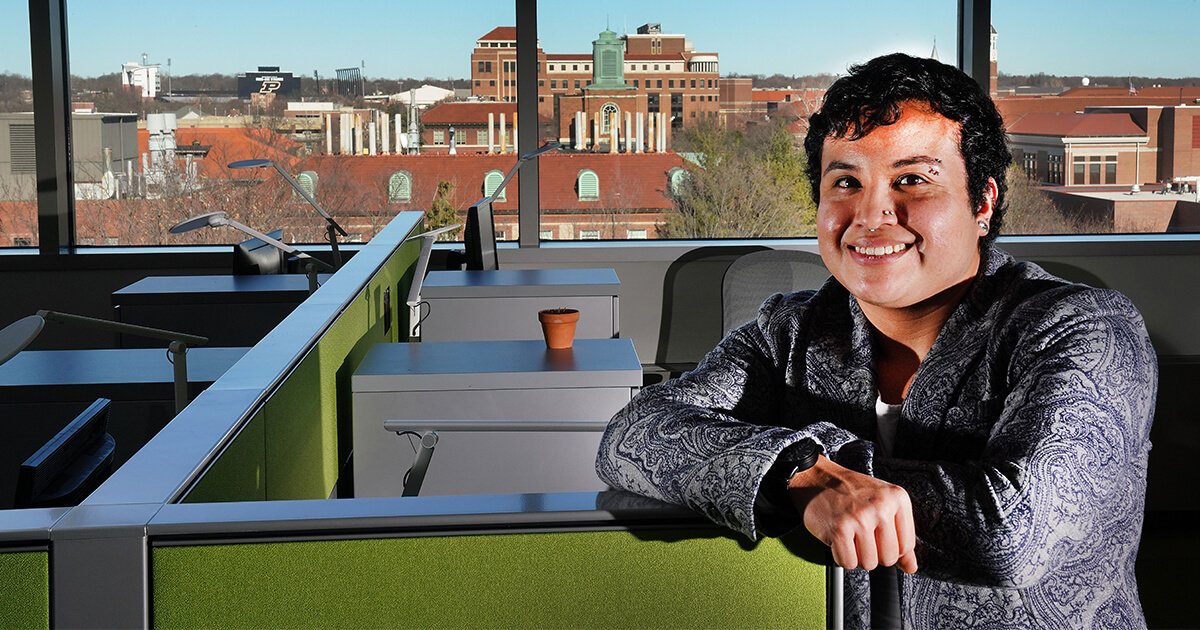 Schull earned a master's degree in agricultural and biological engineering at Purdue in 2017 before staying on for doctoral study with Margaret W. Gitau, associate professor of agricultural and biological engineering. Gitau "has been extremely supportive through both my master's and my Ph.D.," said Schull. "I've been pushed to make sure I am thinking outside the box and creatively, and to be a better problem solver."
Schull is a programmer and hydrologist whose research focuses on water resource management using a food-energy-water nexus framework. "It's apparent that people are becoming more concerned about the impacts of climate change – and one of those concerns is water quality and accessibility." Having seen the agricultural consequences of water shortages in their youth, Schull knows the necessity of this research.
Schull's work is piloted in the Mason Ditch Watershed in northeast Indiana. It primarily consists of the agricultural production of corn and soybeans to assess how crop production impacts water quality and quantity. The research also examines the watershed on a finer scale, using data to project the impacts of climate change and greenhouse gases at the end of the 21st century. 
"When we're talking about decision making and resource management, it's important to bring together experts and stakeholders – researchers, farmers, environmentalists, producers of chemical inputs and consumers," said Schull. "We need to provide information everyone can understand."
Schull hopes their research will influence policy and governance to promote environmental justice. 
Schull was a member of the Sustainable Food Energy Water Systems National Science Foundation Research Traineeship program from 2018 to 2020. Schull was also president of the Latinx Graduate Student Organization. They are now the Diversity Officer on the Executive Board of the Purdue Graduate Student Government and a 2020 LATinE: Latinx Trailblazer in Engineering Fellow. Schull said these interactions with people and ideas "provide new narratives that come forward to spark great research ideas and proposals."
Schull's goal is to join a university faculty to continue research while empowering students from marginalized communities who have an interest in water quality modeling and sustainable farming research.