Take a walk around the track at the Indiana State Fair, and you'll get a whiff of deep-fried nostalgia on a stick. From smore's funnel cakes to deep fried corn, there's something for everyone on this year's Taste of the Fair list, which offers imaginative recreations of classic fair foods. 
This summer, Food Science students in the Food Entrepreneurship and Manufacturing Institute used common household ingredients and tools to bring the Taste of the Fair to your kitchen.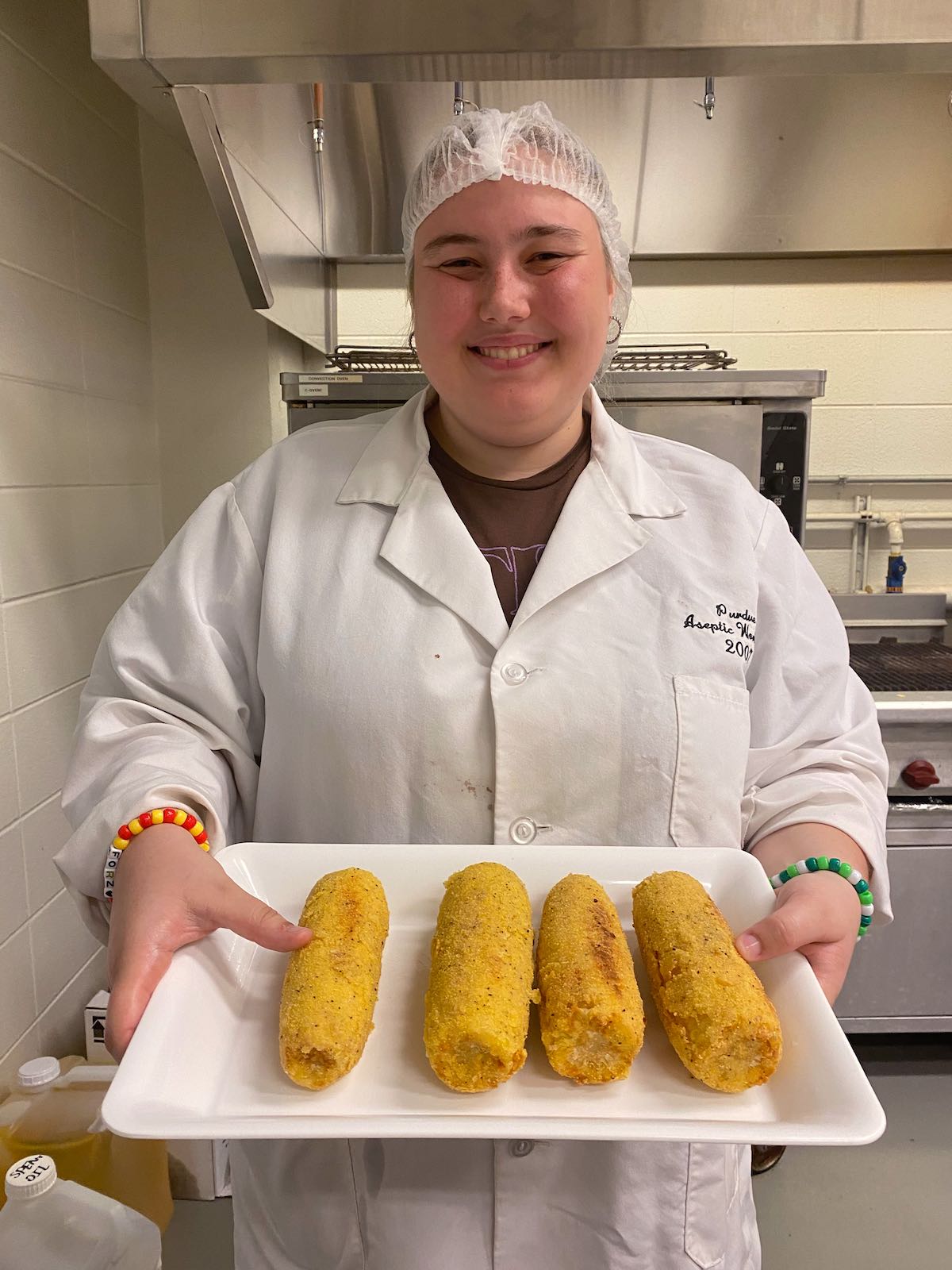 Deep Fried Corn
This year's Taste of the Fair featured a deep-fried twist on a classic Hoosier summer staple: sweet corn, topped with mayonnaise, parmesan and hot sauce. Savory, slightly sweet and reminiscent of a hushpuppy, Food Science students' DIY take on these fried ears are double-breaded in a cornmeal mix for extra crisp.
1. Place 4 ears of corn in a gallon size Ziploc bag and combine with 1 cup of buttermilk.
2. Allow the corn and buttermilk to sit in a dish to avoid leaks. Let the corn rest approximately 15 minutes on each side.
3. Whisk together ½ cup yellow cornmeal, ½ cup all-purpose flour, 1 teaspoon of onion powder, ½ teaspoon of salt and ½ teaspoon of black pepper in a medium bowl. Pour the dry mixture into an 8x8 baking dish.
4. In a large skillet, pour enough vegetable oil to cover ¼ of the pan. Heat the oil on medium-high heat until it reaches 350F, or until small bubbles form around a dry wooden spoon when placed in it. 
5. Remove the soaked corn from the bag and roll in the dry mixture to completely coat it.
6. Using tongs, place the corn in the oil and allow each side to cook for 2 ½-3 ½ minutes until golden brown, adjusting the heat if oil gets too hot. Let the corn rest on a paper towel to drain excess oil.
7. Dip the fried corn in the buttermilk mixture and repeat steps 5-6 for a double breading that sticks to
the corn.
We get it—deep frying at home can be messy, and some prefer a healthier option. Air fryers provide a healthier alternative without the risk of being splashed by hot oil. Convection ovens can also be used by coating the corn with cooking spray. While it won't provide the same level of crispiness, this method may be easier in a home setting.

- From the Test Kitchen
Nutellaphant Ear
Smothered in Nutella, topped with fruit and sprinkled with cinnamon and powdered sugar, the Taste of the Fair's "Nutellaphant" ear is worth the mess. Food Science students tested three different recreations of fried dough: puff pastry, pizza and biscuit dough. The winner? Puff pastry, which had a golden, crispy outside and soft, chewy inside just like the fair favorite.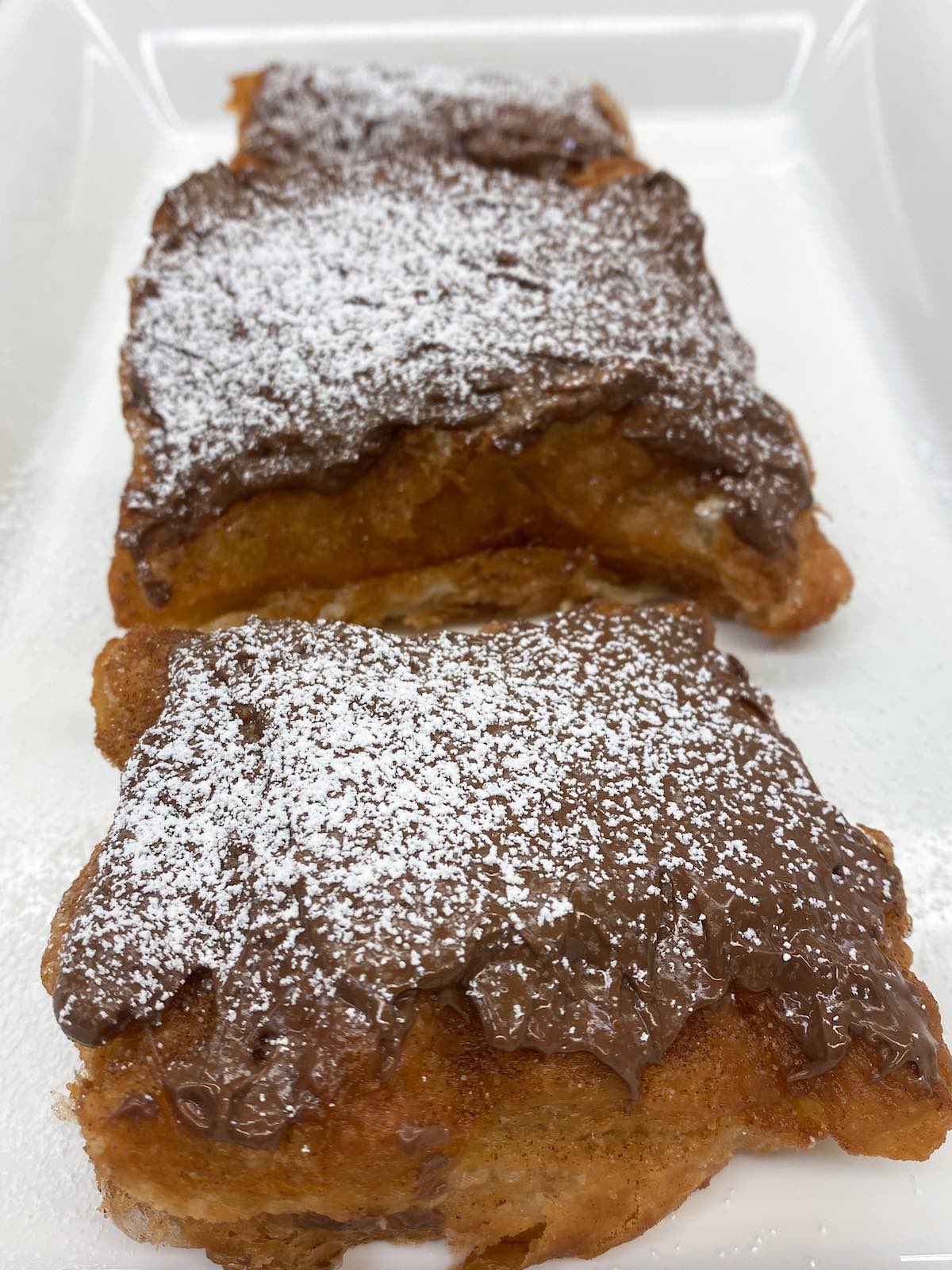 Mix 6 tablespoons of white sugar and 3 tablespoons of cinnamon in a medium bowl.

 

Heat vegetable oil in a large pan to 350F.

 

Cut the puff pastry into 3x3 squares and roll into thin sheets.

 

Place the sheets in the oil and fry on each side for 1-2 minutes or until golden brown, flipping carefully using tongs.

 

Remove the pastry from the pan and place on paper towels to drain the excess oil.

 

Dip the elephant ear into the cinnamon sugar mixture, coating each side.

 

Spread with Nutella and top with desired fruits. Dust with powdered sugar for a delicious finish.
The verdict is out. Among the three fried doughs tested, puff pastry stands out as our ultimate recommendation. Its distinct texture features a crispy and flaky outer layer, while the inner layer remains delicate. The delightful combination of flaky layers and a light, crispy texture gives deep-fried puff pastry a melt-in-your-mouth quality.

- From the Test Kitchen
Smore's Funnel Cake
Nothing says summer like s'mores around a campfire, making this Taste of the Fair spin on a classic funnel cake the ultimate summer dessert. Food science students drizzled their homemade cake with marshmallow spread and chocolate syrup and garnished with crushed graham cracker crumbs. Their secret ingredient? Pancake batter, which when piped through a bag into the hot oil, creates a crispy, spiraled effect.
1. Heat oil to 350F in a large pan.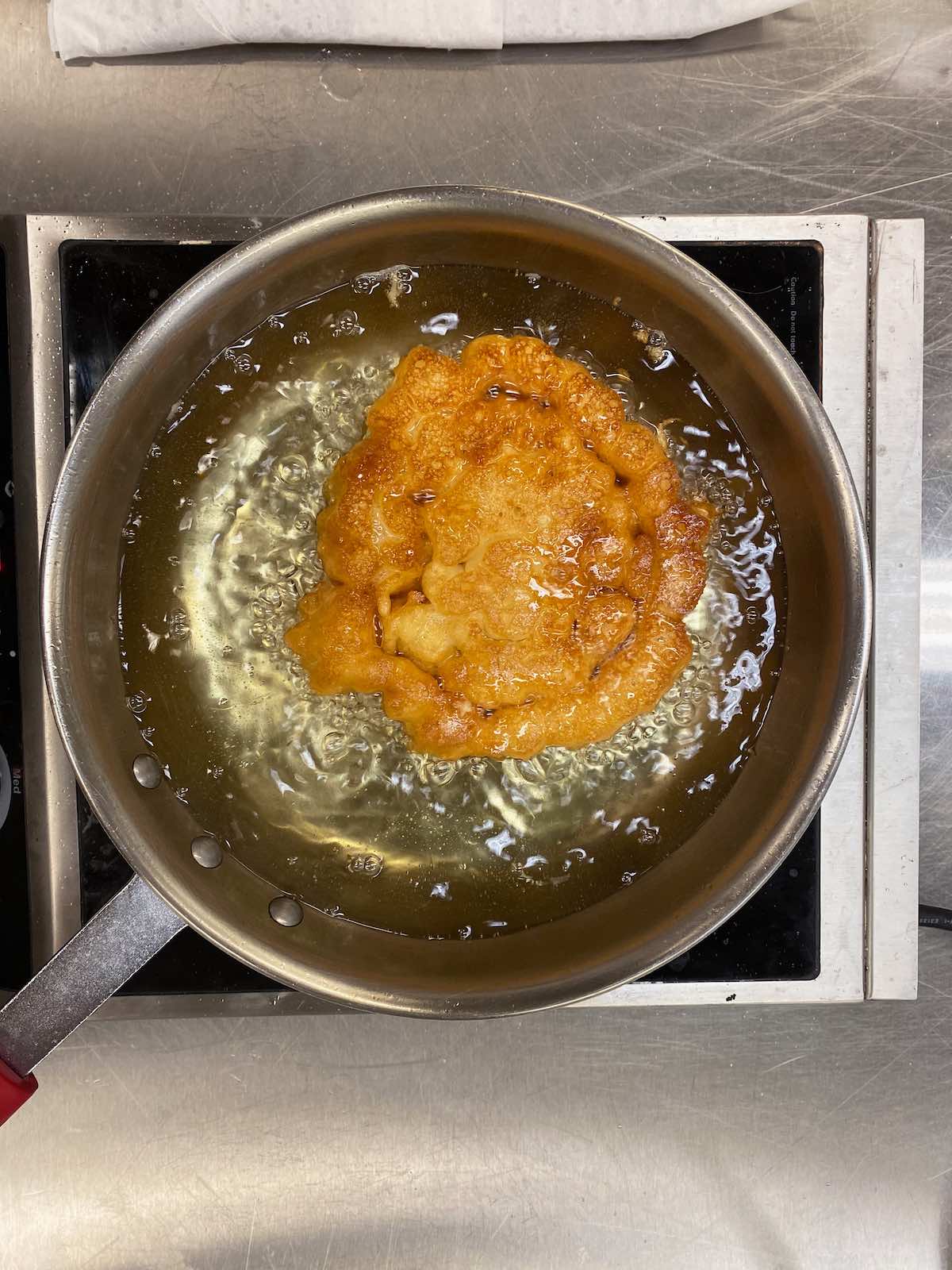 2. Whisk 2 cups of pancake batter with 1 cup of milk, 2 tablespoons of vegetable oil and 2 eggs until smooth.
3. Add the pancake mixture to a Ziplock bag and cut off one of the bottom corners to make a piping bag.
4. Drizzle the batter into the heated oil in a swirling motion, overlapping on itself.
5. Fry until both sides are golden, flipping carefully with tongs.
6. Remove from heat and place on paper towels to remove the excess oil.
7. Lather the funnel cake in marshmallow spread and drizzle with chocolate syrup. Garnish with graham cracker crumble.
Funnel cake needs more gluten development than a typical pancake mix to form its distinct texture. This can be achieved by overbeating your pancake batter and adding less water. The batter also tends to take on the shape of the pan, so keep this in mind when choosing a pan size. Smaller pans yield smaller cakes and vice versa.

- From the Test Kitchen
Cotton Candy
A basic fair food—but it doesn't have to be. Cotton candy can take on a plethora of interesting flavors by infusing the sugar it's made from. Food science students infused sugar with lavender picked from the Jules Janick horticulture garden and used an at-home cotton candy machine to spin an aromatic treat.
1. A few days before making the cotton candy, infuse a jar of granulated sugar with a dry ingredient of your choice.
2. Turn on your at-home cotton candy maker and pour the infused sugar into the center well.
3. As the sugar heats up, it melts and sucrose is broken down. The melted sugar sprays through the tiny holes in the center well, which are observed as the whisps of cotton candy beginning to form.
4. Using a stick or funnel, gently swirl the whisps of sugar around the stick, allowing the cotton candy to build up over time.
We used lavender to infuse our sugar, but you can try anything! Think outside the box with spicy cotton candy infused with dried hot peppers, lemon cotton candy infused with dried lemons and more. The only requirement is to use a dry ingredient that will not add moisture to the sugar. Additional moisture can cause sugar to burn in the cotton candy machine.

- From the Test Kitchen