From Purdue to Gripp to the family farm
With a population of 810 residents, Sheffield, Illinois seems like many other small Midwest farming towns, and on the surface, it is. With expansive fields of corn and soybeans, farmers on tractors that wave at passersby and narrow, unstriped, two-lane roads, the town might not appear like a center for farming innovation. But, as 10 Purdue interns have discovered this summer, Sheffield is the home of Gripp Custom Farming, which is working to revolutionize agriculture through integrating drone technology into farming. 
Gripp Custom Farming Corp is owned by Chad Gripp and his wife TeNeille Gripp. Their son Chase Gripp, who is a Purdue Agricultural and Biological Engineering (ABE) 2021 alumnus, recruited his fellow ABE alumnus, David Taylor, when drones were brought up in conversation. Taylor now works at Gripp and has helped to develop and grow Gripp's internship program.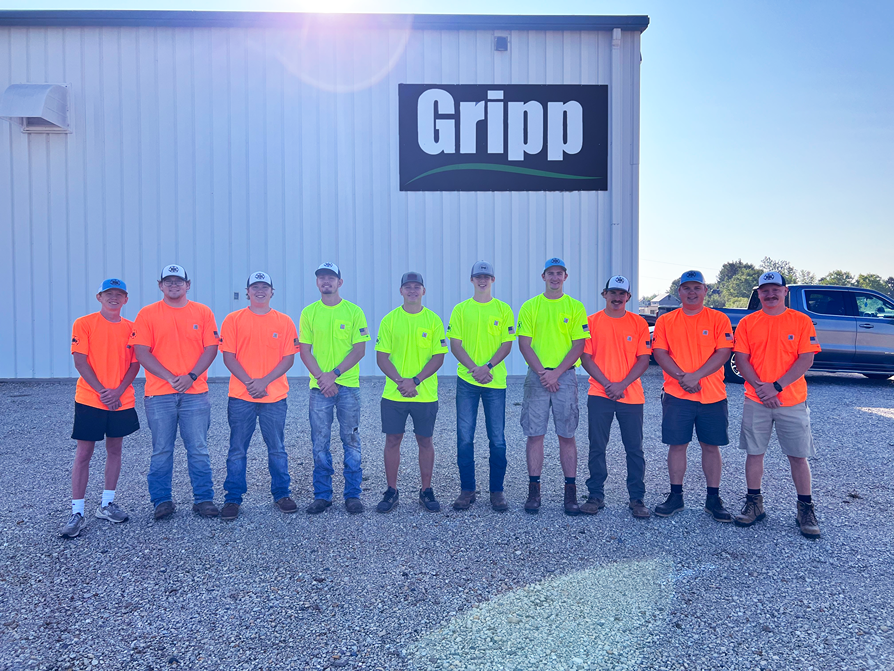 Taylor returns to Purdue to recruit students, which is how many Gripp interns learn about the program. ABE students Alex Hokey, Ryan Liebermann and Tyler Ziehm decided to apply to Gripp's internship program after hearing about the opportunity at a Farmhouse fraternity information session. 
This summer, the three students worked on a team to operate drones for Gripp. Hokey, who is interning with Gripp for a second year, serves as the drone operation teams manager while Liebermann and Ziehm are drone operation interns. Although the interns may have different titles, the work they do is similar. 
Hokey explained, "I would describe my position as team manager because I'm in my second year where most of the guys I'm working with are in their first year. I wouldn't say I'm in charge of other interns, per se. More so, I'm just making sure that everything goes correctly, and they're understanding how everything works." 
Usually, the interns' day starts between 6 and 8 a.m., depending on how much work needs to be done. After everyone arrives at Gripp's main offices, the interns split off into teams of two or four. All the teams will then drive their assigned truck and trailer (that can hold two drones) or truck without trailer (that can hold one drone) to the fueling station. 
At the fueling station, large plastic tanks are loaded with specialized mixes of different Gripp products. The products can range from fungicides to plant growth regulators (PGRs) to micronutrients to biologicals (chemicals safe for people and animals).The type of products used depends on a farmer's needs. 
"The  most interesting thing I've learned is the amount of chemicals that go into agriculture," Liebermann said. "I think a lot of people just see chemicals as a basic topic, but the mixtures that you can combine to improve the crop health is something that's been really interesting to me and a lot of the other guys." 
With the trailer filled with the necessary mixture, the team can head out to their first field of the day. Once at the field, the interns unload two large drones, about four feet by three feet wide and two feet tall, from the trailer. Two interns will put batteries in the drone and fill them with mixture while the other two interns set up the drone maps and controls. Then, it's time to watch the drones take off and fly along the pre-determined routes to spray the fields.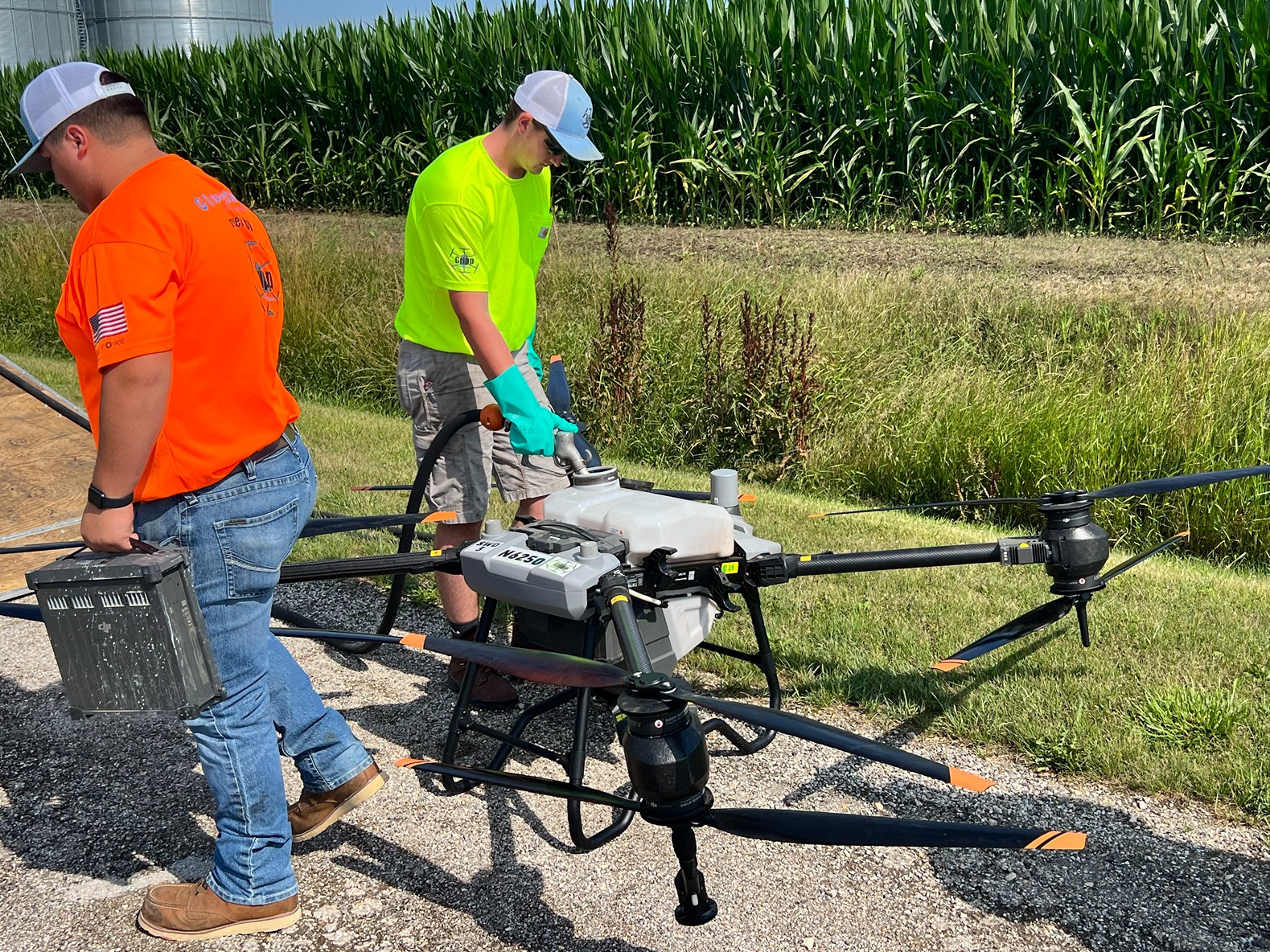 The rate at which the drones spray, the paths they take and how much mixture is required for each pass are all calculated by specialized technology, like the Flight Plan application. These high-tech methods allow for precise chemical application and easy monitoring of where and how much chemical was applied. 
The interns will continue supervising, recharging and refilling the drones until all that day's fields are done. Ziehm explained, "We'll be done around six to eight o'clock at night before the sun goes down. We'll bring the trailers back to the shop, clean the drones out and prepare for the next day, whether that be finishing charging batteries up or washing drones off." 
Working in small farming towns in Illinois, the students have a lot of contact with local farmers. Sometimes the farmers are the owners of the fields the students are working on while others are just passing through and are intrigued by the large drones. 
Usually, fields are sprayed with ground rigs (which can only be used when the ground is dry), airplanes or helicopters (which are loud and can be disruptive), so the use of quiet yet efficient drones is exciting for many farmers. For example, Illinois farmer Rich Birkey enjoys watching the drone process and learning about it from the interns because it has made his farming process more efficient. 
Liebermann explained, "We have a lot of people that pass by, and they stop and watch because it's not something you see every day." 
Most of the time, people are just interested in seeing the drones work, but sometimes, people are also interested in trying out Gripp as an alternative to other crop spray methods. In this case, the students help the farmers understand Gripp's services and products. 
Ziehm said,
"The drones catch a lot of attention to the public eye, so we as the interns not only need to know what we're applying, but we also need to be able to tell the farmers and the general public, 'Hey, this is what we're aiming to do with the spray and the batch mixes.'" 
With their new knowledge of drones and chemicals, all three interns have become interested in the uses of drones in farming, and they plan to continue in the field after they graduate in Spring 2025. 
Hokey plans on opening a drone operations business out of his hometown of Cambridge City, Indiana. He said, "I will be doing pretty much what I'm doing here but just back at home, hopefully working alongside Gripp to help spread their name." 
Liebermann wants to work in agriculture sales or technology. "It could be the chemical side of sales, it could be doing stuff with drones, or it could be both," Liebermann said. 
Ziehm wants to take drone farming technology back to New York, his home state. Ziehm said, "I'm hoping to potentially expand my family farm and maybe bring the drones back, as I see they could be a potential option." 
All three students highly recommended the Gripp internship to other students. Liebermann said,
"If anyone's interested in drones at all or drone application or chemicals, you need to take advantage of this opportunity."