Russell E. Mumford, the first student to be awarded a PhD in wildlife at Purdue (1961), passed away on
January 26, 2022, at the age of 99. A three-time FNR alumnus, also earning his bachelor's in 1948 and master's in 1952, Mumford served as a department faculty member for many years, beginning as an instructor in 1958 after working on a doctorate in ornithology at the University of Michigan for three years.
Before beginning his teaching career at Purdue, Mumford worked for the Indiana Department of Natural Resources as a research biologist from 1948-1950, conducting research on waterfowl and prairie chickens. He then worked for the Florida Audubon Society from 1950-51, a position which saw him travel to four local high schools and teach a science course. After earning his master's degree in wildlife, Mumford returned to the Indiana DNR, working with ruffed grouse and prairie chickens from 1952-55.
Mumford's work often took him abroad. The 1984 Log book details Mumford's experiences as such:
"Dr. Mumford has had the grand opportunity to do quite a great deal of traveling through his connections with Purdue and the Smithsonian. In 1963, he went to Kenya, Africa to collect bats for the Smithsonian. He again travelled to Kenya in 1967 and 1975 to conduct research and attend the International Bat meetings. In 1967 he also became a guest teacher for six months at the University of Pretoria in South Africa. He taught Wildlife Ecology and Wildlife Techniques. He has traveled to Brazil on four separate excursions in 1966, 1971, 1973 and 1975. In 1966, he again conducted bat research for the Smithsonian. In 1971 and 1973 he went to the area referred to as Mato Grossa [sic] with a team to pick the future site for the Pantanal National Park, which is an area quite similar to the Everglades and about the size of Indiana. When I asked him about his most interesting encounter with wild animals while he was camping abroad, he remembers a couple of different times in Kenya when the camp was asleep and a group of lions came to investigate, and another time when a herd of zebras passed through."
In 1982, Mumford published his first book, Mammals of Indiana, co-written with John O. Whitaker, Jr. The
book offers a historical view of the mammals of Indiana from field research done from 1947 to 1982.
Mumford published The Birds of Indiana with Charles Keller in 1984, a book which contains historical information, habitat, characteristics and behavior as well as information on migration and population distribution of nearly 400 birds commonly found in Indiana.
Mumford received the Chase S. Osborn Award in Wildlife Conservation in 1982. The award is presented by FNR to an individual who, by writing, research, teaching or other personal accomplishments has made significant contributions to wildlife conservation in the state of Indiana.
"Russ was a true scholar, gentleman, colleague, and pioneer in wildlife in FNR," former FNR colleague Bill Hoover said. "Russ was fairly tall and his presence in a room was felt. He had an infectious smile that was what you always expected to see. You knew when he was being serious about something when he wasn't smiling."
Professor emeritus Phillip Pope also had fond memories of Mumford as a colleague.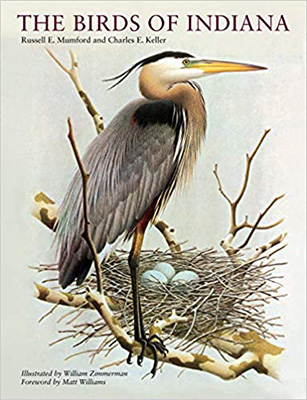 "I first met Russ in 1977 when I joined the faculty in FNR as an assistant professor," Pope said. "Right off, he was friendly and let me know he was there for me. A kind and thoughtful thing for him to say and mean it. I'll never forget it. While I never interacted with him in a professional way, I respected him for his work and his contributions to the Department. He was a true gentleman and a scholar. He was a wonderful man."
Professor emeritus Harmon "Mickey" Weeks explored Indiana with Mumford as part of a friendship that began more than 50 years ago.
"Russ was my initial guide to Indiana, accepting me as a friend and colleague when I first showed up as a student in 1969," Weeks said. "His interests and mine meshed nicely and he knew the state intimately. He included me in his field research activities to the degree possible in both of our schedules. I learned the state well from our trips together, including everything from wading questionable marshes in Gary to climbing the bluffs along the Ohio River. All along the way, I learned the best local restaurants in each little burg, where we would share at least a piece of pie and a cup of coffee. This bond continued throughout his life, for which I am eternally grateful."
Mumford's legacy also lives on in his many students who have continued work in the fields of wildlife and natural resources.
He was instrumental in making a path for the first female FNR student to earn a master's degree, B.J. Meadows in 1964.
"I was passionate about getting my degree and then my advisor said this class is required but you can't enroll, because you are a female and it requires an overnight workshop and they don't allow women to do that," Meadows said in a recent account of her life. "I was so frustrated, but fortunately Professor Mumford came to my support and made it possible for me to take that class and then I was able to get my degree.
"As a woman, I wasn't taken all that seriously, because women just didn't do that (forestry) and women weren't being hired in that area. At first, I felt kind of like I was out on my own, but I felt like I was able to be a trailblazer with the support of Mumford. There were others that supported me but he stands out as my most active advocate."
Many current FNR faculty and staff members were once students under Dr. Mumford at Purdue.
"Russ taught mammalogy and ornithology when I was an undergrad at Purdue," professor Rob Swihart (BS 1979) said. "Fortunate for me, since he literally wrote the books on mammals and birds of Indiana. As an instructor, Russ was notable for drawing lecture material from his immense personal collection of slides of birds and mammals. Years later, upon moving into my faculty office in FORS, I found a black and white photo of a shrew-mouse "interaction" tucked away in the desk I'd inherited. It was unique, and I hung on to it. Later that semester, emeritus Russ dropped by my office, and commented that he had taken the photo years earlier. He graciously allowed me to keep it. The photo still adorns my office wall as a reminder of Russ and the legacy provided by those who came before us in FNR."
Purdue Extension forester Lenny Farlee (BS 1985, MS 1991) recalled Mumford's teaching style and an impactful class project.
"Dr. Mumford's broad personal experiences made classes enriching and enjoyable, and his dedication to student learning and experience has left a huge legacy of natural resource professionals he helped to educate and encourage – I was one of those," Farlee said. "I was a student in Dr. Mumford's mammalogy class. One of our class lab projects was to make a museum-mount collection of several native Indiana mammals due at the end of the semester. We were provided with instructions on how to collect and prepare the skins for our collections. I started running a trap line for rodents, did some small-game hunting, and drove rural roads looking for fresh road-kill to complete my collection. My non-FNR friends were sometimes shocked but mostly amused by my weekend activities. When the end of the semester approached, my classmates and I were bringing our collections in and depositing them in the lab. About a week later, Dr. Mumford complimented us on the collections, but noted that one particularly large opossum mount, that had not been prepared well, was raising an incredible stench in the lab and needed to be removed immediately. I was glad it wasn't mine!"
According to the Log article, Mumford enjoyed doing pen and ink drawing, carving duck decoys, fishing,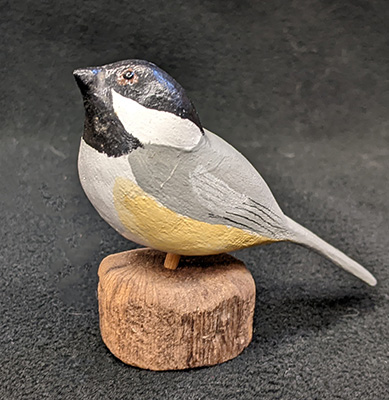 hunting and attending auctions for antique fishing lures.
Dr. Barny Dunning, shared a photo of a chickadee carving that was gifted to him by Mumford, and also noted that Mumford had an interest in photography, especially of butterflies and dragonflies.
"After he retired he still gave presentations to local groups such as the Audubon Society," Dunning recalled. "His talks were often sprinkled with jokes and puns which he would deliver with a deadpan tone, then pause to see if anyone caught them. He had a great sense of humor."
In addition to the Audubon Society, Mumford also was involved with the Indiana Chapter of The Wildlife Society.
Russell Mumford (May 26, 1922 - Jan. 26, 2022)
Mumford is survived by his wife, Vivian (nee Tate), whom he married in 1947; his sister Carolyn Jane Depratt of Danville, Illinois; and his children, James Lee Mumford (Newburgh, Indiana), Jean Lynne Lesley (Lafayette, Indiana) and Russell Eugene Mumford, Jr. (West Lafayette, Indiana). He was preceded in death by his parents, Charles E. Mumford and Cecile Floe (Ratts) Mumford, and his siblings, Winifred June Bliss and Betty Jean Gillsepie.