Students from Purdue Forestry and Natural Resources took their classroom knowledge to the field for summer internships and paid positions across the country, gaining valuable experience, hands-on training and career guidance. The FNR Field Reports series will offer updates from those individuals as summer positions draw to a close.
Senior forestry-forest management major/wildlife science minor Mikaela Agresta pulled double duty this summer, first acting as a teaching assistant at FNR's Summer Practicum, before continuing on to a forestry recreation technician position at Shoshone National Forest.
At Summer Practicum, Agresta worked to facilitate student learning and also acted as the liaison between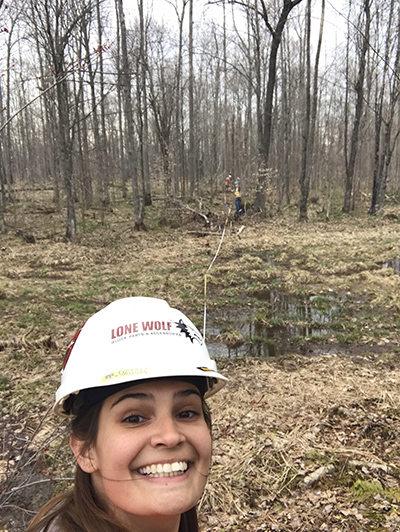 Practicum director Steve Creech and the student body. She also worked with professors to gather materials for daily presentations and assisted them in teaching course material.
In this role, Agresta, who earned FNR's Outstanding Forestry Camper Award in 2021, was able to apply her previous knowledge in FNR topics such as tree identification, problem solving, ecosystem surveying and tree measurements, while also improving her leadership and teaching skills.
"I learned how to communicate effectively with my coworkers, my boss, and the student body," Agresta said. "I also learned how to delegate tasks when in a team, as I can't do everything for everyone all the time. Lastly, I learned that not everyone is going to be your friend, but those are, will help you go far and will be a part of something big, like pulling off a five-week practicum."
While the lessons learned impacted Agresta, she will also carry with her the relationships that she formed in Iron River, Michigan.
"One of my favorite experiences from Summer Practicum was the group I worked with," Agresta explained. "We really tried to support one another with all the tasks we were in charge of as well as picking up the pieces others may not have been able to handle. We were each other's support system through trying times and worked to be a well-oiled machine.
"I also really enjoyed the interactions between myself and the other students, specifically when we broke off into our specific disciplines. I met a lot of really talented individuals who show a lot of promise in the world of forestry. I also kindled some new friendships with them and hope to continue them into this upcoming school year."
The experience was not without its challenges, but Agresta says she has grown from her time at Summer Practicum.
"The most challenging part of Summer Practicum for me was learning how to delegate and be a leader by example," Agresta shared. "I am a hands-on, get-the-job-done kind of person so it was difficult for me at first to take a step back and let someone else take the lead on a job or gathering supplies or working out the kinks."
Agresta's time as a TA at Practicum may have shifted her postgraduation plans.
"This position made me really consider pursuing a master's degree, which I had not previously thought about," Agresta said. "I assumed I would graduate with a bachelor's and go work for the federal government. I really enjoyed the education aspect of this position and talked with Lenny Farlee quite a bit about my career options."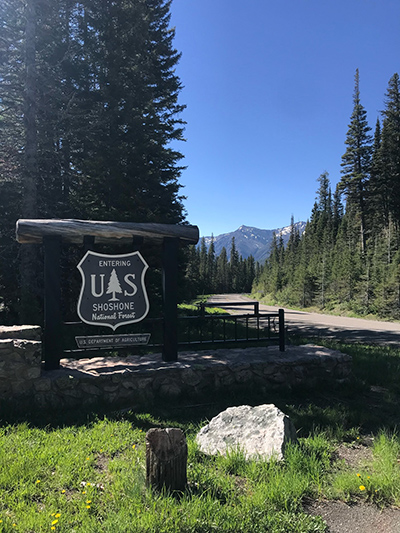 After wrapping up her five-week stay in the Upper Peninsula of Michigan, Agresta made her way to Wyoming for her job as a forestry recreation technician for the U.S. Forest Service at Shoshone National Forest. In that position, she gave interpretive talks to visitors when they had questions about the ecosystem, she provided directions to the public to navigate through the forest and worked with camp hosts to welcome campers and keep the facility clean and sanitary.
"I loved getting to talk with the Camp Hosts each day as well as the visitors," Agresta said. "The camp hosts always had a lot of good life advice that I got to take with me and now use it in the future. They also always have the best stories from their experiences. Talking with visitors was always enjoyable because I could see how excited they were to be visiting such a beautiful place. I loved the forest I worked for and knowing others were sharing that love and wanted to help conserve it brought me great joy."
Having a background in natural resources through her classroom studies in FNR prepared Agresta to provide valuable information to park visitors.
"I have really been able to use my communication and education skills in this position," Agresta shared. "Visitors want to learn, hence the reason why they are visiting, so when they have questions, they ask the person who should know the most, which would be me. Communicating my knowledge of the outdoors and what I have learned from my studies really helped me succeed in my job."
Her position at Shoshone National Forest gave Agresta perspective on working independently and insight into the life of a government employee.
"The most challenging part of working for the USFS was learning how to work individually with little to no guidance, but also being patient for the wheels to turn in the federal government," Agresta stated. "There are a lot of hoops, per say, to jump through in order to get a job done and that was frustrating to me at first because again, I'm a hands-on, get the job done kind of person.
"I learned that our government system has a lot more ins and outs that each person has to follow in order to achieve their goal. Those steps make take a while, but persistence is a good thing. I learned that speaking up and having random conversations with visitors, may bring a new friend or introduce you to someone who could help you in the future. This was my version of networking this summer. Lastly, I learned that keeping a positive attitude when things aren't going your way can make a world of difference when you are having to do a task you dislike. Smiling and being polite will get you a long way."
Her experience working in Wyoming helped the Mooresville, Ind., native re-evaluate her career goals.
"This position made me really question if working for the federal government, which is what I have planned to do since I was 10 years old, was actually the right path for me," Agresta said. "I realized how important education is and have really considered pursuing higher education because of this."
In the face of any challenges, interactions with nature helped Agresta push through.
"I really enjoyed that I was in the mountains all day, every day," Agresta recalled. "On the tough days, I would look out towards the mountains in any direction and would think to myself that this is where I am supposed to be. I would find peace in the views and it would make my rough day a little bit better."