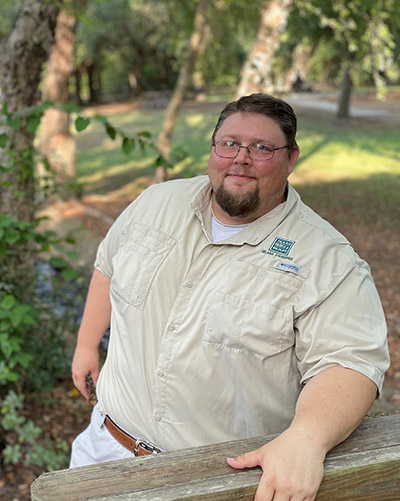 Tom Lang, a 2004 fisheries and aquatic sciences alumnus, was honored by the American Fisheries Society with its 2022 Meritorious Service Award at the AFS annual meeting in Spokane, Washington.
The Meritorious Service Award, first presented in 1986, is awarded annually to an individual AFS member for loyalty, dedication, and meritorious service to the Society over a long period of time and for exceptional commitment to the programs, objectives, and long-term goals of the Society.
Lang is the Inland Fisheries Division Outreach Director and Texas Freshwater Fisheries Center Director for the Texas Parks and Wildlife Department.
"It's truly humbling to be recognized among and by so many foundational people in the fisheries field, people who are more than colleagues, they are friends," Lang said of the award. "As I look back at everything, it's also a little embarrassing frankly. All of the actions mentioned come from a deep love for the fisheries field and a gratitude for the opportunity to serve something truly meaningful. When you put your heart out there and show your love so openly it can be scary, but it is also very touching when people get it and appreciate it. As a person who struggled at times to meet the high academic standards of Purdue University, I hope my career and impact serve as in inspiration to those students who also may be struggling, that if they stay the course, follow their passion, be an active AFS member, and keep moving forward, that they too will find their way, can make a meaningful difference, and have a rewarding career."
Lang's colleagues agree that he has made a different to the aquatic sciences field both professionally and organizationally within AFS.
"In my view, Tom's dedicated and meaningful contribution to the fisheries profession make him a worthy candidate for this prestigious award," said Craig Bonds, Texas Parks and Wildlife Department Inland Fisheries Division Director. "His service and accomplishments specific to his professional employment with the Texas Parks and Wildlife Department and his tenures through a myriad of Society volunteer roles would each, independently, qualify Tom for consideration for this award. But, when these overlapping duties are considered in totality, his impactful accomplishments are truly remarkable and worth of recognition."
In his role as TPWD's Inland Fisheries Division outreach director, Lang is spearheading a $4 million renovation of the TFFC's public-engagement exhibits, including outdoor and indoor aquariums, a dive theater and the Texas Freshwater Fishing Hall of Fame. He also co-chairs the recruitment, retention and reactivation fishing and boating implementation team and is in his second year of partnering with Fishing's Future to implement Vamos A Pescar grants, which are aimed at increasing fishing participation by underrepresented families. He also has provided planning, leadership and direction on statewide outreach programs and events like the Toyota ShareLunker Program and Bassmaster Texas Fest, the Angler Recognition Program and Neighborhood Fishin'.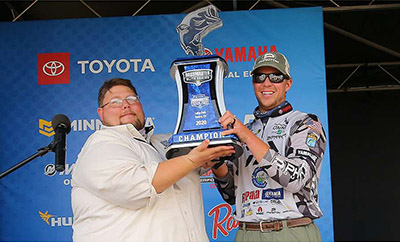 Prior to his promotion to lead the Texas Freshwater Fisheries Center in August 2019, Lang spent five years as a fisheries biologist in Wichita Falls and was the driving force behind the Lake Wichita Committee' and Lake Wichita Revitalization Project (LWRP), which raised more than $5 million in grants and donations. The LWRP was named to the National Fish Habitat Partnership's 2016 Waters to Watch list. The grassroots conservation project utilized science, strategic partnerships and publication education/outreach to restore the ecology, recreational opportunities and economic benefit of Lake Wichita.
Lang was named to the 2015 Times Record News' 20 Under 40 list, was honored as an inaugural "Friend of Reservoirs" by the Reservoir Fish Habitat Partnership in 2016, and was tabbed as the TPWD's Employee Recognition Award winner for Conservation in 2018.
After completing his master's degree in fisheries and aquatic sciences at the University of Arkansas at Pine Bluff, Lang took a job as the statewide fisheries programs specialist with the Kansas Department of Parks, Wildlife and Tourism in 2007. He served in that position for five years and led many of the department's urban fishing program efforts, including the Community Fisheries Assistance Program (CFAP) leasing and grant programs, the Fishing Impoundments and Stream Habitats (FISH) program, the Fish Kansas Aquatic Education program, Angler's Legacy and the Fish Kansas Mobile Aquarium program.
In October 2012, Lang was hired as the Wichita Falls District fisheries management supervisor with the Texas Parks and Wildlife Department. In that position, he managed the fisheries resources of the district, conducted and directed sampling methods and research efforts, developed more than 100 public and professional presentations and served as advisor for four Friends of Reservoirs chapters. He also led the Lake Wichita Revitalization Project, partnering with city, state, business, media and non-profit entities for watershed, wetland and in reservoir habitat enhancements to restore viable fish and wildlife resources and provide numerous benefits to hunters, anglers and other citizens.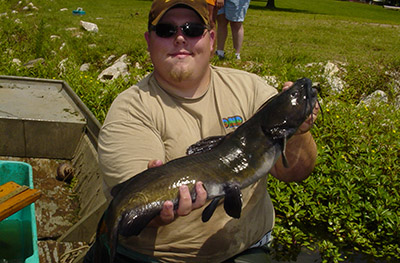 Lang got his start in fisheries management working for the Indiana Department of Natural Resources during his time as a collegian at Purdue from 2000 to 2004, acting as a naturalist aid in fisheries management for three seasons and small game research for one season, and as a laborer with the District 9 wildlife biologist for one year.
Lang raised the funds, co-edited and co-authored chapters in the AFS textbook "Urban and Community Fisheries Programs: Development, Management and Evaluation," authored a chapter on community fishing ponds in the AFS textbook "Small Impoundment Management in North America" and is currently fundraiser, associate editor and co-author of an upcoming AFS textbook, which will address angler recruitment, retention and reactivation.
Lang has been an AFS member for more than 20 years, becoming an Indiana chapter member in 1999. Lang served on the AFS Governing Board for five years (2013-2016, 2017-2019) and was the chair of the AFS Special Committee to Enhance the Fisheries Profession (2016-2017) and of the External Affairs Committee (2009-2010). He also has been a member of the nominating, management, membership concerns, executive director succession and external affairs committees of AFS over the years, all of which provide direction for the organization.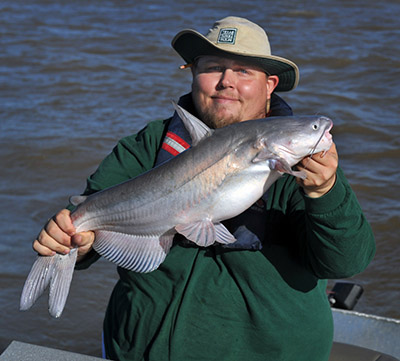 "Tom epitomizes a true fisheries conservationist and has been selflessly involved in AFS since he first stepped into the field," said Michael Homer Jr., Abilene District Supervisor for the TPWD Inland Fisheries. "Tom has been and continues to be a major advocator of aquatic education and fisheries habitat conservation."
Lang co-organized a briefing regarding the National Fish Habitat Conservation Act to better inform congressional members and their staffs on fish habitat issues. He represented AFS on the National Fish Habitat Partnership Board, which aims to protect, restore and enhance the nation's fish and aquatic communities through partnerships that foster fish habitat conservation and improve the quality of life for the American People. Lang also has been an active participant in the Reservoir Fish Habitat Partnership.
After beginning his time with AFS as a member in Indiana from 1999 to 2006, Lang also has been part of chapters in Arkansas (2005-2007), Kansas (2007-2012) and Texas (2013 to present). He has participated in the planning of nearly every AFS annual meeting since 2007, from film festivals to fundraising efforts and symposia to workshops.
The 2022 Meritorious Service Award is not the first honor that Lang has received from AFS over the years. In 2017 and 2019, he was named as the Texas Chapter Outstanding Fisheries Worker in Fisheries Administration. In 2009 and 2012, the programs he managed received the Outstanding Sport Fish Restoration Award from the Fisheries Administration Section for his work with Kansas Department of Wildlife and Parks. As a collegian, he earned several best paper, poster or student presentation awards. In 2002, he was named as Purdue's AFS student sub-unit's Outstanding Member Award honoree.
"Mr. Lang has clearly dedicated his life and career to the fisheries field and has worked extensively within all levels of the Society to: recruit and nominate qualified individuals into leadership positions; educate AFS members on fish habitat conservation issues; raise funds to produce AFS products and symposia; represent the Society and the issues core to its mission at outreach events; and shape the next generation of fisheries professionals, among others," past president of the Fish Habitat Section Kimberly Dibble said in her nomination letter. "We believe he has displayed loyalty, dedication, and meritorious service to the Society over a long period of time and for exceptional commitment to the programs, objectives, and long-term goals of the Society, which make him a particularly exceptional candidate for the Meritorious Service Award."