The Purdue Student Chapter of the American Fisheries Society has earned the Most Active Student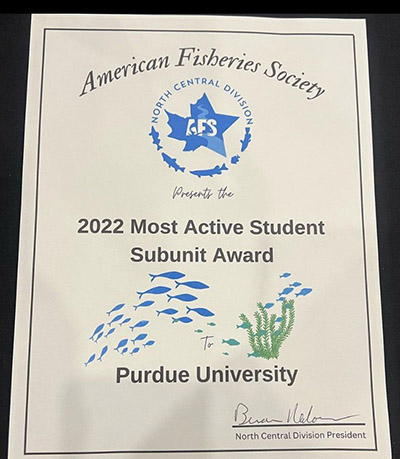 Subunit Award for the North Central Division of the American Fisheries Society.
The most active student subunit award recognizes outstanding professionalism, active resource protection and enhancement programs as well as a strong commitment to the mission of the Society. The Purdue student chapter shared the most active student subunit award with the University of Wisconsin-Stevens Point. 
"Thank you to the North Central Division for the honor," Purdue AFS president Kirsten Adams said. "The officer team has worked incredibly hard this year to build the club back to its pre-COVID glory. This award feels like the culmination of a lot of hours and effort, and we are so grateful. We hope receiving this award gets more people excited about joining Purdue AFS."
Adams - along with vice president Savannah Jones, secretary Chase Spaw, treasurer Brynna Buckmaster, outreach officer Rachel Kraus and Ag Council representative Lucy Clements - has organized two meetings a month, including professional development opportunities with fisheries professionals, faculty and researchers, resume workshops and hands-on field work.
Participating in real-world fisheries work is a central part of Purdue AFS. Members have gone electrofishing
with fisheries professionals, participated in a Fishing 101 demonstration and had documentary viewing parties. The group also joined in fish sampling at Paint Mill Lake, went dip-netting at Indian Creek, assisted with muskie stocking at the Kokomo Reservoir and steelhead trout stocking at Mixsawbah State Fish Hatchery, and took a field trip to the Fort Wayne Zoo for a behind the scenes tour of the aquarium exhibits.
In addition, Purdue AFS has sent representatives to the Indiana state AFS chapter meeting and the Midwest Fish and Wildlife Conference. The group is making plans to attend the American Fisheries Society spring meeting.
Purdue AFS has participated in the College of Agriculture coin drive as well as Purdue Ag Week in addition to hosting recruitment activities at the Purdue Ag ice cream and hot chocolate socials, the B-Involved Fair and the Department of Forestry and Natural Resources' Gingko Gathering.
"Student chapters are valued and have a long tradition in the American Fisheries Society," Purdue AFS advisor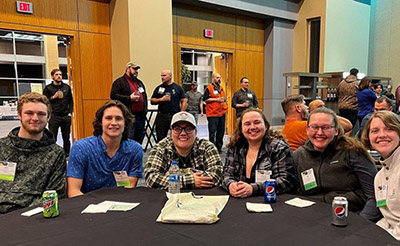 Peter Euclide said. "The Purdue chapter has done great work supporting the mission the AFS by creating a welcoming space for students from all backgrounds to learn about fisheries, practice field skills, and gain professional knowledge. I am happy to see their hard work is being rewarded."
Euclide advises the chapter along with graduate student advisors Spencer Gardner and Les Warren.