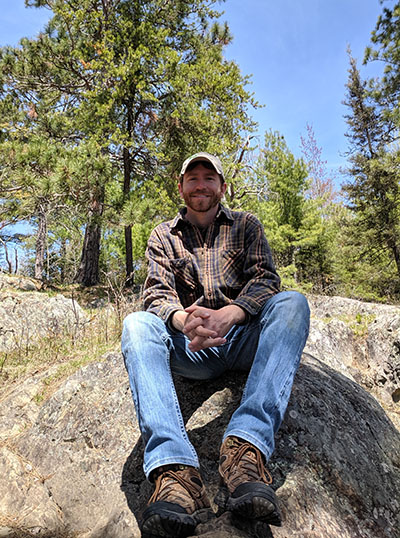 After developing an interest in wildlife at an early age and immersing himself in it, there was no question that Travis Stoelting would end up studying and working in the field.
After visiting Purdue and checking out the Department of Forestry and Natural Resources, which had a "really great reputation for a wonderful wildlife program," Stoelting liked what he saw and the rest is history.
Once he arrived in West Lafayette, Stoelting focused on academics and field experiences and broadening the knowledge base that he carries with him to this day.
"I really got a lot out of my habitat management and wildlife techniques courses with Dr. Mickey Weeks," Stoelting recalled. "He was a big influence on me and Sally Weeks also. I learned tons of trees and shrubs and plants from her. She was a wonderful resource. I learned a lot of birds from Barny Dunning and I learned how to do prescribed fire from Steve Creech. Those people will always be, in my mind, the final authority on those subjects. They're like an all-star team. I was very fortunate to encounter those people and work with and learn from them. It was not only the knowledge that I gained from being there, but also seeing how they conducted themselves and learning how to interact with fellow students. It made me a constant learner. To this day, if I can encounter something that I can't identify or I don't have much experience with, I try to find out more about it. That changed me and formed who I am."
It wasn't just the classwork that impacted Stoelting. He has fond memories of experiences of all types at Summer Practicum, a mandatory immersive course for FNR students which takes place in the Upper Peninsula of Michigan.
"We really made a lot of memories there," Stoelting said. "We were always fishing or hiking or doing something outside with other students in our free time. Another thing that stood out was that it was really cold up there. I remember every day everybody had their boots around the wood stove to try to get them dried out because it was so cold and wet. It was still fun. It might not have seemed like it at the time, but it really was. I think I knew from the very beginning that this was what I was going to do one way or another, but at practicum I watched a lot of other people learn whether fieldwork is really what they wanted to get into or if they would be better off in a different realm of the field. Practicum gets you into the field and there is no substitute for the hands-on experience you get there. It is very critical."
As an undergraduate student, Stoelting got involved with the Hardwood Ecosystem Experiment as the proposed 100-year project was just beginning.
"I started before the timber harvests were even completed and continued on and off with them after the timber harvest," Stoelting said. "It was really my first field technician position and I thought it was the greatest thing. There were hard times, but it certainly gave me a diversity of experience. They gave me a lot of freedom to accomplish tasks however I needed to. I got a ton of experience there and I was given enough freedom to operate on my own and eventually lead crews and get to the point where they valued me as an employee and that was really rewarding to me."
Stoelting worked with master's student Natasha Urban on small mammal research at the CRANE
Naval base, on the HEE, at Brown County State Park and in Yellowwood and Morgan Monroe State Forests. Jeff Riegel, field coordinator at the HEE for 13 years, also was a long-time collaborator. In his time on the HEE, Stoelting set up and sampled small mammal grids, while also doing bird surveys and vegetation sampling.
"Natasha was the first graduate student I worked with; I helped out several others, but she sticks in my mind as my original boss," Stoelting recalled. "Then I worked with Jeff Riegel for years. We really did great work together and he turned me loose on a lot of different projects. I really appreciated the opportunity to operate independently. All of my fellow technicians were great as well.
"I was surrounded by some amazing, very knowledgeable people and I got to interact with professionals that showed me how to interact with people and develop good working relationships with colleagues. Those experiences help you understand what you are getting into and it helps you develop not only technical skills, but also interpersonal and leadership skills."
The Hardwood Ecosystem Experiment, a long-term scientific study on the impact of different forest management methods, aims to answer the question: What are the ecological and social impacts of long-term forest management on public and private lands in Indiana and the Central Hardwoods Region? The project, based in southern Indiana, included collecting data prior to timber harvesting and conducting inventories annually after harvest to quantify the responses of plants and animals to active forest management.
Since its inception, more than 30 graduate students have completed research on the HEE, while more than 250 undergraduate and post-graduate students have been a part of summer field work.
"It was really interesting to see it come together," Stoelting said. "Everybody knew it was a big undertaking, but it was nice to contribute to it because you can come back to it later and see the work that's being done now. Early on I'd say that I had it easier than probably some of the technicians that are there now because it was pre-harvest, but I did some work in harvest areas also. Then, after the harvests were done, I came back to the project and did some more work in there. It was pretty tough, but it was fun. It's good field work and you make a lot of friends out there. It's the kind of project that you can be proud of.
"I've continued to stay in touch with the project and even had the opportunity to come talk to some FNR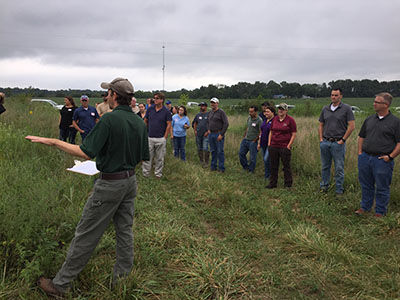 freshman visiting the HEE in my current role. It was really great to see the people I had worked with and also the new faces that I didn't know. There is still a lot of enthusiasm there. There are a lot of young, talented people coming into the field and to be able to give them a few words of wisdom from my experience was a full circle moment. I was that kid in FNR not too many years ago. At one point, we also took a group of property managers to the HEE and looked at the harvest areas and different research projects, and that was another full circle moment, getting to see it from the other side."
When Stoelting graduated with his wildlife degree in 2008, his relationship with the HEE continued as his first professional job was as a field technician there.
"It was a leadership role, where I helped lead crews and my work was focused on constructing deer exclosures and doing timber stand improvement in the harvest areas," Stoelting said. "It was a little bit different than doing the bird surveys and small mammal trapping. I still did that, but I had other roles that were more independent."
After a year on the HEE, Stoelting was hired as the habitat programs director for the Indiana Wildlife Federation, marking the beginning of a career with state organizations and agencies.
His role with the statewide non-profit conservation organization was to design and coordinate a wide range of projects and programs related to wildlife habitat and education. During his two years with IWF, he provided technical assistance and coordination for habitat improvement projects like prairie plantings, tree and shrub plantings, wetland enhancements and invasive species control. He put on workshops covering basic land stewardship and conservation practices and landowner assistance programs. He worked closely with the Indiana Department of Natural Resources, the United States Fish and Wildlife Service, the USDA Natural Resources Conservation Service, local soil and water conservation districts and Purdue Extension personnel.
"It was a huge deal for me; it was my first full-time, professional, state-wide role," Stoelting said. "I really grew into it and established a good network through the different organizations that I worked with. But, I was always trying to get back to southern Indiana, so when a position became available at one of the fish and wildlife areas as an assistant property manager, I applied and got that. And in two years, I became the property manager and I remained there for several more years."
In January 2012, Stoelting began a nine-year stint at Goose Pond Fish and Wildlife Area. As the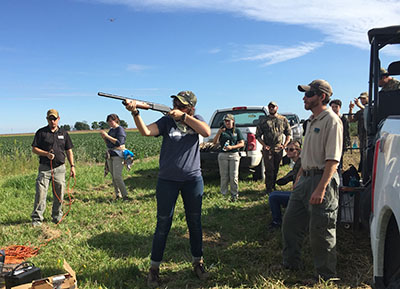 assistant property manager, he prescribed and conducted management activities on the property's grassland, wetland and farmland areas, including herbicide usage, prescribed fire, mechanical control, development of food plots and more. He also conducted biological surveys and monitoring activities, while providing educational opportunities for local schools, committees and boards.
After assuming the property manager role in September 2014, Stoelting found himself guiding the operations of Goose Pond Fish and Wildlife Area, Hillenbrand FWA, Fairbanks Landing FWA, Ashcraft Wildlife Management Area and Morgan Bluff Wildlife Management Area. He developed management plans for the areas, conducted public outreach, maintained facilities and supported projects like lake renovations, research activities and biological surveys. He also worked closely with partner organizations on projects including wetland restorations with Ducks Unlimited, invasive species removal with The Nature Conservancy, pollinator habitat enhancement with the USDA-NRCS and northern bobwhite research with the University of Georgia.
In March 2021, Stoelting began his current role as a District Wildlife Biologist with the Indiana DNR Division of Fish and Wildlife.
"It was a really big move for me, but I really enjoy my position," Stoelting said. "I mostly help private landowners with habitat management on their lands and help citizens with wildlife issues. I also do wildlife surveys and monitoring efforts, but most of my work has to do with habitat management on private land. I have an 11-county area in south central Indiana where I help private landowners and that is very rewarding. In some cases, having land that they can work with is their lifelong dream, so for landowners to put that much trust in you and your expertise is a big deal.
"I usually work with somebody who wants to do wildlife work on their land, but is not sure how to do it best. I meet with them on their property and we talk about what they want to accomplish and I help write management plans for their property. At this time of year, I'm working on burn plans for them to do prescribed fire, inspections to see if they're in compliance with certain conservation programs like CRP and also helping them solve issues. I interact with a lot of farmers that are experiencing damage from deer or geese and a lot of my work involves giving them advice on what to do to alleviate that or helping them get permits to remove wildlife that could be a problem. If I have someone who wants to do timber management, I will set them up with a district forester, etc."
The way that natural resource professionals are approaching wildlife and conservation issues has changed throughout Stoelting's career.
"In the field of natural resources, there is a lot more work being done in human dimensions, and a lot of the decision making is more heavily weighted toward serving the public but with science still leading the way on what we do," Stoelting shared. "We are approaching things much differently now in looking at the big picture. The field is making an effort to be much more inclusive. We are not operating from a top-down authoritarian approach; we are making sure citizens are on board with the decision making. Another thing that sticks out to me is that there a lot of new people coming into the field with positive mindsets, a willingness to learn and fresh outlooks on things, which gives me a lot of hope for the future."
Stoelting says his experience in FNR and working on the HEE were impactful in his various roles after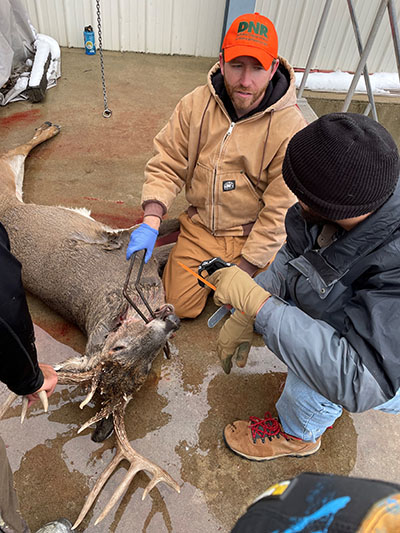 graduation.
"The diversity of experience helps prepare you and let you know what to expect for different types of projects in the future," Stoelting shared. "You also learn how to handle your own schedule and operate independently, while also leading crews and forming good working relationships with people. You want to always have a good relationship with the people that you are working with and it's the same in a state agency. It's a big organization that's going to continue for a long time and you want to have a good foundation for everything that you're doing with them. Early on that's how I developed as a professional, through interacting with all of these different people on all of these different projects and trying to do a really good job. You can always come back to them for anything that you may need."
When thinking back on the lessons he learned in FNR and the advice he would give to current and future students, Stoelting said getting involved and soaking in as much as you can are at the top of his list.
"Make sure you enjoy your time there, because it'll go by quickly," Stoelting said. "You're surrounded by some of the most knowledgeable professionals that you will ever interact with. Enjoy that and make the most of it because it's your chance to learn and develop into a professional. Take advantage of those resources while they're right there in front of you. Even though it may seem like a long way off, bear in mind that you and your colleagues will be the leaders and decision makers in the field in the future. You've got to make sure that you're learning everything that you can and taking advantage of everything around you while you're there."
In addition to his time as a wildlife field technician at the HEE as an undergraduate student, Stoelting also was a biological intern at Muscatatuck National Wildlife Refuge, where he gained experience in natural resource management in wetlands and bottomland forests, conducting waterfowl surveys, participating in water level management, and mapping and treating invasive species. He also volunteered at the Crane NSA deer check station for several years.
"From a career standpoint, take advantage of the offseason," Stoelting said. "When you're not doing academic work, get as much experience as you can and add diversity to your resume because that adds a lot of strength to it. I was pretty focused on my academics and not a social butterfly. I put everything I had into my work at school and didn't do a lot of other things like clubs, but you should if you can. It is very important to not just strictly do the academic side of it, you also need to have that field experience as well. The degree plus experience is what makes a very strong applicant in this field."
Additional Resources
Ask the Expert: Intro to the Hardwood Ecosystem Experiment – YouTube
How the HEE Came to Be - YouTube
Hardwood Ecosystem Experiment Playlist - YouTube