Each year, FNR recognizes a freshman, sophomore, junior and senior outstanding student. The Outstanding Student awards are given to the most outstanding student in each class as demonstrated by educational accomplishment, research, community service, student organization involvement and leadership, and involvement at the department, college, or university level.
Meet Outstanding Freshman - Alex Early
Hometown: Creve Coeur, Missouri
Major: Wildlife; Minors: Biological Sciences and Spanish
Alex Early is a freshman representative on the FNR Student Council and a member of the Purdue Student Chapter of The Wildlife Society.
In November, she volunteered to assist with chronic wasting disease (CWD) sampling through TWS, aiding in organizing sampling bags and also taking samples firsthand.
In August, she plans to participate in the Environment & Culture Exploring in the Galapagos Islands & Ecuador study abroad program led by Dr. Elizabeth Flaherty. The program will introduce the unique environments and the culture of the Galapagos Islands and Ecuador while integrating ecological topics including biodiversity, adaptation and evolution, biogeography, endemicism, and conservation biology. Students will learn about the history of the islands, explore diverse ecosystems, and will see wildlife species including giant tortoises, marine iguanas, sea lions, whales, Galapagos penguins, sea turtles.
Outside of FNR, Early also is member of TEDxPurdueU, the Higher Ground Dance Company, Relay for Life, the Feminist Action Coalition of Today and A Cause for Paws.  
Early represented Relay for Life at the Purdue women's soccer team's Hammer Down Cancer game, the Bark for Life event and at the Relay for Life tabling event. At the soccer game, she helped collect donations for the American Cancer Society and also assisted people with making plastic lanterns or writing message to those lost to cancer or those who are currently fighting it. At Bark for Life, students collected donations for the ACS, promoted Natalie's Second Chance animal shelter and promoted Relay for Life while showing off adoptable dogs. At the tabling event, she passed out free cancer awareness ribbons and promoted the upcoming Relay for Life event benefiting the American Cancer Society, which will take place on April 7.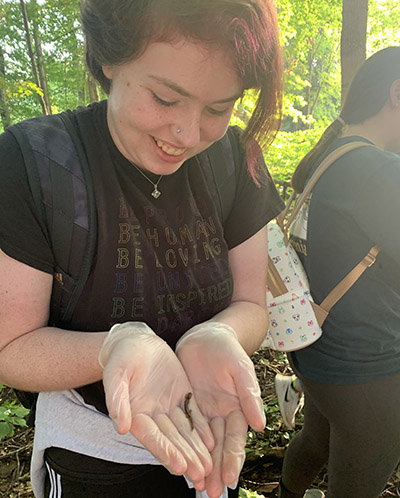 Academically, she earned Dean's List and Semester Honors for Fall 2022. 
"This award means a lot to me because it is a reflection of my passion and drive to achieve my dreams," Early said. "During my time at Purdue, I have continued to push myself past my comfort zone to do better as a student and as a person. I moved hundreds of miles from home into a school full of very smart and successful people. I never expected to receive this recognition as my class is full of highly intelligent and hard-working people. It is such an honor to hold this title and it inspires me to keep working hard and pushing myself to succeed in achieving my dreams. While it is hard to believe that I was the one selected for it, I am honored to receive this award."