Each year, FNR recognizes a freshman, sophomore, junior and senior outstanding student. The Outstanding Student awards are given to the most outstanding student in each class as demonstrated by educational accomplishment, research, community service, student organization involvement and leadership, and involvement at the department, college, or university level.
Meet Outstanding Junior Alex Dudley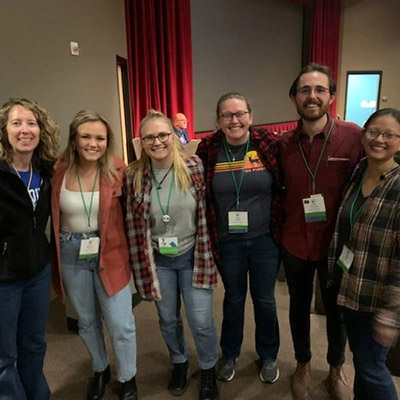 Hometown: Sunman, Indiana
Majors: Forestry and Wildlife
Alex Dudley is a Purdue Honors College student. She also is a member of Alpha Lambda Delta Phi Eta Sigma Honor Society and the National Residence Hall Honorary.
Academically, Dudley has been on the Dean's List each semester dating back to Fall 2020.
Within FNR, she is involved in the Purdue Student Chapter of the Wildlife Society, acting as both the secretary and current vice president. Dudley also was a member of the Purdue TWS Quiz Bowl team, which placed third nationally in November. She also volunteers with both the songbird and owl banding labs.
Dudley presented a poster titled "The Influence of Deer Hunting Season on Black Vulture Home Ranges in the Midwest" at the 2022 TWS Conference, a result of her research with Dr. Pat Zollner. Her project quantified black vulture home ranges near the Southern Indiana Purdue Agriculture Center (SIPAC) and compared estimated home ranges between hunting and non-hunting seasons of white-tail deer.
"Alex has been active in our student chapter of TWS since her first year on campus and has already gained an impressive amount of wildlife career experience," Dr. Elizabeth Flaherty said. "Alex has been a student in my Wildlife Investigational Techniques, Forest Habitats and Community Practicum, Wildlife Habitat Management, and Optimize TWS Attendance courses. In all of these courses, Alex has been an
extremely successful and engaged student. She is one of the first students to volunteer to try something new or to assist with a field demo and serves as an excellent colleague in the courses by helping and encouraging other students during activities. She has a very bright career in wildlife ahead of her and look forward to hearing about all of her successes."
Dudley has gained field experience as a forest technician with Gregg Forest Services, as a small mammal technician with the Hardwood Ecosystem Experiment and as a biological science technician with USDA-APHIS Wildlife Services. As a forest technician, she marked timber and developed timber sale notices, created maps of management areas for clients and worked with identification and treatment of invasive species. On the HEE, she analyzes and recorded data from camera trap photos, reflagged old trapping grids, processed and tagged small mammals, and completed micro-vegetation surveys to understand the habitat around traps. With USDA-APHIS, she worked as a member of the Pest Bird Task Force in downtown Indianapolis, where she employed management methods to trap and control the pest bird population. She also has aided in deer reduction projects, recording data from harvested deer.
Dudley was recognized as a sophomore academic merit award honoree among wildlife majors at the 2022 FNR Awards Banquet.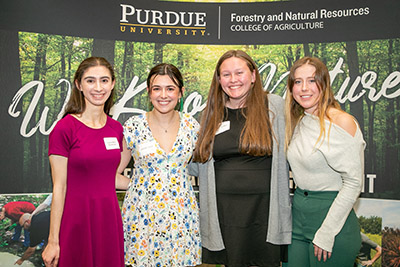 She has served in leadership roles in FNR and on campus, acting as the president of the Honor College Residential Society, the secretary and current vice president for Purdue TWS and the undergraduate representative for the North Central Section of TWS. She is currently a resident assistant at Meredith South Residence Hall.
During her time at Purdue, Dudley has received the Purdue Presidential Scholarship, the Ewbank-Bishop Endowed Scholarship, the Ripley County Community Scholarship and the Martin Agricultural Research Scholarship.
"I'm honored to be named as the outstanding junior for this year," Dudley said. "I know a lot of my classmates are really hardworking and involved in a lot of projects, so I feel like it's a great achievement to be recognized for my class. Working alongside such dedicated individuals has really driven me to do my best and be as involved as I can. I'm so thankful to receive this award because it shows that the department appreciates the work that I do with The Wildlife Society, my research, and various jobs. I really love being involved in FNR and I hope that my work encourages others to be passionate as well."
The 2022-23 FNR Student of the Year award honorees are: