Jerry Stillings, a 1963 wildlife alumnus and longtime information technology professional in the Purdue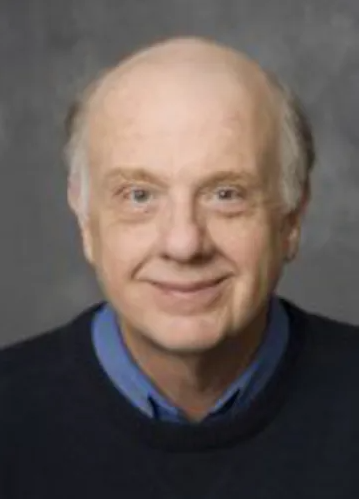 Department of Forestry and Natural Resources, was remembered by his former colleagues on May 17 with a fish release at Martell Forest.
Several of Stillings' former colleagues contributed to the Aquaculture Research Lab to fund the purchase and release of 18 largemouth bass into a pond onsite. The fish were tagged for fisheries faculty to use in future teaching labs in honor of Stillings' time working in fisheries and his love of fly fishing.
"Jerry was introduced to fishing at an early age and enjoyed wonderful experiences on Sugar Creek," professor emeritus Dr. Phillip Pope said of his colleague and friend. "His love for the outdoors and fishing continued throughout his life. By the early 1970's, he was "hooked" on fly fishing. In the early 1990's, Jerry introduced me to small stream smallmouth bass fishing on Sugar Creek and re-introduced me to fly fishing. From that time forward, we waded and fished local streams from mid-May into early November casting streamers, nymphs, and dry flies.
"Jerry was an excellent teacher and mentor and freely shared his knowledge of fly tying, fly casting, fish habitat, and fish and stream biology. He cared greatly about the environment and the conservation of natural resources. As an avid conservationist, he promoted the use of small mini-barbed or barbless hooks and practiced "catch and release" exclusively. He kept impeccable records, a log if you will, of the species, approximate size (estimated length), and overall condition of each fish caught, as well as, the fly used, stream and weather conditions, stream location, and date. From 2002-2015, Jerry and I made weeklong trips in late May and early September to Michigan to fish for native trout in the Au Sable, Manistee, and Pere Marquette Rivers. Aside from the great fishing, the September trips were important because we took part in an annual organized river clean up. It was a blast."
Stillings, who passed away on June 29, 2021, at age 76, worked as a fisheries biologist, hatchery manager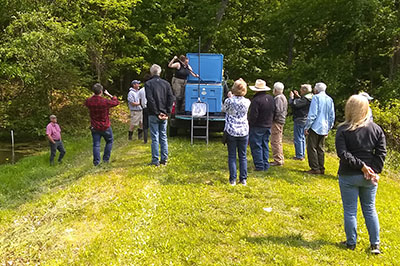 and district biologist in New York and Indiana after serving in the Army from 1968 to 1971 and earning his master's degree in fisheries biology from Utah State University in 1973.
Stillings was the fisheries biologist for the state of New York before returning to Indiana in 1976 as the manager of Avoca State Fish Hatchery in Lawrence County. With Avoca, he supervised the fish hatchery and surrounding watershed and managed more than 60 public fishing sites. In his role as district biologist, he is credited for implementing the first computerized fisheries records for the Indiana Department of Natural Resources.
Stillings' growing interest in computer technology led to him earning a second master's degree in computer education at Purdue in 1985. He taught at Ivy Tech in Lafayette before joining Purdue's staff as an information technology professional. He worked in several departments before joining the Purdue FNR staff in 1991, a position in which he worked until his retirement in 2015.
"Jerry was always ready to help, even if you should have figured out the answer yourself," professor emeritus Bill Hoover said. "The challenges presented by increased use of computers were overcome by us because of Jerry."
Stillings, a Crawfordsville, Ind., native, is survived by his wife of 53 years, Nicki (nee Sutton), and the
couple's two sons, Nick and Ken.
Those in attendance at the fish release included Stillings' widow Nicki and several FNR professor emeritus honorees – Phillip Pope and his wife Judy, George Parker and his wife Mary Lee, Bill Hoover, Rick Meilan and Mickey Weeks. Current FNR faculty and staff in attendance included Director of Illinois Indiana Sea Grant Tomas Höök, farm manager Brian Beheler, aquaculture research lab manager Bob Rode, senior aquatic ecology research scientist Peter Euclide and aquatic sciences students Brynna Buckmaster and Larry Lomax. Professor emeritus Bill McFee (Agronomy), John Graveel (Agronomy, NRES) and Ron Overton (HTIRC, U.S. Forest Service) also attended.
"Jerry was one of the first people I met when I arrived at Purdue in 2003," Meilan said. "He came to my office to ask me about the nature of my work, so he could order a desktop that would satisfy my needs.  After the computer arrived, Jerry came to my office to install and configure it. As a result of these interactions, I came to realize three things about Jerry: 1) he loved computer technology, 2) he enjoyed challenges associated with applying it to an individual's circumstances, and 3) he liked helping others and finding ways to make their jobs easier. Jerry was just a really good guy, who was kind, thoughtful, generous, and caring. He made the world a better place in which to live. In the final analysis, I'm not sure there is much higher praise than that."