Throughout the 2023 Sustainable Natural Resources study abroad course in Sweden, FNR students will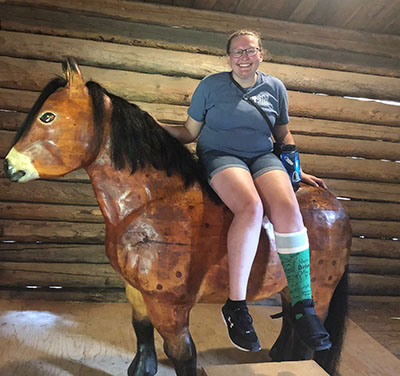 check in to provide weekly updates on the trip highlights. Kicking off the series is senior forestry and wildlife double major Alex Dudley. Dudley was FNR's 2023 Outstanding Junior and is acting president of the Purdue student chapter of The Wildlife Society for the 2023-24 school year. 
During the four-week Sustainable Natural Resources study abroad course students will examine natural resources broadly defined, including forestry,  fisheries, wildlife, agriculture, mining, outdoor recreation, and urban sustainability. They will define, discover, and document examples where sustainability of resource use matters. The course explores the effect of terrain, climate, vegetation, faunal assemblages, social structures and technologies on natural resource use. FNR 46000 is a collaboration of Purdue University, North Carolina State University, and the Swedish University of Agricultural Sciences. American and Swedish students work together to research issues in resource management.
The course is co-taught by FNR's Drs. Tomas Hook, Barny Dunning and Doug Jacobs as well as other instructors from NC State and SLU. 
Day 1: Sunday, July 2nd
After a long trip (16 hours and 4,246 miles!) from the US to Sweden, we arrived in the Stockholm airport first thing Sunday morning. Once we met up with Dr. Hook and a few other Purdue students, we bought train tickets to Uppsala, where we'd be starting our course. Somehow, Keegan and I ended up buying a ticket that had us take a bus from the airport to a train station, and then to Uppsala. Making the most of it, we jumped right into Sweden by trying to navigate the public transportation system in a totally different language.
Once we got settled into the hotel, we met a few other students from Purdue, along with a group of students from North Carolina State. Eventually, we decided to get dinner and go grocery shopping. There's not a lot of places for traditional Swedish restaurants in Uppsala, but we did see a bunch of interesting things (like salami in a squeezable tube!) at the grocery store.
Day 2: Monday, July 3rd
Today, we had the chance to sleep in to catch up on jet lag. Before class, we had breakfast at the hotel, where there were things like drinkable yoghurt, marmalade, and sliced lunch meat. With some spare time, we taught a few people to play Euchre. We then all walked to the bus stop to get to campus, where did some introductions and had a lecture over the Swedish landscape. Here, we learned about the different ecosystems and resources in the area. After class, I explored the town with some new friends from NC State and SLU (the Swedish University).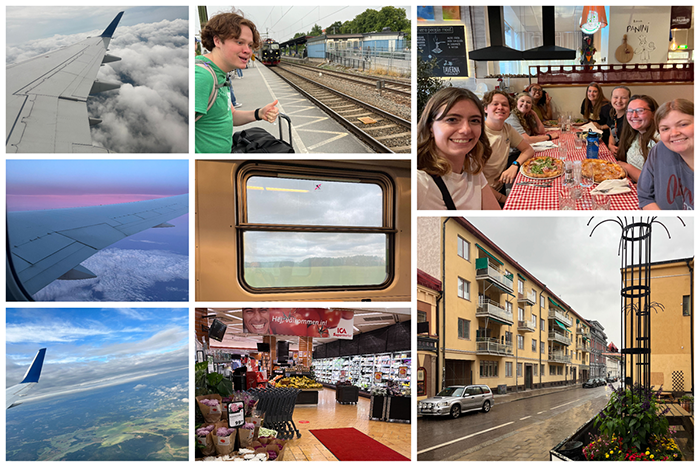 Day 3: Tuesday, July 4th
We started the day bright and early with breakfast and a bus ride to SLU. First, we learned about the importance of cross-cultural communication and the differences between the US and Europe. We also learned about some of the past students in the course and how this study abroad has influenced their careers. Next, we learned about the basics of aquatic ecosystems in Sweden to prepare for our trip to meet a commercial fisherman tomorrow.
After lunch, we had a scavenger hunt across the city of Uppsala, where we had to find everything from paintings in museums to the home of Carl Linnaeus (the father of binomial nomenclature). Since we were in groups with students from different schools, I really enjoyed getting to know some of the people from NC State and SLU. It was also really cool to learn more about the differences between Sweden and the US and we went across town looking at different things.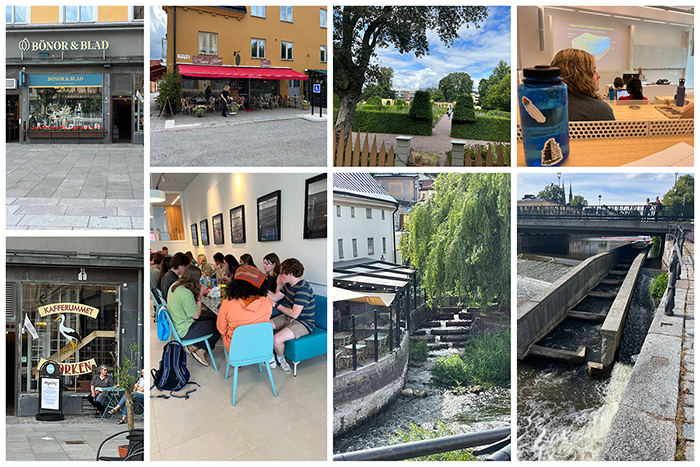 Day 4: Wednesday, July 5th
Today, we went to Ängsö Castle and nature preserve, where we explored the grounds and saw some interesting birds. Most of our time at the castle, I walked with a fellow classmate from Sweden, and we spent our time comparing the names of plants and animals in Swedish and in English. Also, a few other people were able to go swimming in the lake. At the nature preserve, we talked with the director, who explained that they use cattle grazing to maintain endangered plants and insects that need a certain level of disturbance. We also were able to see a few of the red-listed plants, as well as a pink grasshopper!
Next, we went to Ängsö Fisk, to visit a commercial fisherman on lake Mälaren. After a short ice cream break (I recommend the raspberry!), we learned about the fishing methods used on the lake and how they've adapted to the regulations set by the EU. We also heard about the different ways that Per Vidlund has come up with to reduce mortality rates while making his fishing more effective. This was my favorite part of the day, since we got to hear about Per's fishing experiences while also tying that into the regulations and science that we usually rely on.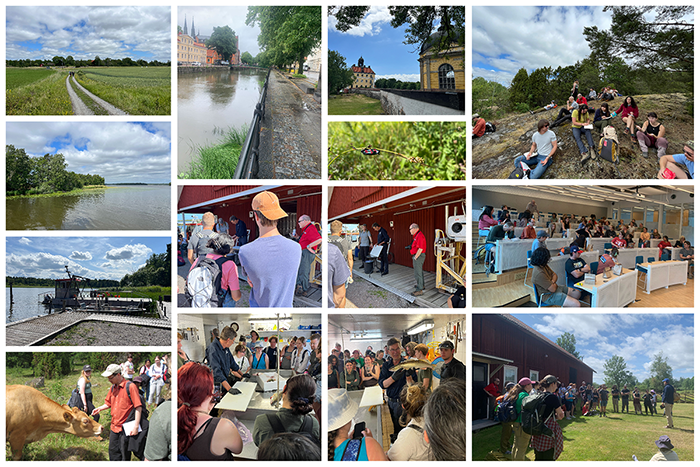 Day 5: Thursday, July 6th
This morning, we got up bright and early to take a train from Uppsala to Umeå. During our 5-hour train ride, most of us worked on assignments, read books, or caught up on some sleep. Once we arrived in Umea, we explored the town and bought groceries for our stay in the city. This was our first night actually cooking dinner in a hostel, and it was a real challenge to figure out how to work the stove. With the help of some Swedish classmates, we eventually figured out how to boil water.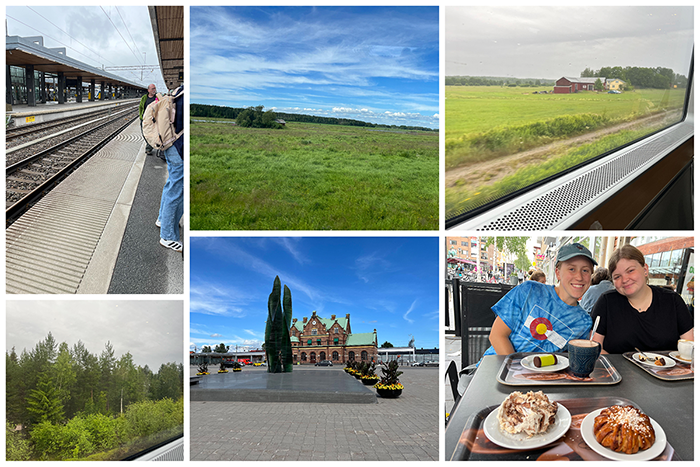 Day 6: Friday, July 7th
Today, we toured the Umeå University Marine Research Station along the coast of the Baltic Sea. Here, we learned about various research projects and methods, including water sampling, benthic invertebrates, and mesocosms. We even went out on a boat to see how some of the samples are taken! Afterwards, we took a ferry to Norrbyskar, and island where there was a historical sawmill. On the island, we learned about the historical methods of shipping logs (by river) and how the sawmill was run. We also got to explore miniature buildings that were replicas of those used when the sawmill was operating.
Interesting fact: while going down a slide at Norrbyskar, I broke my first bone! Typically, study abroad students don't experience the Swedish medical system, but Dr. Hook helped me to navigate the hospital and get a cast for my leg. Surprisingly, the process seemed very similar to that of the hospital system in the U.S.
Day 7: Saturday, July 8th
Turning 21 in Sweden! At breakfast, the whole class sang happy birthday (in both English and Swedish!) We then went to the Västerbottens Museum and learned about different aspects of Swedish history, including traditional farm steading and the life of the Sami (indigenous) people. It was really interesting to see how Swedish history is both similar and different to the U.S.'s. After the museum, we baked a traditional Swedish Kladd Kaka (mud/chocolate cake) for my birthday! When we went into town, there was a large parade of old American cars that lasted all night. Apparently, it's a common thing to buy old cars from the U.S. and drive them around in parades. We also went to a restaurant on a boat along the umealven (Umeå River) before heading back to the hostel to make supper and go to bed.