Throughout the 2023 Sustainable Natural Resources study abroad course in Sweden, FNR students will check in to provide weekly updates on the trip highlights. Providing the Week 3 update is junior Arlene Polar Piñeiro, a wildlife major and environmental politics and policy minor. Arlene was part of the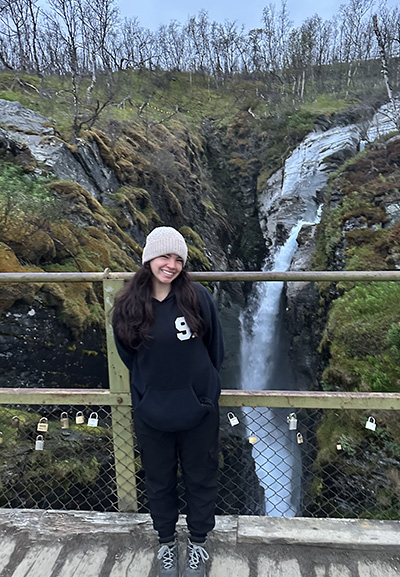 Ireland study abroad trip over Spring Break 2023 and also spent a month in Costa Rica in the summer of 2022, taking a Tropical Biology for Undergraduates course through the Organization for Tropical Studies (OTS)
During the four-week Sustainable Natural Resources study abroad course students will examine natural resources broadly defined, including forestry,  fisheries, wildlife, agriculture, mining, outdoor recreation, and urban sustainability. They will define, discover, and document examples where sustainability of resource use matters. The course explores the effect of terrain, climate, vegetation, faunal assemblages, social structures and technologies on natural resource use. FNR 46000 is a collaboration of Purdue University, North Carolina State University, and the Swedish University of Agricultural Sciences. American and Swedish students work together to research issues in resource management.
The course is co-taught by FNR's Drs. Tomas Hook, Barny Dunning and Doug Jacobs as well as other instructors from NC State and SLU. 
Day 1: July 16-17
On Sunday evening we had a talk with a man called Ulf. Ulf is a summer worker at Abisko National Park at the visitors center. During the year, he is an elementary school professor. In his earlier years, Ulf completed his Masters Degree at the Abisko Scientific Research Station on Climate Change. Our talk discussed the history of the National Park, regulations, visitors and other aspects of the national park. Interestingly, Abisko National Park was the first national park created in Sweden. I was surprised to hear that the first people to visit the park were researchers, artists and others. Nowadays, many people visit for many reasons. Ulf mentioned that the area encompassing the national park first got its beginning because of the unique flora and the preservation of the mountain birch valley found inside the park, making it a perfect spot for recreation, education and reconnecting.
Monday morning, we began our day riding a ski lift towards the peak of Mount Nuolja. During my time in Sweden, I have been able to complete many firsts, riding a ski lift being one of them. On our trip, looking down to the vegetation, I could spot lemmings and voles which were so cute and amazing to see. At 1,169m above sea level we found ourselves surrounded by beautiful snowy mountains, rocky grounds and an amazing view of Lake Tornesträsk. This hike was amazing. I will never forget the view of snowy mountains.
During the afternoon, we had a class discussion about what we have observed during our trip until now. Many of the students commented on the experiences we have had visiting the LKAB mine in Kiruna, the Angso Fisk fishery, the Sami Museum in Kiruna etc. and the impacts on Natural Resources. After the class discussion, students had free time to enjoy.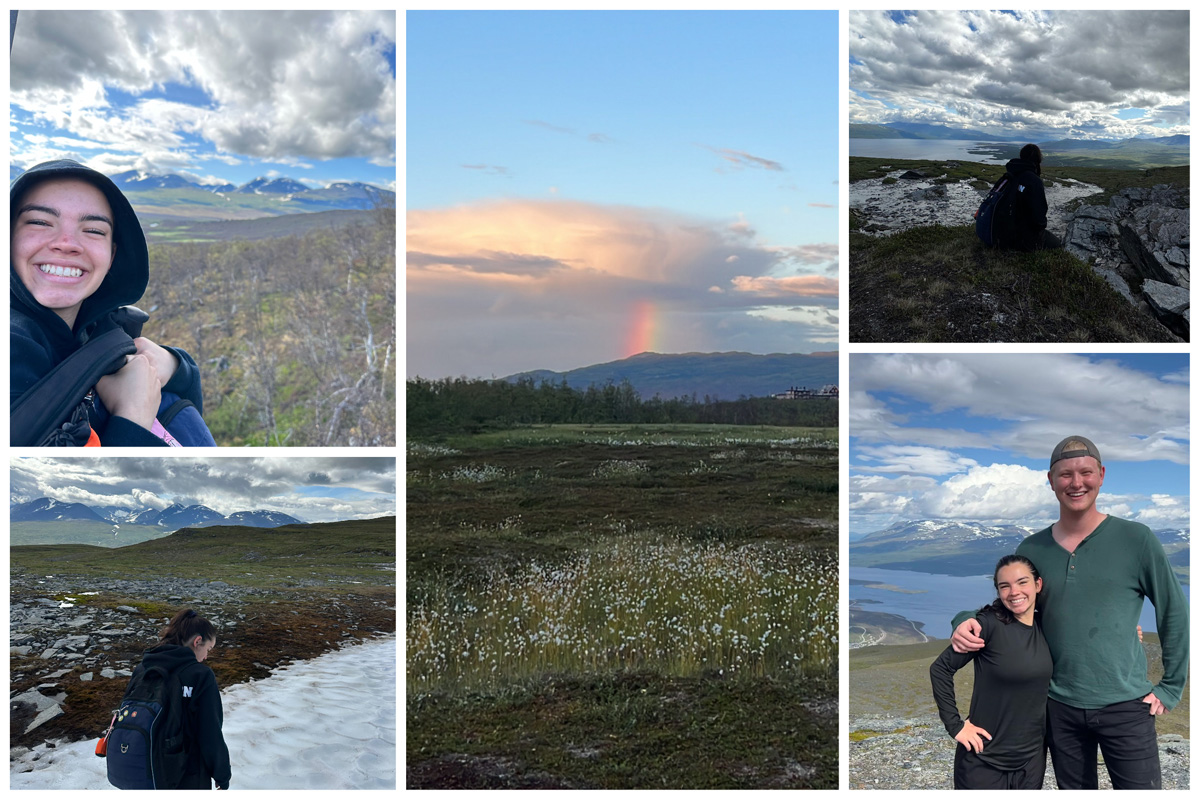 Day 2: July 18
Today we started our days with an ecological scavenger hunt around the Abisko area. As a way of getting more familiar with the vegetation, history, glaciation patterns, fauna and landscape we were tasked with finding certain tell tell objects. Some of these included Arctic Poppy (flower), minerals like quartz, igneous rocks like basalt, natural disturbance areas, bogs and others. This assignment was completed in collaboration with our final group members. I really enjoyed walking around trying to identify herbaceous species and getting to see the sights of our new location for the next 9 days.
After we finished our scavenger hunt, I took a rest day and took it easy the rest of the day. At night, my cabin mates and I cooked dinner and watched a comedy movie.
Day 3: July 19
Today we walked to the Abisko Research Station. We met with Emily Pickering Pedersen who had just gotten back from doing data collection in Alaska. Currently she is a postdoc at Uneä University and stationed at Abisko Research Station. We got a little historic background from the building and the reason for how this research station came to be. Geology and Glaciology were the main focuses of the station. Currently the station is run by the Swedish Polar Research Secretariat focusing on 11+ research concentrations and the effects of climate change above the arctic circle. I found it most interesting to hear that winter research projects are an up and coming front in arctic research. She mentioned how winter is a hard time to be collecting field data but now it has become more popular and one can learn much from this new data being presented.
Throughout our trip, we have been staying at hostels and have had the opportunity to navigate Swedish grocery stores. After our talk, I walked with a group of students for a grocery run and then walked back for 30 minutes to the Abisko Touriststation. To complete my day, I cooked dinner and watched a movie. Being above the arctic circle has been an amazing experience. The climate changed so much from central Sweden. Getting accustomed to the midnight sun (meaning it does not get dark) has been strange but at this point I'm pretty used to it.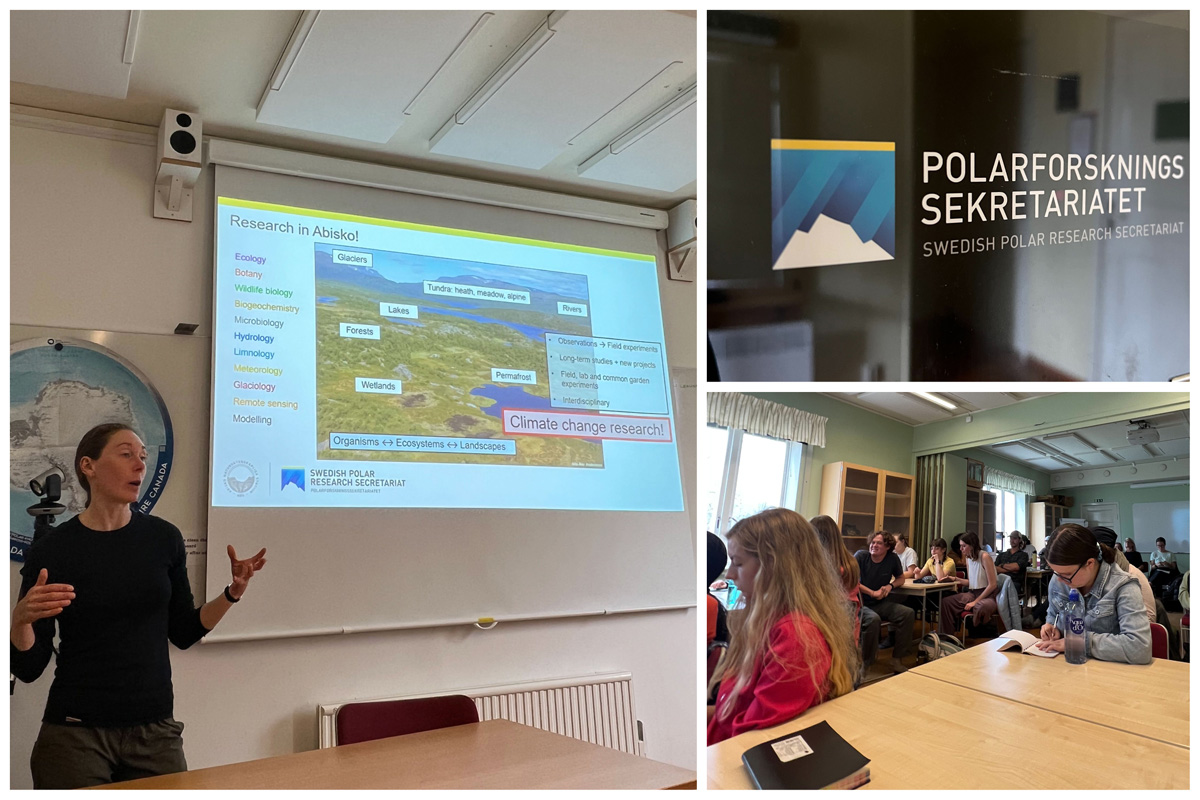 Day 4: July 20
Our day today includes a hike up Puddus Mountain, Abisko. This hike was lead by our SLU professor Therese Löfroth. Hiking is always fun, and on this particular hike we got to stop by the remnants of a Sámi village. A part of our course has focused on teaching and acknowledging Sámi culture. The Sámi are reindeer herders. Getting to learn about this culture has been very interesting, particularly I have enjoyed learning about the lifestyle. Our hike concluded with an outdoor discussion about mining, green natural resources use, mass extinctions, carbon neutral electricity, wind farms, hydropower, policy making and implementation, and Sámi culture.
One of the Swedish students brought to the conversation that for the first time in the news, the importance of not cutting down old-growth forests in Sweden was broadcasted. This was shocking because Sweden is so dependent on the timber market which piqued my curiosity.
After our hike, my group decided to use the rest of the day to finish our final projects, which will be presented the final Friday before the course ends. Thankfully, we finished the bulk of it and will be able to enjoy our time once we get back to Uppsala, Sweden.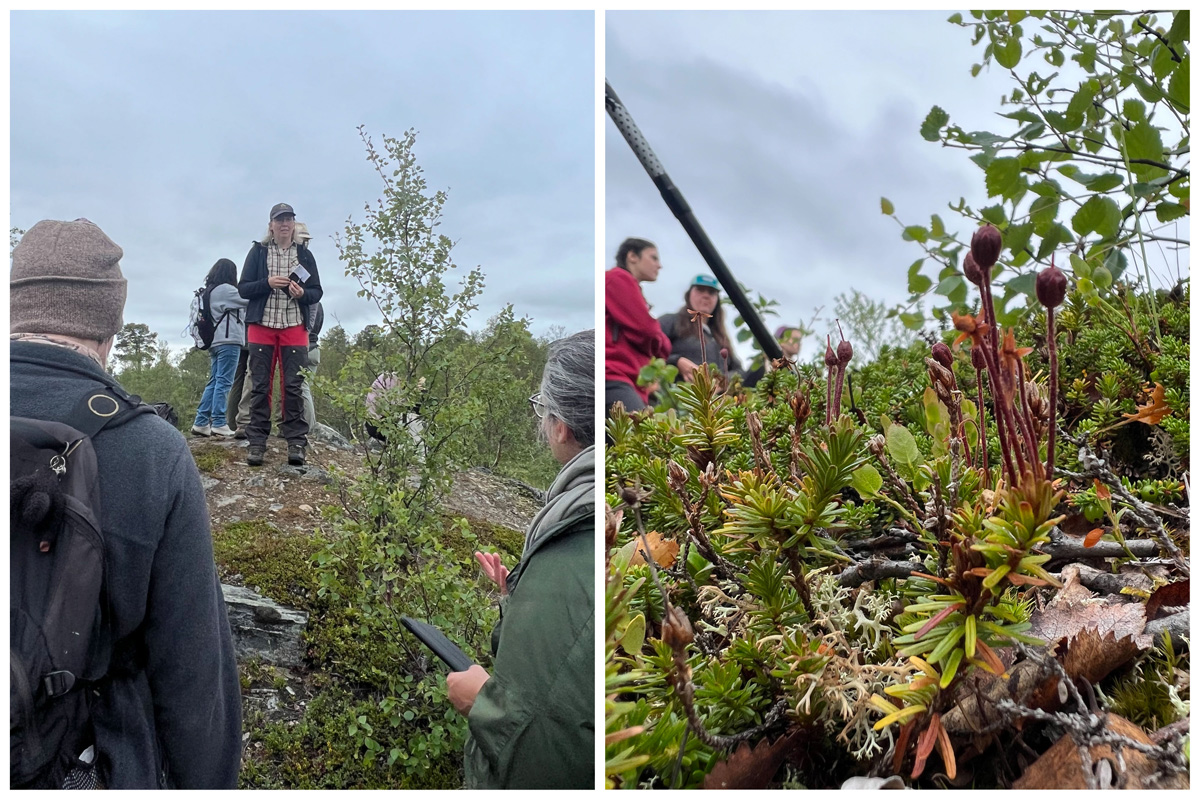 Day 5: July 21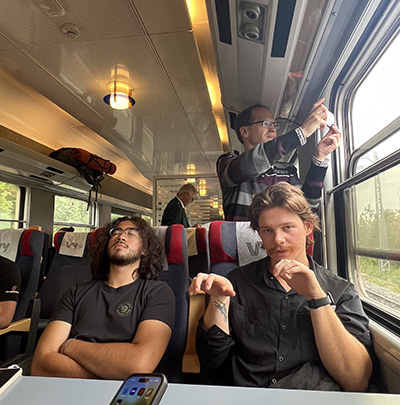 Norway visit day!!! Today we will be traveling by train to Narvik, Norway. Although a small town, Narvik has much historical importance. Our 1.5 hour train ride was full of amazing views. We also rode by Ofotfjorden Fjord which was impressive. During our time in Norway we visited the Narvik War Museum dedicated to the history of World War II, exposing the conflicts between Germans, British and Norwegians. I really liked this museum, I learned much of Norway's history. After our visit, we stopped by the restaurant "Fiskehallen Narvik" famous for whale burgers. When in Norway!
Day 6: July 22
Today began as a lazy day. Additionally,  we finished up our final project during most of the morning. The rest of the day was free. Many students went on a night hike. I chose to hike towards a beautiful waterfall called Silverfallet in the town of Björkliden. We started our hike at 10 p.m. making the best of the light nights in northern Sweden. On our way we saw common frogs hopping by the trails, many many wildflowers, hawks and other beauties along the way. About halfway there, we found a WW II bunker and a trench line. There was an informational sign that mentioned these were used by Norwegians. Naturally, we followed the trench line as much as we could before going in train again. We arrived at our destination around 1:10 a.m. Finally seeing this beautiful waterfall felt magical. From the observation bridge one could feel the most of the running water. After a while we decided to keep hiking to the shore of Lake Trollsjön known to the Sámi as "Rissájávri," meaning "the lake that glimmers like fire". At 3 a.m. we decided to head back. We decided to walk along the road instead of the hiking trail to walk faster and switch the view. Now we walked alongside the lake. We arrived at the tourist station around 4:30 a.m., completing the best hike I have had the pleasure of doing while in Sweden. This night is definitely one of the best memories of this experience.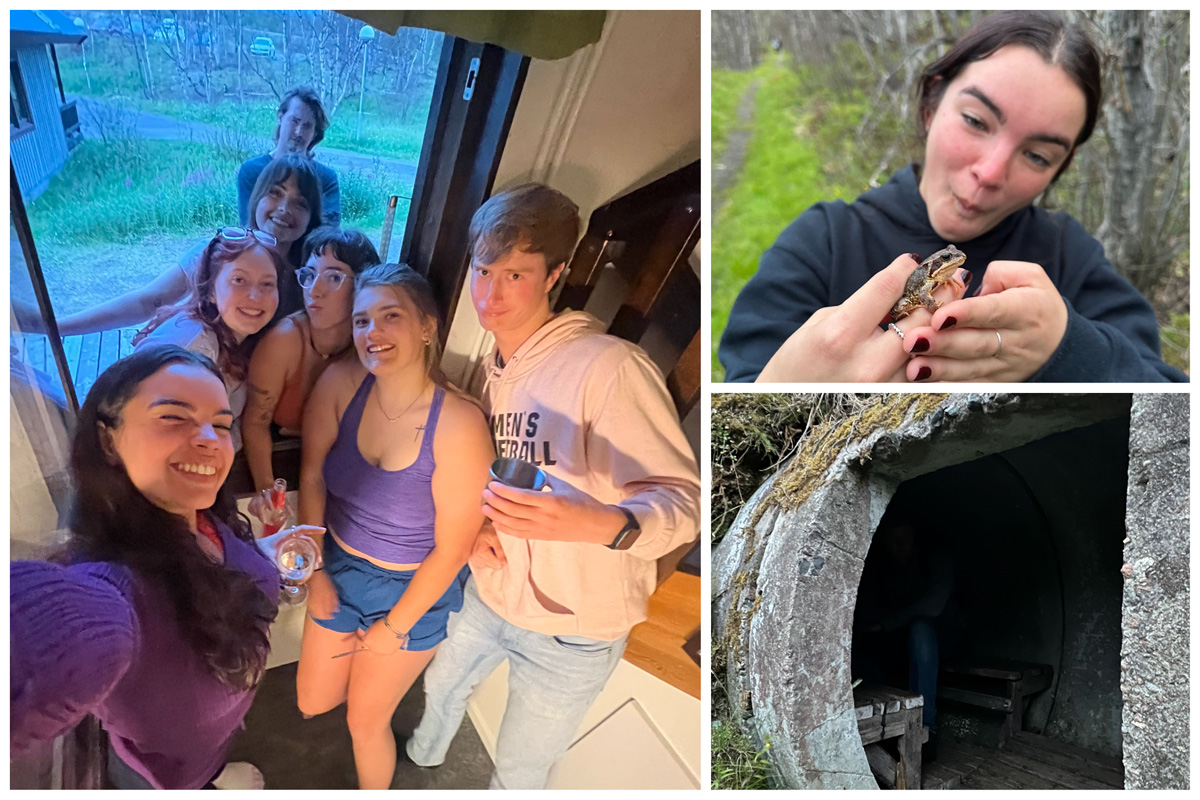 Day 7: July 23
As our final day in Abisko National Park comes to a wrap, Bryce Maier, Kyra Kiel, Samuel, and Alyanna Wilson made dinner reservations at Restaurant Kungsleden. Safe to say, the food was AMAZING, one of the best meals I have had during our trip. I ordered the butter baked Arctic Char from Malgomaj with dill sauce, pickled cucumber and trout roe. I have noticed that a lot of Swedish snacks and meals are cooked with dill, which is a particular taste but it's been so good to embrace new flavors. After dinner, I finished packing and getting ready for our 15 hour train ride back to Uppsala city.