Drs. Eva Haviarova and Henry Quesada aim to create a new market for low-value hardwoods and urban woods by producing wooden school furniture for the U.S. market through a new research project, "Production of Wooden School Furniture from Low-Value Hardwoods," funded by the U.S. Forest Service.
The project's goals are to utilize hardwoods, which would otherwise be abandoned or discarded due to oversupply, to produce wooden school furniture for the U.S market, while providing woodworking jobs and training for underprivileged individuals.
According to the U.S. Forest Service, low value is an economic concept. A product is considered low-value when the market determines the price of that product is low relative to similar products. Low value does not imply low quality. This project proposes to use species such as yellow poplar, soft maple, and beech, which have been labeled as low value, due to current market popularity.
Haviarova, professor of wood products engineering and furniture strength design, has been working on
designing, producing and testing school furniture since her time as a PhD student in the Purdue Wood Research Lab under Dr. Carl Eckelman from 1997-2000. After she earned her PhD in furniture design and manufacturing in 2000, Haviarova became the manager and director of the Wood Research Lab in 2001, and she has acted as the director of the lab since 2004. She also moved up the ranks from assistant professor to full professor from 2001 to 2020. In 2021, Haviarova was recognized with a Distinguished Educator Award by the International Society of Wood Science and Technology. In 2022, Haviarova was named as a Woman Ambassador of Wood Science by the Society of Wood Science and Technology.
Haviarova's School Furniture in Developing Countries project has resulted in the creation of construction manuals that are unique to school furniture production in specific countries – Costa Rica, Uganda, Kenya, Haiti, Jamaica and Afghanistan. She addressed the differences in locally available raw materials, construction techniques, school requirements and more. Haviarova also has produced video series and blogs to go along with the manuals, covering the topics of machining, assembly and more.
Quesada, the assistant director of Extension and the Agriculture and Natural Resources program leader, completed his master's degree in wood products technology at Purdue in 2001, writing his thesis on the "Design of a Manufacturing System for the Construction of School Furniture. He earned his PhD in wood
products technology in 2004, presenting his dissertation on the "Competitiveness of the U.S. Furniture Industry." After returning to his native Costa Rica as an associate professor at Instituto Tecnològico de Costa Rica from 2004 to 2008, Quesada ascended the ranks from extension specialist and assistant professor to associate professor and finally full professor in the Department of Sustainable Biomaterials at Virginia Polytechnic Institute and State University from 2008 to 2022. In February 2022, he accepted his current position in the Purdue College of Agriculture and Purdue Extension.
In 2015, Haviarova, Eckelman and Daniel Warner published an extension article titled "How to Build a Simple Chair for Schools or Homes in Disadvantaged Areas of the World Using Local Resources and Low-End Technology," which stated that "low-cost, durable, attractive school chairs can be produced in essentially any region of the world from locally available wood, wood residues, or semi-processed woody materials."
This new project will build on that and expand the research to include the North American market for school furniture, which accounts for 52% of the nearly $5 billion global market. It aims to introduce more sustainable furniture to the U.S. market, which is currently dominated by steel, plastic and composite materials.
Haviarova and Quesada will partner with Purposeful Design, the Indiana Hardwood Lumbermen's Association, Pike Lumber Co., Wudeward Urban Forest Products and an elementary school in Indiana to conduct this project.
A total of 60 school furniture units (chairs and desks) will be manufactured at Purposeful Design using low-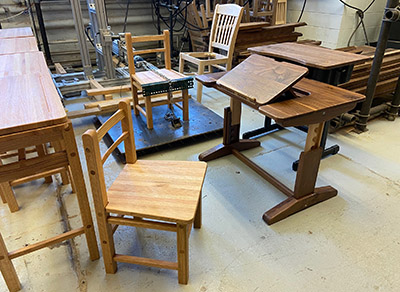 value hardwoods and urban woods. Production metrics will be documented during manufacturing. Fifteen units will be tested for performance at Purdue's Wood Research Lab, while 45 units will be delivered to a local school where information will be collected regarding student and teacher perceptions. Finally, raw material preparation, production, assembly and packaging will be built into a training program so that it can be replicated by other potential manufacturers in the United States.
"This project will contribute to the increased utilization of the lower-value hardwoods, increase forest health by removing low-value timber, and increase employment in deprived urban and rural areas," Haviarova said. "In addition, it has a social component, which is providing potential employment and entrepreneurial opportunities to underprivileged workers or individuals with a troubled past."
This research will bring the decades of work Haviarova and others have done in countries around the world back to the United States for application.
"Research conducted at the Purdue University Wood Research Lab over the last two decades has been fundamental in developing school furniture designs that are simple, strong, durable, affordable, easy to produce from small components and could be produced from low-value hardwoods," Quesada said. "On the other hand, there is an oversupply of low-value hardwoods such as yellow poplar, soft maple, beech and red oak, in all hardwood regions. Adding market value to low-value resources could generate additional revenue for landowners, promote ever-needed forest management and increase the consumption of underutilized hardwood species."