Students from Purdue Forestry and Natural Resources took their classroom knowledge to the field for summer internships and paid positions across the country, gaining valuable experience, hands-on training and career guidance. The FNR Field Reports series will offer updates from those individuals after their positions draw to a close.
Senior wildlife major Rachel Kraus worked as a summer intern in the Research Experience for Undergraduates program (REU) at the University of Wisconsin-Stevens Point (UWSP) Cooperative Fishery Research Unit, after finding the position on the FNR job board.
Kraus, who also has minors in aquatic sciences and forestry ecosystems, worked with the graduate students at UWSP, aiding them in their research projects, primarily through field sampling and lab work. Through the REU program, she also was able to work on her own independent research project and poster. Her project focused on determining whether stocking length and location determine survival of muskellunge within the tributaries of Green Bay.
The Sunman, Indiana, native was able to apply her FNR classwork and experiences gained from clubs and practicums in the position.
"As a wildlife major, I did not have a great deal of experience in the fisheries field, however I was able to apply knowledge learned in my fish and herps lecture and lab portion (Fish Ecology and Fish Identification)," Kraus said. "I also applied some fisheries techniques learned at my Marine Biology Practicum and through the Purdue Student Chapter of the American Fisheries Society. Lastly, many of the wildlife courses/skills, such as statistics, general ecological knowledge and critical thinking skills were applied throughout my work this summer and within my independent project."
Kraus also gained knowledge on a variety of topics through her summer position.
"I learned a variety of fish species and fisheries sampling techniques, including the use of barge and backpack electrofishing, PIT tagging and measuring fish, larval fish trawls, educating youth on the importance of fisheries research and management, and extracting otoliths (ear stones in fish used for aging)," Kraus explained. "Additionally, working with the grad students and on my own project, I learned about the benefits of graduate school and research, and received a small taste of the day-to-day life of a graduate student."
The position had its ups and downs, but Kraus said both contributed to a positive experience for her.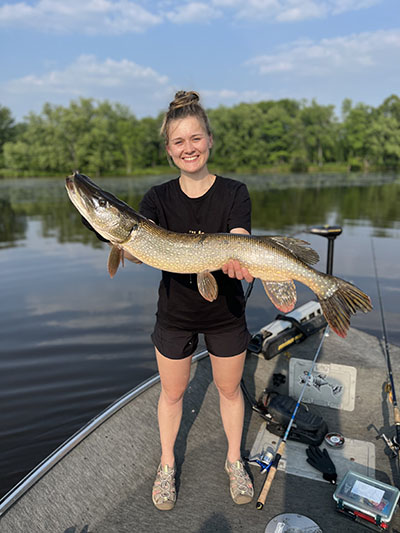 "My favorite parts of the job were anything outside and getting my hands on fish," Kraus said. "At the end of June and throughout July, we spent long 10–12-hour days electrofishing for brook and brown trout. I was able to learn so much about the fish in central/northern Wisconsin, experience beautiful scenery in remote areas, and handle an immense number of fish. My independent project included sorting through massive datasets in excel, placing emphasis on identifying the most efficient way to sort and analyze the data. There was a great deal of trial and error, but I was grateful for the experience because learning how to sort and analyze data is vital to a career within the natural resources field. Long field days also were extremely tiring, however in the end were so worth it for the experience and memories gained."
Kraus had the opportunity to be involved in many new things that expanded her horizons.
"Through my position I was able to travel to the Mississippi River to count fish harvests from a bowfishing contest," Kraus shared. "Not only did I see the largest number of fish caught ever (i.e. bowfin, buffalo, carp, gar), but we also got to see the Mississippi River for the first time. Another experience that stood out was when UWSP hosted a youth event called "Fish Up Close," where we introduced young kids to the world of fisheries research and management. I loved displaying and teaching the youth about larval fish species and sampling. In the past, I did not have an interest in environmental education, however, after this event, I hope to participate in more environmental outreach events in the future."
Outside of her job duties, Kraus also had some impactful experiences.
"I had the opportunity to fish and explore within a new area," Kraus said. "As an out-of-state resident, I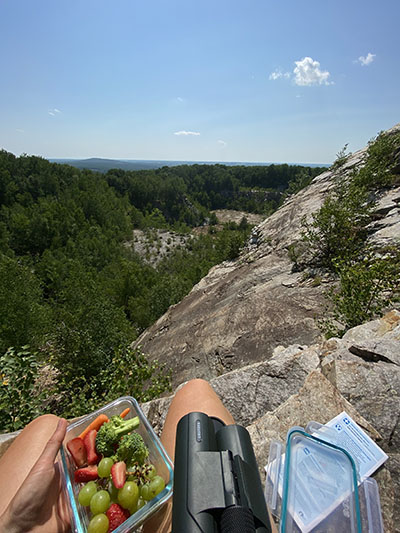 enjoyed the opportunity to travel in Wisconsin, fish on the Wisconsin River and surrounding bodies of water and explore small town Steven's Point. Additionally, I had the opportunity to volunteer for Trout Unlimited on a few Saturdays during the summer. These volunteer days sparked my interest to participate in more environmental volunteer events. Volunteering within natural resources is not only enjoyable through spending time outdoors, but also through the individuals you meet and through making a positive impact on the environment."
Her summer as an intern in the Research Experience for Undergraduates program (REU) at the University of Wisconsin-Stevens Point (UWSP) Fisheries Cooperative has given Kraus a new career outlook as well.
"Prior to my internship at UWSP, I was not interested in working in the fisheries field, now however, my new career goals are geared towards fisheries, in future employment and graduate school," Kraus noted. "I also originally did not envision graduate school within my future, however this past summer I recognized the value of obtaining a graduate degree, and I hope to return to school post-graduation for my master's degree in fisheries. This summer has introduced me to a whole new side of the natural resource world, and I am extremely grateful for the experience."