The Purdue Student Chapter of The Wildlife Society won the 2023 Quiz Bowl title at The Wildlife
Society Conference in Louisville, Ky., on Nov. 8. The team consisted of senior captain Alex Dudley, senior Anne Talbot, senior Lucas Wilson, first-year Garrison Sickbert and alternate Alexis Proudman.
The Quiz Bowl is a fast-paced knowledge competition that pits teams from several colleges and universities against one another in wildlife trivia relevant to wildlife and natural resources management. Purdue bested Mississippi State University in the championship match to finish atop the 16-team field. Virginia Tech and the University of Georgia rounded out the top four.  
Purdue answered the last question of the final match as well as the bonus question that followed, but had to wait for the results to be announced to find out if they had won the title.
"Once they said that the match time had expired, I was extremely nervous to hear the results," Talbot said. "I felt better prepared this year, but the nerves were definitely still there before each round. It feels like everyone in the room gets tense as the match goes on, especially during the finals. I was pretty certain we were behind in the first part of the match and was hoping that we had caught up by the end. They don't have scoreboards up, so it can be really difficult to keep track of who is in the lead. I was on the edge of my seat as we waited for them to tally up the scores and tell us who won. When they announced that we had won, the Purdue section of the crowd erupted into cheers. The elation of winning and the relief that the intense competition was finally over created a surreal moment. It was hard to believe that we had emerged victorious. it is definitely a memory I'll cherish forever."
Team members held bi-weekly practices, studied on their own time, spent a night looking at specimens in the lab to help them review the key characteristics of species in different families and even had a "mock quiz bowl" for their last practice before the event. Fellow TWS member Keegan Abeson made practice questions for the team and quizzed them as did alternate Alexis Proudman.
Dudley said she was thrilled to see the team's hard work pay off in the end.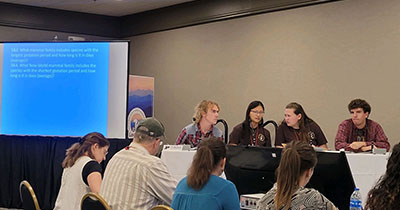 "Having competed in the past made going into the competition less nerve-wracking, since we knew what to expect, but the pressure was on to do better than last year," Dudley shared. "When they announced that we had won, I about jumped out of my chair! I can be a bit competitive, so I'd been pushing myself and my teammates to study all semester. On the drive down, I made the whole van quiz me the entire way. Overall, it's super exciting to carry on the legacy of Purdue's 2019 quiz bowl win. It was a real team effort, and we couldn't have done it without everyone on the team!"
The 2019 Quiz Bowl title was won by the Purdue team of Amanda Heltzel, Garret Cooney, Tabitha Olsen and Jessa Newby.
Purdue also has recorded podium finishes at Quiz Bowl four times since 2016. The 2017 team placed second, while the 2016, 2018 and 2022 teams finished third.
2016 (Raleigh, N.C.) – 3rd, Landon Neumann, Rebekah (Lumkes) Hellesto, Sarah (Abercrombie) Vaughn and Lexi Eiler
2017 (Albuquerque, N.M.) – 2nd, Landon Neumann, Zach Truelock, Ashley Higdon and Lexi Eiler
2018 (Cleveland, Ohio) – 3rd, Landon Neumann, Avery Cook, Kat Tessero and Ariana Apodaca
2019 (Reno, Nevada) – 1st, Amanda Heltzel, Garret Cooney, Tabitha Olsen and Jessa Newby
2022 (Spokane, Washington) – 3rd, Alex Dudley, Evan Kinnevan, Anne Talbot, Ashlanna Murray and Lauren Wetterau
"The students invest so much time and effort studying and preparing for Quiz Bowl so I'm always excited when their hard-work pays off for them," TWS advisor Dr. Elizabeth Flaherty said. "I think the students' continued success over the years is also a reflection of how well our undergraduate wildlife program teaches them the general knowledge they need for their futures as wildlife professionals."
Wilson, a senior wildlife major, said he enjoyed being a part of Purdue's tradition at the competition.
"I think hearing previous years' participants talk about how much they enjoyed Quiz Bowl piqued my interest," Wilson said. "I had enjoyed participating in quiz bowl-style competitions in high school, but that was four years ago, so I wasn't sure how well I would perform. But, after practicing throughout the semester leading up to the conference, I began to feel myself getting back into my groove. It was all about being confident enough to jump on any question I knew, but also humble enough to stay silent when I didn't have a clue. I'll be honest, even up to the very last question, I wasn't quite sure that we had won! But I was very happy for my team once the announcement was made." 
Teams gain points by answering questions asked by a moderator. After successfully answering a toss-up question, teams are given the opportunity to answer a multi-part bonus question.
Teams are randomly sorted into pods of four teams, which play a minimum of three 7.5-minute matches. The highest scoring team from each pod advances to the final four. The final four teams face off in a round-robin tournament to determine who will compete for third place and who will battle for the title. The third-place match is 10 minutes long and the championship is 15 minutes. Full rules for the Louisville event are available online.
Questions were drawn from the following categories:
Biology/Taxonomy/Ecology (birds, mammals, herps, fish, plants and invertebrates)
Biogeography/Biodiversity/Population Ecology
Management Techniques/Conservation Policies
Current Events (including conference events)
Regional (host state) questions
Human Dimensions/Wildlife Damage Management
Soils/Geology/Botany
Statistics/Biometrics
TWS trivia
International Wildlife Conservation
Sample Toss-Up Questions
What species (common name) was protected under an international treaty signed in 1973 by Canada, Denmark, Norway, USSR, and the U.S.?
Answer: Polar bear

Antlers are an important source of what nutrient for porcupines and other rodents
Answer: Calcium (or Phosphorous)

What statistical term refers to either the values or the difference between the highest and lowest values in a dataset?


Answer: Range
Sample Bonus Questions (given if a team answers the toss-up question correctly):
What does Bd stand for, what is it commonly referred to as, what type of organism is it, and what disease does it cause?
Answer: Batrachochytrium dendrobatidis, Chytrid, Fungus, Chytridiomycosis
Name the authors of these books: Silent Spring, Year of the Graylag Goose, A Sand County Almanac, and Walde
Answer: Rachel Carson, Konrad Lorenz, Aldo Leopold, and Henry David Thoreau
Provide the descriptive term for each type of locomotion: organisms adapted for running, organisms adapted for jumping, organisms adapted primarily for digging, and organisms adapted for climbing.
Answer: Cursorial, saltatorial, fossorial, and arboreal