ipia faculty spotlight | amanda dickson
Meet Amanda Dickson, international Extension program coordinator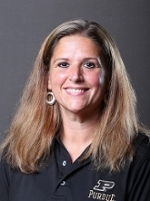 Amanda Dickson pours her daily tea from a worn leather cask she acquired in Paraguay 15 years ago. It carries not just tea, but memories of adventure and service — the same opportunities Dickson seeks to give others as international Extension program coordinator in International Programs in ​Agriculture (IPIA)
The native of Ponca City, Oklahoma studied agricultural economics at Oklahoma State University before joining the Peace Corps in 2003. In three-plus years as an agricultural and community development volunteer in Paraguay, Dickson assessed community needs and creatively addressed them. She introduced techniques for farmers to improve yield and sustainability, new cash crops, leadership training and health education. She extended her service to train incoming volunteers and assist outgoing personnel.
She returned to Oklahoma State to complete a master's degree in 2009. Jobs were scarce, so when a Korean officemate mentioned the abundance of openings in her home country, Dickson signed on to teach English in Korea, first to elementary and middle schoolers, and then to university students.
Back in the U.S. two-and-a-half years later, she asked a mentor familiar with Extension to recommend the nation's best Extension site. The answer: "You need to go to Purdue." Dickson's Extension career thus began in Brown County — a transition she calls "seamless."
"I had a program planning background, with few resources in Paraguay and a wealth of resources in Korea," she says. "I didn't have Indiana ag knowledge, so there was a learning curve there. But I'm able to look at a community and see what their needs are.
That's what draws me to Extension. It's the Peace Corps, here stateside."
As international Extension program coordinator, Dickson facilitates the cultural competence that comes from adapting to an unfamiliar culture. Toward that end, she asks two key questions: "How can I help Extension educators have international experiences and have them come back as better educators? How do they share those experiences with their local community members?" Her role is to find and fund those opportunities.
She is building a comprehensive program with three tiers of experiences for three distinct audiences. The first is local interaction with international communities in Indiana for people who lack time or interest in overseas travel. The next is weeklong study abroad or group travel involving faculty, Extension educators and students.
Dickson's top tier — "the most exciting, the most impactful" — takes single or paired travelers on two- or three-week experiences. One such example is IPIA's farmer-to-farmer program in which U.S. volunteers share specific skills with farmers in Colombia. "It's all very hands-on and applicable to their lives," she says.
For faculty, a top-tier experience might be a research project in another country with a tangible outcome that betters the lives of its people as well as those in other areas — a specific farming recommendation, or a product that is produced and sold, for example.
Purdue is a trendsetter in international development, Dickson says, "because our leadership sees its importance and supports it." But she would like even more members of the university community to tap IPIA resources. "We have a lot of connections internationally, so if faculty want to start research in a certain region, we can open doors for them. On the other side of that, a lot of faculty may not think about the real-world application that Extension can bring to their project."
Contact Information
Amanda Dickson | 
International Programs in Agriculture
dicksona@purdue.edu
(765) 494-0795
Agricultural Administration Building, Room 110