Faculty and Staff Spotlight
Extension Educator Brings Global Ideas Home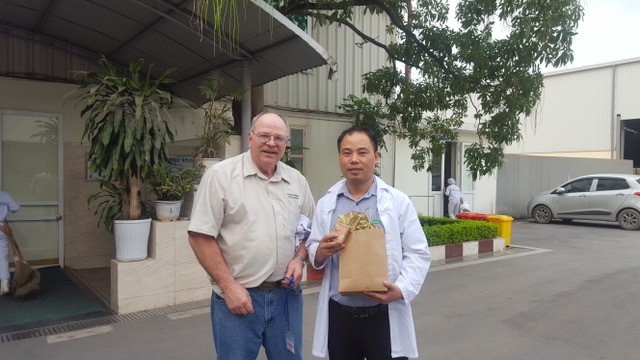 "This is a learning job, and I have learned a lot in 35 years. By traveling internationally, I further expanded my knowledge of what's going on in the world."
                                                                     -

 
Mark Kepler
For Mark Kepler, county Extension director in Fulton County, international extension doesn't just satisfy his own love of travel and curiosity about other cultures. It's also a way to share the world with his fellow residents of the largely rural county who may not have the same opportunities.
"As a Purdue Extension employee, I'm expanding my knowledge all the time," he says. "This is a learning job, and I have learned a lot in 35 years. By traveling internationally, I further expanded my knowledge of what's going on in the world."
Kepler's background is in hog nutrition. His travels abroad focused on that topic as well as broader areas of agriculture, and he recorded his observations, experiences and interactions in a journal. He shared his findings and experiences in a series of newspaper articles and by speaking at meetings of local organizations. "People here hadn't had a chance to go to those places, so they are open and receptive," he says.
His first trip abroad in 2005 took Kepler to Russia through the international nonprofit agency ACDI/VOCA. There he visited a hog operation in a small village southeast of Moscow. "This was really an old communal farm, where villagers raised the hogs, butchered them, and made and marketed the sausage, which was more like what we'd call 'baloney.'" Kepler worked with the farmers on nutritional formulations.
Bringing Ukrainian students to Indiana
That experience whetted Kepler's appetite for another experience in Eastern Europe. In April 2007, he was one of three Purdue Agriculture Extension Educators who traveled to Ukraine on a Purdue-sponsored trip to work with Poltava Agrarian Academy. Over 11 days, they presented information on various program areas of the Cooperative Extension Service — small grain production, swine reproduction, forage management, tourism, youth cultural exchange, community development and biofuels — to students, faculty and local farmers.
They also explored ways the universities could work together in research, teaching and extension. Kepler used his new connection to a Poltava administrator over the next two years to bring four Ukranian graduate students to Fulton County for the summer. He matched them with people in the community willing to house them and provide relevant paid work — two crop farmers, a veterinarian and a farm equipment dealer. At least one of those relationships is ongoing, he adds.
Holistic agriculture in Vietnam In 2018 Kepler joined Elizabeth Karcher, assistant professor of animal sciences, three other Extension Educators and Purdue students on a spring break trip to Vietnam. In addition to spending time with Vietnamese students at an agricultural university in Hanoi, the group visited farms and tourism sites. Kepler notes that the VAC system, Vietnam's holistic approach to agriculture, builds on thousands of years of sustainable farming methods. (VAC in Vietnamese is vuon, ao, chuong, which means garden/pond/livestock pen.) "They use it in rural villages, trying to utilize all the different aspects of farming," Kepler explains. At the first hog operation he saw in Vietnam — most were small, with just three or four sows penned behind a house — Kepler asked about an unfamiliar setup. The interpreter answered, "Biogas."
The simple system involved moving manure from the hog pen into an in-ground pit and running a pipe to a burner in the home, where the homeowner could light the methane as fuel. "In the U.S., farmers put waste in huge vats and trap the methane. We think of it as a big thing," Kepler says. "But this homeowner — she just lit that burner." For Kepler, fostering international extension doesn't necessarily require a plane ticket. Closer to home, he has brought international graduate students from Purdue to Fulton County to stay with dairy, grain and crop farmers for a weekend. "I'd love to see more Extension people going on these kinds of programs," he says. "Purdue University has a lot to offer the world."