Kara Stewart didn't attend Purdue as an undergraduate student with the intent to pursue agriculture. After she graduated in 2001, her plan was to become a veterinarian. Today she's an Assistant Professor, with a majority Extension and Teaching appointment, and her YouTube video on how to complete post-cervical artificial insemination in pigs has received nearly 200,000 views. The clip is the number one most accessed video on the Purdue Extension YouTube channel. You might say things have changed.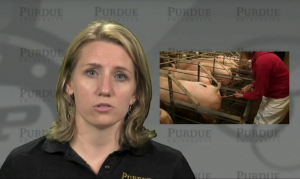 After receiving her bachelor's degree, the Carmel, Indiana native moved on to North Carolina State University to work on her master's. It was there she was introduced to the issue of reproduction in pigs. Her studies led her to continue on at the university, pursuing her PhD in swine reproduction. She finished her degree in 2008, and then taught at N.C. State for two years. She returned to Indiana in 2010 to work at MED Institute in West Lafayette.
Stewart came back to Purdue in 2013 to pursue her efforts not just with swine, but across species. Through her research, she's studying nutritional supplements and feeding strategies to improve reproductive outcomes in beef cattle and pigs. She's also become passionate about developmental programming.
"I'm especially interested in understanding the impacts of milk composition and environment to the developing offspring in gestation or during lactation," said Stewart. "Scientists have largely ignored this area, yet we believe there are ways to manipulate animals around or just after birth to improve their lifetime reproductive capability."
Stewart says that identifying more fertile animals earlier in the reproductive process can have a greater economic benefit for the beef and swine industries.  By finding fertility markers, the industry can save money.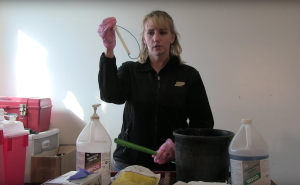 One of Stewart's roles at Purdue is to increase understanding about reproductive technologies. That focus is what led to the creation of her hit YouTube video. "The purpose of the Extension video was to help explain reproductive processes or procedures on farms," she said. "Because new artificial insemination (AI) catheters were being marketed to the swine industry and adopted on farms, we saw a need to produce a video that showed users how you could use those tools to improve reproductive management."
The video exploded. People all over the world have emailed Stewart with follow-up questions and the video is being used as a training resource for employees. The success of the clip led to the production of two more videos – one on how to use a Controlled Internal Drug Release (CIDR) in beef cattle, and another on hygiene practices for boar semen collection.
The demand for more educational animal science videos continues to grow. "We've received grant money to produce two more instructional videos, which are currently in process," she said. "I'm fortunate I can pursue my passion for research as well as educate the public with these valuable videos."