Growing up in Spencer, Indiana, Ryan Scully didn't expect to go to college. The Purdue sophomore had always planned to join the military following high school. But involvement in organizations like FFA and 4-H changed his perspective.
While participating in activities through those agricultural groups, he was encouraged to take advantage of his natural leadership capabilities. He saw an opportunity to pursue his passion for agriculture and satisfy his military intent through the Reserve Officer Training Corps (ROTC).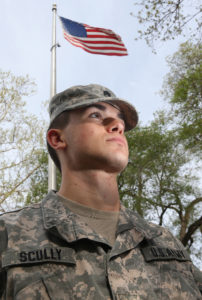 "To be an officer in the military, you need a bachelor's degree," said Scully. "But I also realized I'd like to be an agricultural educator following my career in the Army. I decided there was a way for the Army to train me while I worked toward a degree in a field I love."
Scully began looking for schools in Indiana that offered programs in agricultural education. He wanted to be close to home so he could help out on his family's farm. Scully was accepted at Purdue and received an ROTC scholarship.
As he became more involved in the agricultural community at Purdue, Scully found he was also drawn to issues surrounding sustainable food and farming systems. He's now pursuing a double major in Agricultural Education through the Youth Development & Agricultural Education (YDAE) department, along with a degree in Sustainable Food and Farming Systems via Horticulture.
After graduation, Scully will fulfill his commitment to the Army, which will last for at least 4 years. He may be on active duty or a member of the National Guard. If the latter, he can also maintain a civilian job such as an agriculture teacher or district conservationist. Scully may also choose to make a career out of military service.
When asked about what he likes most in YDAE, he points to the environment the department has established. "I like that there's a professional divide between the professors and students, yet you still get the individual one-on-one time you need. The faculty and staff are committed to helping students succeed."
One thing is certain – Scully is a busy man. Between his packed coursework schedule, ROTC responsibilities, and frequent trips home to work on his family's farm, free time is at a premium. But he wouldn't have it any other way.