For most students, summer is a time to kick back, relax, and forget about the stress of school. But for 18 Indiana high schoolers and eight Purdue undergraduates, this summer meant science.
​Purdue's Molecular Agriculture Summer Institutes (MASI) allow students to investigate plant and life sciences and STEM (Science, Technology, Engineering and Math) disciplines by working hands-on in labs alongside Purdue faculty. And although the kids are encouraged to attend Purdue in the future, that's not the goal of the program, said Austin Dixon, assistant coordinator and counselor director for the pre-college MASI program.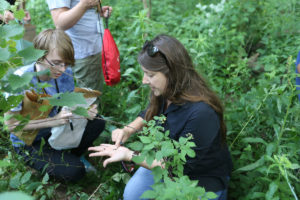 "The goal is to have them experience agriculture, experience research, experience what it would be like to do science, and get them motivated for that," he said. "This program's really great for seeing a different side of college."
High school students got a taste of Purdue during the one-week residential program June 18-24. Faculty members from Purdue's Agricultural and Biological Engineering, Botany and Plant Pathology, and Horticulture and Landscape Architecture departments used their labs to engage students in problem-solving experiments. For Amanda Wilson, that meant pursuing her interest in mycology alongside Dr. Mary Catherine Aime, a fungi specialist at Purdue.
Although just a junior in high school, Wilson is no stranger to the field of mycology. She has been doing agriculture-based projects for the past five years and is particularly interested in looking at ways to prevent a fungal pathogen called corn smut, which often results in significant yield loss for farmers.
"I'm really glad that I got paired with another mycologist like Dr. Aime," said Wilson. "She's one of the leading mycologists in the world and has pioneered a lot of her field, so being around her is really inspiring and helpful, and kind of lets me know what the future could hold."
During the week-long MASI program, Aime, Wilson, and other students focused on the study of lichens and how yeast affects the symbiotic relationship between algae and fungi.  Wilson's favorite part of the process was collecting lichens at a nearby nature preserve. Aime showed Wilson how to culture the lichens and observe the samples for yeast-like growth.
"We're doing tests on things that nobody else in the world knows about," said Wilson. "Coming here has really shown me that research does need to be done to learn new things about the unknown."
A participant of the undergraduate MASI program did just that: used research to learn more about the unknown to hopefully advance medications for diseases like cancer, Alzheimer's, and Parkinson's Disease.
 Adam Hoehn, a senior in Biochemistry, worked with Dr. James Forney, a professor in the School of Biochemistry at Purdue, to study post-translational modification in a single-cell organism. This research has potential applications in the medical field and could be used to develop medications that treat and prevent serious diseases.
"The research we're doing doesn't necessarily directly apply to that, but any information you can get about [this modification] could potentially lead to more advanced medications, or different ways to treat these diseases," said Hoehn.
The eight undergraduate MASI fellows regularly met during the week to discuss their progress and educate each other about their wide range of research interests. Fellows also worked with Purdue's Department of Youth Development and Agricultural Education to host "Communication Lunches" covering topics like elevator speeches, poster design, and academic writing. They showcased their work to team members and mentors on July 28 at Dow AgroSciences in West Lafayette to wrap up the program.
"It's hard to have conversations with other undergrads about their research," said Hoehn. "So being able to hear other people's experiences and see what they're doing has been a really great part of the program. I would definitely recommend MASI just because I hadn't really thought about a lot of the real-life applications. I think that's what MASI really tries to get at, is making you think about why you're doing the research that you're doing."