Hunter first heard about the MANRRS-Purdue chapter through Pamala Morris, assistant dean and director of multicultural programs, and Myron McClure, assistant director of student recruitment and retention.
"They brought out the welcome mat for me when I visited Purdue. I fell in love with it all," said Hunter. "Myron told me about MANRRS, how it's a good group for minorities in agriculture and how it would be a great fit for me in biochemistry."
MANRRS (Minorities in Agriculture, Natural Resources and Related Sciences) is a national society that promotes academic and professional advancement by empowering minorities.
"If you're willing to put forth the energy to develop yourself as a student and as a professional, there's a lot you can gain from MANRRS," said Hunter. "My mentors in the program helped me grow as a college student and get acclimated. They helped me start the process of 'adulting' and encouraged me to take on the position of Community Services Chair."
"Now, I don't label Myron and Dr. Morris by their job titles. I see them, in a sense, as my family away from home. They've invited me to their home to eat, gave a helping hand when I was moving and are there to talk with about life. They've invested in me and have been big contributors to my growth."
Hunter graduates in May. "I am a double major in biochemistry and nutrition science, which says a lot about my Purdue experience. It has been challenging, but, more than that, it has been rewarding. Especially with my research."
Hunter worked as an undergraduate research assistant in the Department of Food Sciences with Haley Oliver, associate professor of food science, and Amanda Deering, clinical assistant professor.
"Brandon worked on several research projects related to food safety in my lab and did an outstanding job," Deering recalled. "He is a hardworking and dedicated student who enjoyed the challenges of what research brings to better understand real-world problems and to improve food safety education to our stakeholders."
"What I learned through my research directly applies to my natural hair products business, The Origin of Greatness, LLC. I'm very big into organic ingredients and holistic health," said Hunter. "Working with bacteria in Dr. Deering's lab allowed me to conceptually think about how I want to protect my product without using any types of chemicals or additives."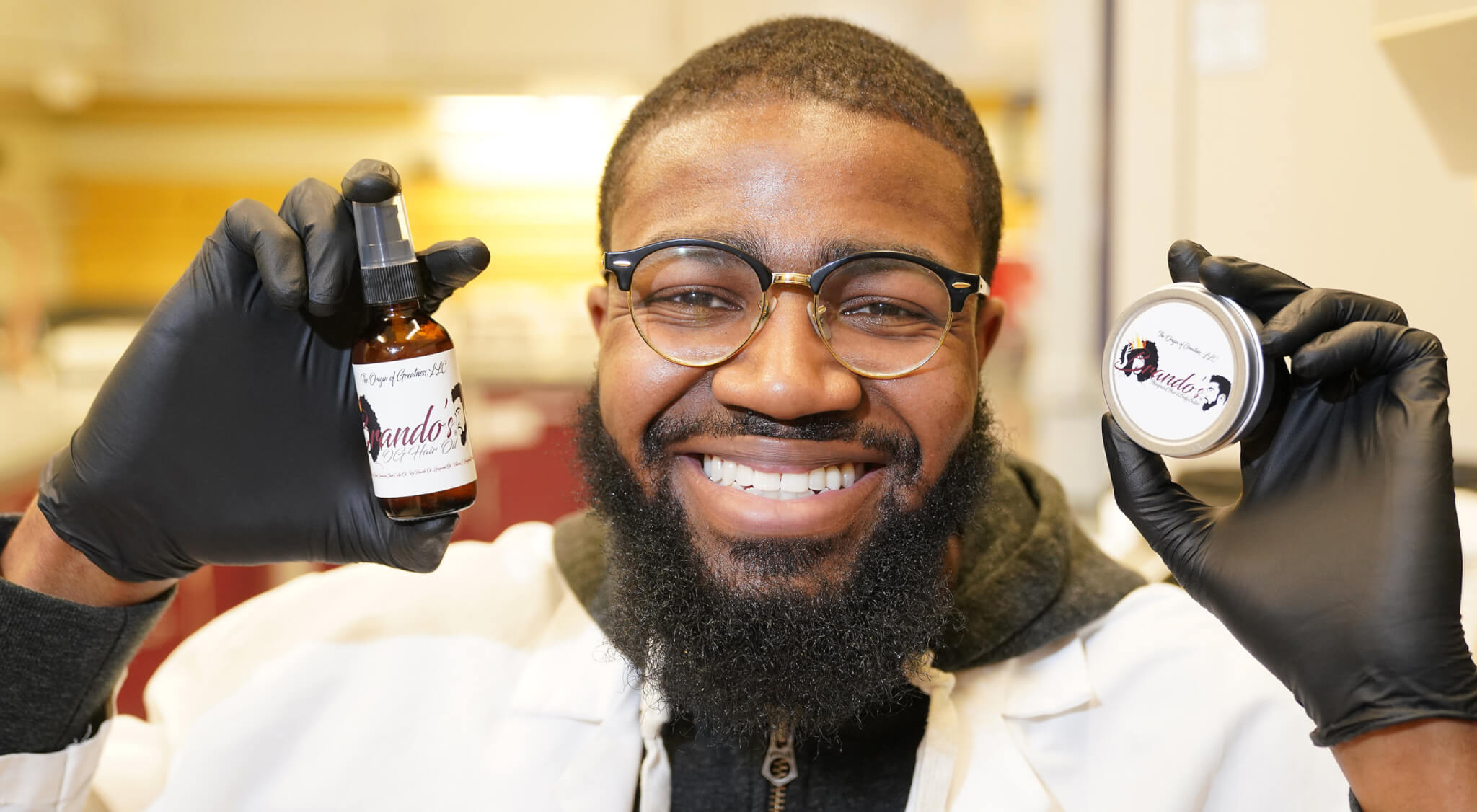 The first hair care product Hunter created was for his mother. "I didn't completely know what I was doing, but I knew how different essential oils and natural ingredients work. I put a product together and it was helpful for her." The success motivated Hunter to continue its development.
"Brandon has always had an entrepreneurial mindset and skills for building relationships with people," said McClure.  "He has utilized his courses from day one to improve his products, while listening to the cultural needs of the community.  It's only a matter of time before his products become a household name in the industry."
Hunter's hair oil is now available at Sunspot Natural Market and Rocco's Barber Shop. "It's exciting, but I'm making sure not to lose sight of the fact I'm a student first," said Hunter.
"Being in biochemistry is very theoretical. The business is something I needed because it helps me make those connections to understand different metabolic processes and concepts like how enzymes work," explained Hunter. "It helps me be more engaged in a classroom setting."
Hunter now shares his experiences with MANRRS mentees of his own. "I tell them that focusing on class is great, but you need an outlet, a good balance. I help them realize they aren't in Indianapolis, Gary or wherever they're from anymore. Yes, things are different, but that doesn't mean things have to be worse… I have my family back home, but I've also built another family here."