Hydroponics and aquaponics offer promise for growing produce and raising fish. But some may be wary of entering the industries because of perceptions about high capital and operational costs and environmental impacts.
Purdue University scientists compared the environmental performances of both systems and calculated their economic efficiencies in Indiana. Their findings, published in the Journal of Cleaner Production, inform those interested in entering hydroponic or aquaponic industries on how to get the most for their investment with the least environmental footprint.
Hydroponics and aquaponics are soilless systems. Hydroponic plants are grown in water containing chemical fertilizers as nutrients. Aquaponics adds the raising of fish and uses fish waste to replace chemical fertilizers. These indoor operations come with upfront capital costs and require use of significant amounts of energy for lighting, heating and water pumping, as well as fish feed and fertilizers.
For one month, graduate students Peng Chen and Gaotian Zhu raised six vegetables in a hydroponic system and those same vegetables with tilapia in an aquaponic system. Experiments were conducted in the lab of Hye-Ji Kim, a Purdue assistant professor of horticulture and landscape architecture, and in collaboration with Paul Brown, a Purdue professor of forestry and natural resources. Jen-Yi Huang, a Purdue assistant professor of food science and the leader of the project, worked with the students to conduct a life cycle assessment using the data they collected.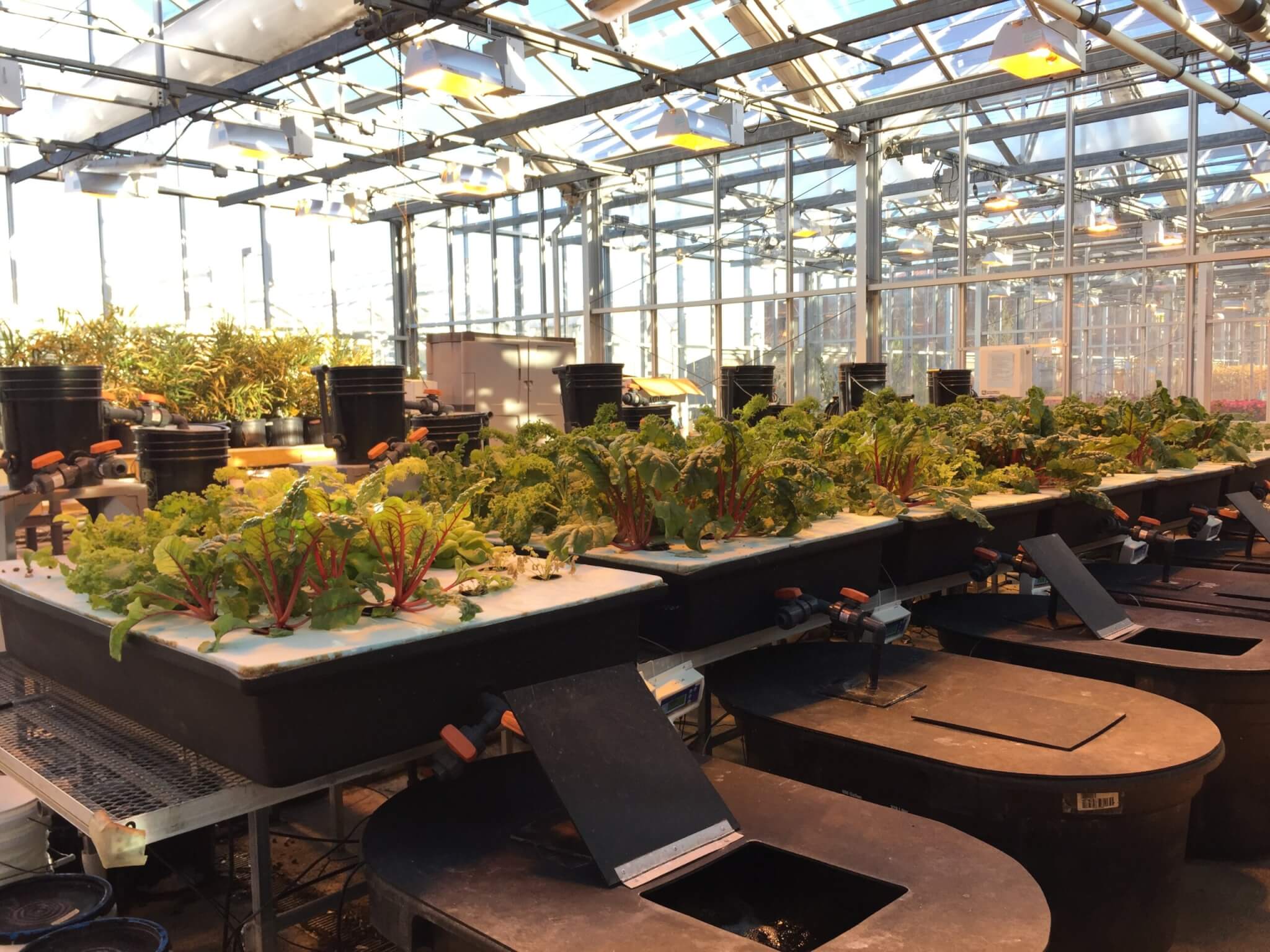 Purdue University researchers conducted a life cycle assessment of hydroponic and aquaponic growing systems in Indiana to measure their environmental and economic impacts. (Photo provided by Peng Chen)
The researchers found that the aquaponic system led to 45 percent less environmental impact when considering fossil fuel use, global warming, water acidification and eutrophication created by resources used as well as waste and emissions released. Twice as much food is grown in the aquaponic systems with little added environmental cost.
"The aquaponic system is more environmentally friendly when you look at the total environmental footprint per US dollar of economic value of the products," Huang said. "But that is based on using Indiana's current energy mix. If we consider using more renewable energy sources, things start to change."
Indiana currently gets almost 60 percent of its energy from coal-fired power plants, according to the U.S. Energy Information Administration, with about one-third coming from natural gas. The less electricity hydroponic and aquaponic growers source from fossil fuels, the more environmentally friendly their operations become.
Chen said that changing the mix and getting one-third of power from coal, natural gas and wind would reduce the environmental impacts of hydroponics by up to 48 percent. If an operation sourced its electricity solely from wind energy, hydroponic operations would be considered slightly more environmentally friendly than aquaponics.
"By using wind energy, which is largely produced in Indiana, farmers can reduce their environmental footprint enough to make these two systems essentially equal in terms of the economic output gained for the environmental cost," Chen said. "By choosing more plant-based fish feed, the environmental impacts can be further reduced in aquaponic systems."