What became a global fall tradition centered around great German food, friends and, of course, beer is being celebrated in Munich this year after a two-year hiatus. Oktoberfest, dating back to October 12, 1810, originated as a festival that celebrated the marriage of the crown prince of Bavaria.  Since then, Oktoberfest has become a mainstay of German culture that is now also celebrated around the world.  While historians believe that the centennial in 1910 drew nearly 12,000 people, this year Munich saw crowds of over six million in attendance.
The Bavarian Agricultural Association continued the festival as an opportunity to showcase regional farming achievements. As we look to the history of the event, we find three things that remain today: beer, bratwurst and sauerkraut. We turned to our Purdue Agriculture experts to share their input about the College's connections to this tradition.
The Beer of Oktoberfest
Beer is king at Oktoberfest! On average, over two million gallons of beer are consumed during Oktoberfest in Munich yearly. (That's 131,234 kegs of beer.) The Märzen style beer is what is known as the beer served during this fall festival and has been mimicked all over the world for its famous taste. In fact, this light beer became a launching pad for many of the beers enjoyed in the U.S. and around the world today.
Steve Lindemann, associate professor in the Department of Food Science at Purdue, notes that most of the food and beverage products historically served in the Oktoberfest utilized fermentation in their development and for very good reason.
"Beer itself is an output of fermentation due to the history of unsafe drinking water," Lindemann explains. "Oftentimes in human history, the water we had was not safe to drink and that most likely would have been the case in 1810 in Germany. The process of fermentation of beer involves a heating step, which kills a bunch of microbes that otherwise might cause disease. It also delivers some sugar into the water that allows fermentation to occur and produces something that is safe and pleasant for people to drink."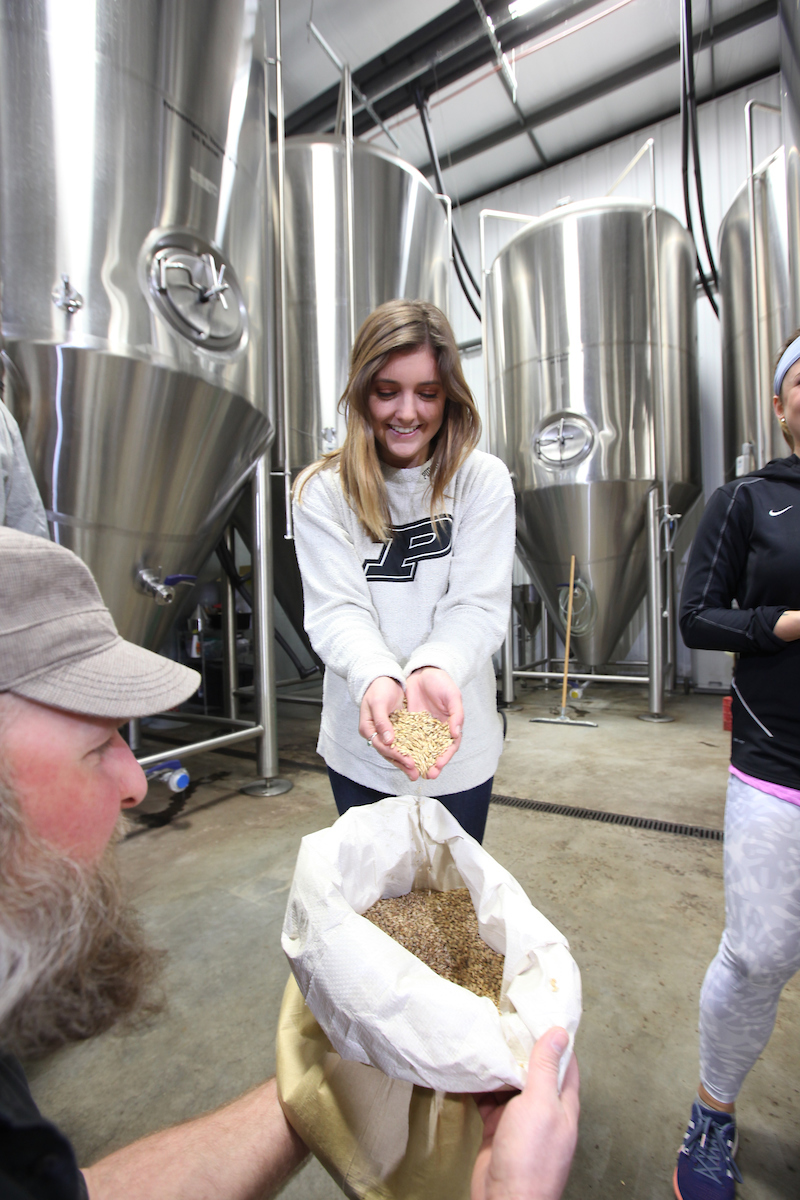 Chris Johnson, who attended Purdue, has had an ongoing partnership with the university to work on collaborative studies, and he has also been a regular speaker at classes in the Department of Food Science on topics related to the craft beer industry. Johnson is also the co-founder of People's Brewing Company in Lafayette and has partnered with Purdue Food Science to develop and produce the Boiler Black (American Porter) and Boiler Gold (American Ale) beers, with a portion of the proceeds funneling back into the fermentation sciences program. He also helped establish the Hops and Brewing Analysis Lab in Food Science.  
Johnson speaks to the German Märzen style and why it was and remains a perfect fall beverage. "The Bavarian region, where Oktoberfest started, is the father of many of today's lagers. The Germans were purists about their beer. They even had a law about only having four ingredients. The tradition of keeping these brews pure remains the same today." 
Johnson notes that there are a few specific tips when trying to replicate the famous German Märzen taste. "These days we can mimic the taste of beers found around the world very closely. The components of this include the water and the malts which can be purchased directly from Germany. We can get very close to the exact taste of the brews in Munich." 
Looking for a good German beer locally? Not a problem, People's Brewing Company has several options to choose from. "We brew our St. Boniface GermanFest, with malts from Germany. We use malts from Weyermann Malthouse, in Bamberg, Germany. Our Ol 'Tavern brew is also a German style lager that we brew year-round. It's not a light beer, it's a pilsner style lager. We have it all the time and its available in cans and on draft," Johnson says. 
Beer for your backyard Oktoberfest
Johnson recommends purchasing a canned Märzen for an outdoor backyard gathering. "The can is much better for the beer than the bottle is. The CO2 can on the purge is a purer purge. The worst thing for beer is oxygen and light, so the can preserves the beer better. Almost like a small keg."
The bratwurst of Oktoberfest
Oktoberfest is very specifically Bavarian, where the common bratwurst of the celebration is the "weisswurst." These white-colored sausages are smooth and mild-flavored, typically made with a combination of veal and pork back bacon. While these are specific to the festival, they can often be purchased at grocery stores that sell a variety of world foods, especially during this time of the year.  
Stacy M. Scramlin Zuelly, assistant professor of animal sciences and Extension specialist of meat science, speaks to the bad reputation that sausage in America often receives. "Sausage often gets a bad rap because people believe that it is the "by-product" of other meats, but the truth is that when meat is processed, there is a lot of trimming that comes into that and we're trimming perfectly good meat to make it uniform. So, a sausage in general is a vital way to be able to utilize as much of that carcass as possible. It allows us to achieve a much more sustainable model for feeding large groups and utilizing all of our meat." 
Bratwurst for your backyard Oktoberfest
Zuelly likes to begin her bratwurst at home with a mixture of pork along with another meat (possibly veal or ground beef). She also adds in garlic and onion and sometimes Anais. Her secret remains in the first cooking steps, boiling the brat. In what? You guessed it, German beer!   
"Many times with brats and to try to produce the unique 'Oktoberfest' taste we will recommend boiling the meat first in a traditional German beer and then placing them on the grill to brown them. Boiling them first will help to preserve the flavor as well as to get a more consistent cook," Zuelly said. 
Lastly, Zuelly would like to express the importance of food safety with this product and the importance of cooking the brats to 160-165 degrees Fahrenheit. "Be sure to insert your meat thermometer into the end of the brat for a clear and accurate reading," Zuelly said. 


The Sauerkraut of Oktoberfest 
Sauerkraut refers to pickled cabbage. Translated literally it means "sour cabbage."  The sour part comes from pickling cabbage with brine. The brine helps extract water, and water helps dissolve the sugars. As the cabbage sugars break down, fermentation occurs which creates lactic acid. This brings on the pickling.  
The sour flavor results from lactic acid fermentation and the growth of some very healthy bacteria. Those same bacteria prevent unhealthy bacteria, including preventing botulism which would have been beneficial even in 1810 to feed the masses.  
Lindemann notes the importance of fermentation for events like Oktoberfest, both historically as well as today. "Fermentation is a process that has been used for thousands of years to stabilize the food we eat. Fundamentally, fermentation is a way to stabilize foods during the time of production for extended consumption longer. The process excludes organisms that spoil foods and excludes organisms that are pathogenic to people," Lindemann said.  
Sauerkraut for your backyard Oktoberfest
In a published piece, Purdue Extension details their recipe for a great homemade sauerkraut. Follow their recipe for your own backyard Oktoberfest.  
Oktoberfest has a rich history with over 200 years of bringing people together with food and beverages steeped in practical food science. With a few practical tips and tricks, you will be right on the way to bringing a taste of Bavaria to your own backyard.