From the lab to the greenhouse to the garden
With 118 years in operation, locations in 24 regions on six continents and 13 companies and partners in Chicago alone, Ball Horticultural Company reaches wide across the horticultural world. Most known for developing new cultivars of perennial and annual flowers, Ball works to breed and sell new and better varieties of many types of plants. This process requires a lot of testing and research to get things right, which is a big part of Ball's internship programs. 
This year, three Purdue students, Kayla Grennes, Ian Kelly and Payten Brower, are interning with Ball. Each student has a different major within the College of Agriculture and a different corresponding intern position. The variety of internship positions Ball offers has allowed the students to explore and grow in the areas they are interested in, while also letting them have a real impact through their research. 
Kayla Grennes, a plant genetics major in agronomy, researches tomato and basil plants at Ball's Elburn, Illinois location. Even though her day-to-day tasks may vary, Grennes has a general routine for plant care and data collection each day. 
Grennes explained, "I start pretty early at 6:30 a.m. or 7 a.m. to try to beat the heat. Then, I'll go check on my plants. We have a certain workflow just to make sure we avoid things like disease pressure and insects. So I'll start off with my tomatoes and do my research with those, then I'll move on to basil and then I'll work outside in the afternoon."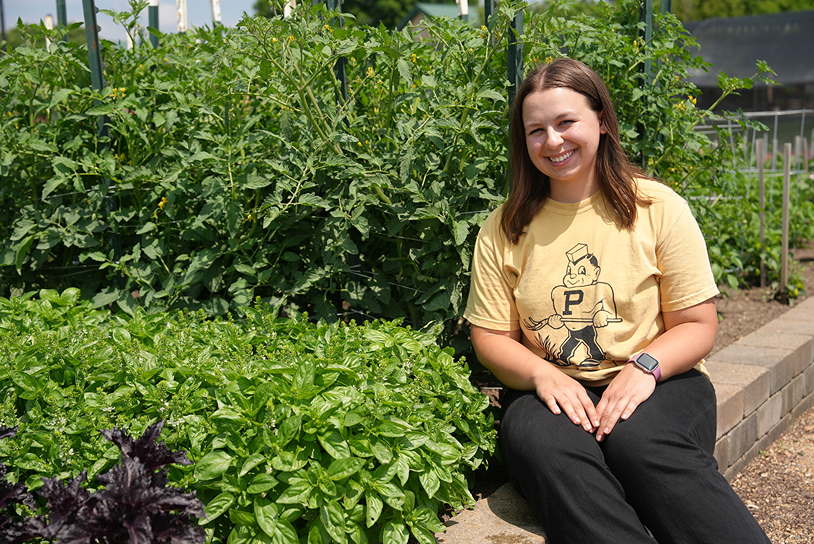 Unlike Grennes, Ian Kelly, a young plant and culture research intern, has a more variable research routine at Ball's West Chicago, Illinois location. Kelly, a double major in horticulture in the College of Agriculture and genetics in the College of Science, spends his time working with young plants and testing their tolerances to different variables, like temperature. The trials take Kelly "from the greenhouse to the office to research and development," he explained. 
"During a typical day for me, I will check on my plants, make sure they're watered and complete any other morning tasks, like take the plants out of the cooling chamber," Kelly said. "Throughout the day, I help the technical services team with rooting and color research trials. I take photographs of the plants, rate them according to our system, and then put them back to grow more. Then I do it again the next week."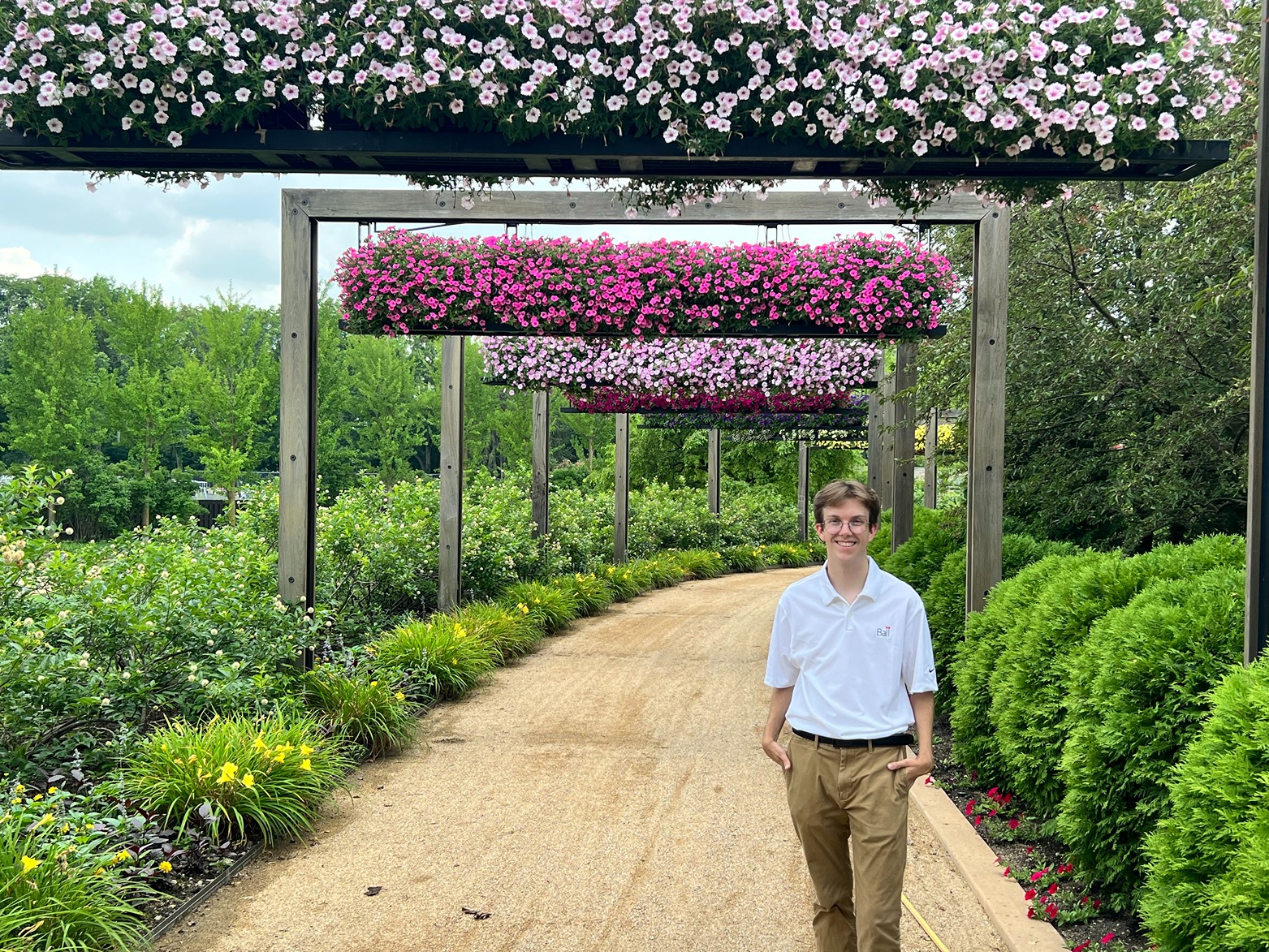 Payten Brower also works with trials at Ball's West Chicago location. Brower, an agribusiness major in agricultural economics, is the vegetative annual product development intern. Like Kelly, Brower monitors ongoing trials, cares for plants and takes pictures. Brower's work focuses on both short- and long-term trials, and she takes special note of rooting patterns and yellowing plant tissues, among other plant habits. 
The research trials that the students work on at Ball cover many plant species and have a direct impact on the product Ball sells to customers. Kelly and Brower, for example, work on products that will be available to greenhouse growers. Specifically, Kelly has worked with mums and vinca while Brower has worked with mandevilla, among other flowers. Grennes' work, on the other hand, will have more impact on produce growers and consumers. 
Grennes said,
"I'm excited to work to produce better crops to make better food for people. With tomatoes, I like knowing that somebody's going to be able to eat our tomatoes on their salad or sandwich and have better flavor, better shelf life and the excitement of eating fresh fruits and vegetables." 
All three interns have had many opportunities to further their knowledge and skills. 
Grennes has learned a lot from the other plant breeders at Elburn and from her supervisor, Sundrish Sharma. "Sundrish teaches me so much. He's willing to answer any of my questions, and no question is a bad question," Grennes said. 
Kelly has been able to branch out into research areas that interest him most. "Ball pushes me and every other intern to explore what we want to do. We're not just set in what we applied to, so I've been doing a bit more research and development. Ball Helix, which is part of our parent company, does a lot of research like virus testing, PCR, plant genetics and more. As a genetics major at Purdue, I want to get into that. I asked my supervisor, 'Can I work with this?' and they said, 'Yeah, let's set up a meeting." So now I've been networking with different people around the company, and it's been a really good experience." 
Brower has found some personal curiosities satisfied as she has gained more industry insight. "My family owns a greenhouse in Michigan," Brower explained, "so I really wanted to learn how we get the final products. I was interested in seeing what that process looks like to get that flower from Ball into market." 
Brower has also learned more about what goes into plant research. "I don't work in any labs at Purdue, so it's been nice to see that a little more here," Brower said. 
Beyond the internship, the three interns plan to follow diverging paths when they graduate in May 2024. Grennes plans to go to graduate school to study plant breeding. Kelly, through his internship, has realized that he would also like to go to graduate school and will pursue that at Purdue or another school. Brower plans to follow a different path, returning to her family's business to assume primary responsibility. Each student plans to make a difference in how people experience horticulture.