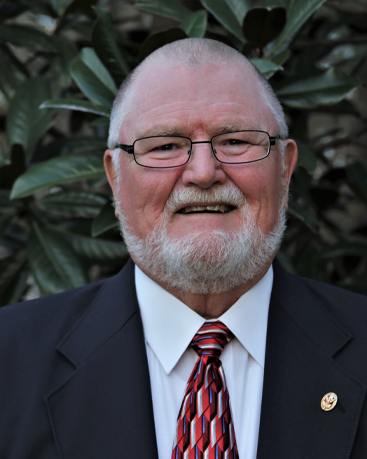 Dr. David Hyink, who earned his Ph.D. in forest biometrics in 1979, is among five honorees receiving
The Certificate of Distinction is intended to recognize those who have contributed significantly to agriculture, forestry, or natural resources through professional accomplishments, activity in professional organizations, community service work, or other activities that make the nominees a credit to their profession.
"I was extremely honored to be nominated by Brad Smith with the support of Steve Shifley," Hyink said. "It is a different type of award. Frankly, it validates basically all of the work that I have done over my career. It also reflects very strongly on the institution at Purdue for providing me with the skills and the technology and the things I needed to be successful in my career. I couldn't have done it if I hadn't gone to Purdue."
Hyink studied forest biometrics under Dr. John Moser from 1975-79, presenting his dissertation on "A generalized method for the projection of diameter distributions applied to uneven-aged forest stands." He received his bachelor's degree in forest management and economics from Stephen F. Austin State University in 1971 and a master's degree in forestry/forest biometrics from SFA in 1972.

"When I look back, I credit Dr. Mason Carter, who was the department head at Purdue and was the fellow who hired me in my first job at Auburn, for bringing me to Purdue," Hyink recalled. "I looked around at other schools and the thing that made the difference at Purdue was that it was much more of a family. I could have gone to work for someone else at another university or I could come to Purdue and work with Dr. Moser. The fact is that working with your major professor and your committee and your fellow graduate students and faculty makes a big difference. It was very clear to me the whole time that I was at Purdue that I had made the right decision.
 "I guess the two things that were critical to my success at Purdue were attitude and effort. Those two attributes can make up for a lot of other deficiencies one might have. I guess the hard work that I put in at Purdue paid off. I wasn't afraid to do the hard work. I was prepared to do the hard work. And frankly, Purdue as an institution of higher education doesn't provide a lot of easy work. It was a challenge. The fact of the matter is that if you do the type of things it takes to excel and survive at Purdue, it sets you up pretty well for whatever you want to do after that."
Hyink got his start in the forestry profession as a research associate in the Auburn University Department of forestry from 1973-75 before coming to Purdue. While in West Lafayette, he acted as a research assistant in FNR and as a graduate instructor in the Department of computer science. He then joined the faculty at Virginia Polytechnic Institute and State University as an assistant professor of forest biometrics in the Division of Forestry and Wildlife Management, before embarking on a 27-year career as a forest scientist with the Weyerhaeuser Company's Western Timberlands R&D group. Since retiring from Weyerhaeuser in 2007, Hyink has been a biometrics and statistical consultant for Deerfield Consulting LLC, a company he also owns.
Hyink's nomination for the Certificate of Distinction states:
"A commonly acknowledged trait of Dr. Hyink, whether it was with his research work within Weyerhaeuser or his participation in serving his profession was that he was always engaged. He enjoyed and valued interaction with his peers on both a technical and social level. Whether it was providing the data for an interesting and provocative graduate student project or reviewing a complicated research proposal, he enjoyed the collegiality of it all. His objective was to aid or improve everything he took on. His efforts produced "triple wins" – a win for serving his profession, a win for expanding the breadth and depth of his knowledge and professional associations, and a win for Weyerhaeuser Company. Dr. Hyink often said he "had the best job in the industry". No one that knew him ever argued that point!"
At Weyerhaeuser, Hyink began as a level five scientist and climbed the company's scientist and engineering ladder, being promoted to senior scientist, scientific advisor, and finally senior scientific advisor. He was the first classically trained forester to be named as a senior scientific advisor and given the title of Chief Forestry Scientist.
Throughout his career, Hyink worked with a variety of species - namely Douglas-fir (Pseudotsuga menziesii), loblolly pine (Pinus taeda), Western hemlock (Tsuga heterophylla), red alder (Alnus rubra) and ponderosa pine (Pinus ponderosa) - developing growth and yield models as well as establishing new Base-age Invariant Site Index Curves. Hyink and his team created computer-based forest management tools and led four major upgrades to the Douglas-fir and Loblolly pine growth and yield models to forecast the outcomes of a variety of cultural treatments. Each model produced incremental and more precise estimate attributes that affected the value of the crop.
One major breakthrough that Hyink helped bring into use was the idea of engineering on the stump, or increasing value by employing practices such as spacing, thinning, fertilization, pruning and genetics to produce stem properties related to enhanced end-product value. Hyink and fellow Purdue alumnus Jeff Welty, a computer graphics and 3D-modeling specialist, developed Weyerhaeuser's Glass Log Model, a geographic information system (GIS)-like program for logs and log properties. The pair also developed a Lumber Strength Model, which helped evaluate the marginal effects of cultural treatments on value. Later, the CLEARS Model was created, providing a more precise evaluation of the effects of pruning on end-product value.
In conjunction with the United States Forest Service and British Columbia Ministry of Forests, Hyink was part of a research cooperative that eventually evolved into the PNW Stand Management Cooperative, established in 1985 with the aim of producing data that would help define multi-dimensional treatment response surfaces. Over its first two decades, the SMC brought together 447 separate research installations, comprised of 259,646 trees and creating a database of 1,436,192 individual tree measurements. By 2015, the value of the research had grown to more than $25 million, while the program's research had fueled 25 doctoral and 38 master's degrees. In addition to his involvement with the SMC, Hyink also was instrumental in the creation of shared databases for Western hemlock and red alder.
In 1984, Hyink became chair of the American Forest Council's Research Subcommittee on Forest Inventory and Analysis. His group was tasked with evaluating the analytical aspects and usability of FIA or forest survey system, which is used to conduct studies of timber availability of large geographies, aiding in decisions on locating and expanding mills and determining government international trade positions. Today, due to improvements identified by the subcommittee, the Forest Service FIA provides the most current, reliable, and precise national resource-level inventory estimates as well as seamless coverage of forestlands with a common field and sampling design, with cycle lengths determined by regional growth rates and reported to a common date using growth and yield models.
Hyink also promoted the advancement of others through his involvement in the Council of Scientific and Engineering Advisors, the Weyerhaeuser Creativity Committee, the Society of American Foresters, and the International Union of Forest Research Organizations.
"During my years working in forestry research in the Pacific Northwest, I knew Dave Hyink as a highly respected leader of forest modeling in the region," said Dr. Bob Wagner, Purdue Forestry and Natural Resources department head. "Dave was there in the early days of the first computer models used to predict how forests grow. He was one of those innovative thinkers that helped advance and support the entire effort. Dave's years in Purdue FNR were well spent and he left quite a legacy in forestry as a result."
Over the years, Hyink has been recognized many times for his work, including a President's Award in 2005 for his leadership of the Tree-List Model, several Weyerhaeuser performance awards and most recently, a 2020 Distinguished Alumni Award from Stephen F. Austin's Arthur Temple College of Forestry and Agriculture. In 2011, he was named as a Distinguished Alumnus by the SFA Alumni Association.
He has illustrated his continued commitment to education through relationships with several universities, providing lectures and seminars as well as informal discussions with faculty and students. At Auburn University, Hyink served on the President's Research Advisory Council from 1994 to 2009, serving on the University Infrastructure Committee and chairing the Committee on Agriculture, Forestry, Wildlife, Fisheries and Veterinary Medicine. He also was elected to the position of Affiliate Assistant Professor in the School of Forestry and Wildlife Sciences in 2015.
Hyink also was an affiliate professor at the University of Idaho, where he has served on master's degree committees and sponsored research on the species composition and growth and yield in riparian zones. The University of Washington also named Hyink as an affiliate professor. He has served on several master's and Ph.D. degree committees at UW, while also presenting at the school's annual Math Day and acting as part of the Policy and Technical Advisory committees of the PNW Stand Management Cooperative, which is housed at the university.
At Oregon State, he has provided lectures and served as a technical advisor to the Cooperative Research in Alternative Treatments and Systems (CRAFTS) Cooperative, on projects dealing with stand establishment and early tending. At his alma mater, Stephen F. Austin, he has collaborated on the East Texas Pine Plantation Research Project, which is investigating the factors affecting the management of pine plantations in the Western Gulf Coastal Plain region. At Virginia Polytechnic, Hyink was technical advisor to the Loblolly Pine Growth and Yield Research Cooperative, now the Forest Modeling Research Cooperative, and also worked with Purdue Graduate, Dr. Shepard Zedaker, on research understanding forest decline.
Hyink has produced more than 57 academic publications, invited papers and presentations.
In his local community, Hyink has been involved with the Puyallup, Washington, school system, serving on the Site Councils of Mountain View Elementary School and Puyallup High School, focused on assisting school governance and enriching the student experience. He also has acted as a science fair judge at both the district and state level.
 After earning his Eagle Scout Award in 1964, Hyink has remained involved with the Boy Scouts of America, serving on the Black Hills Area Council executive board since 2008 (Rapid City, S.D.), the Western Region executive board (2012-2018) and Central Region executive board (2018-present). He also has been a part of the Northern Tier National High Adventure Advisory Committee for the last 35 years. Hyink received the Distinguished Eagle Scout Award in 2006 and was inducted into the BSA 100th Anniversary National Hall of Leadership in 2010.
Hyink also gives back through Habitat for Humanity, Healing Words Foundation and the Norris Peak Water Users Association.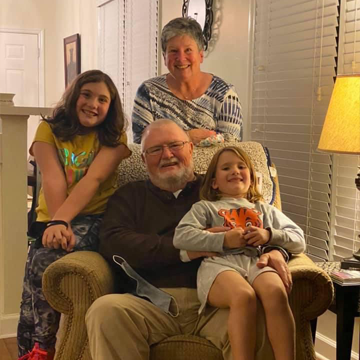 "I always felt that I owed my home state of South Dakota a debt of gratitude," Hyink explains. "I was 59 when I was able to retire and I moved back to South Dakota to give back. So I've spent the last 14 years now in service to boards of directors on everything from the Boy Scouts to Habitat for Humanity and The Healing Words Foundation which produces a medical information show for South Dakota public broadcasting. It's that type of thing that gives me juice these days. Of course, I also can't get enough of my two granddaughters. I took them out on a hike yesterday to the Kreher Preserve and the nine-year old learned how to use a compass and read a map, so if her GPS breaks down, she can still know where she is."
Those wishing to send congratulatory messages to Hyink and the other 2021 Certificate of Distinction Award winners may do so here: Submit Congratulation Remarks. Messages will be delivered to the recipients on Feb. 6, 2021.
Hyink's honor marks the eighth straight year an FNR alumnus or friend of the program has received the Certificate of Distinction, following Brad Smith (2020), Steve Shifley (2019), Ray Moistner (2018), Tom Wiltrout (2017), Jack Costello (2016), Scott Jamieson (2015) and Robert D. Burke (2014).
Nominees can be engaged in any phase of agriculture, forestry, and natural resources – farming, business, manufacturing, education, research, government agency, agricultural commodity, or advocacy organizations.
A Distinctive Career
Describing his career in layman's terms
"The fundamental building block that I was involved in were what are called growth engines of planning systems. In other words, you take a company like Weyerhaeuser, we had 10s of thousands of stands of timber to track through an extensive inventory system. And then in terms of planning, we had to be able to forecast what the outcomes of various treatments on those stands would be and track all of them. At the very heart of these planning systems is software that grows the forest to a future condition so that you can estimate what the value of your treatments have been so that you can plan for intervening thinning treatments, fertilizations, prunings, and harvest dates, on every single stand. And then you put them all together and optimize a management plan. The fundamental building block of all of that is to be able to predict future growth. 
"I was trying to explain it to my mother one time and she had just created a bond ladder, which is an investment tool where you have a series of bonds with different maturity dates and different rates of growth in interest and you structure those in such a way that when you start to cash them in or sell them, that you provide yourself a stream of income that lasts in perpetuity. Similar to a bond ladder, that is what modern forest management does to individual stands of timber. You put those together with different site indices, so you get what is called a potential annual harvest and you want to have a constant level. It never actually happens. They are planning tools, because everything from Mount St. Helens to windstorms to fires to whatever changes the plan, but if you don't have a plan in place, then you really don't know where you are going and you are unable to respond to changes."
On his Purdue experience
"I didn't receive the vaccine against Hoosier hysteria. Coming to Indiana via South Dakota, Texas and Alabama, high school basketball was something in rural South Dakota, but I immediately caught Hoosier hysteria when I came to Purdue. I may be the only graduate student who joined the John Purdue Club with a payroll deduction to get better seats at Mackey Arena. I really fell in love with Purdue basketball and I watch it to this day.
"We had other things that we enjoyed as well. The faculty were like a family. It wasn't uncommon to go over to Dr. Tom Beers and Carolyn's home and play penny poker. We would go out to Fred Montague's place and do square dancing with the faculty. It was a big family and that is important. I tried to keep that type of family atmosphere in everything I did because it was so important. The social aspect is as important sometimes as the technical aspect. It was a great experience I had at Purdue. It was certainly different. It was the largest university that I had ever attended. It was academically challenging and that was a good thing.
"The other thing I enjoyed about Purdue was my committee. Every person that served on my PhD committee had authored the textbook in their expertise. From Virgil Anderson in statistics with his design of experiments to Alan Pritsker in the simulation languages, to Ravi Ravindran of Ravindran, Phillips and Solberg's operations research text book, to Tom Beers on forest measurements, you had the authors of the textbooks you studied out of as members of your committee. And frankly, it doesn't get any better than that in my opinion."
Advice for current/future FNR students
"I think there is quite a future in the natural resources, whether it is wildlife management or forest management. The good news is we are in a renewable resource and there is always going to be a demand for qualified practitioners, technicians and scientists in this particular field. Frankly, I think you work as hard as you can to find what your passion is and then you pursue it aggressively and with determination. That would be my advice to the young people coming in."