The Tipping Point Planner project, a joint effort by Illinois-Indiana Sea Grant and Purdue Extension, has been selected as a 2020 recipient of the Purdue College of Agriculture's TEAM (Together Everyone Achieves More) Award.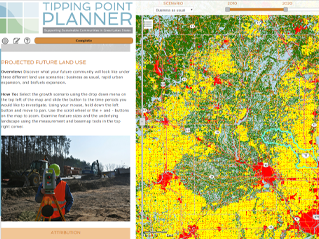 "The TPP program stands out because of its value and impact in assisting local communities in the Great Lakes Region," Purdue Forestry and Natural Resources department chair Bob Wagner said in his nomination. "The program is unique in that it is composed of community activities dovetailed with a decision support system (DSS) that is based on user needs assessment. The TPP program has been in existence for nearly 10 years and has demonstrated outstanding innovation and impact. As an example, Esri recently showcased TPP as a model system that uses Esri technology to assist communities in important ways. This program highlights the success that both research and extension efforts can have when working closely together."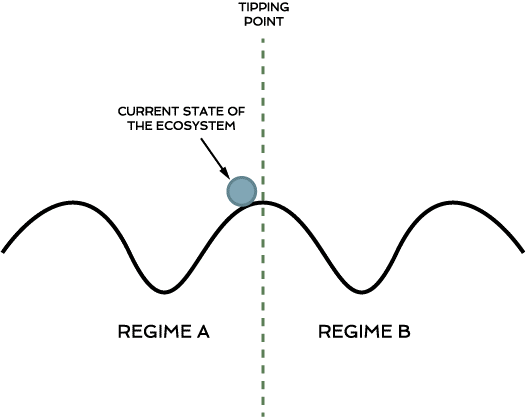 The program was also recognized for its accomplishments in the Sustainable Use and Stewardship of Ocean and Coastal Resources segment of the National Oceanic and Atmospheric Administration's 2019 Science Report, released in March.
The Tipping Point Planner was created to assist community leaders throughout the Great Lakes Basin in making long-term management decisions that affect environmental health of local resources and a community's quality of life. The program, which includes a web-based decision support system, helps identify the status of watershed health by exploring land use, natural resources and environmental concerns, before determining the impacts of land-use decisions and management practices and, in turn, enables communities keep coastal ecosystems from reaching critical environmental limits, or tipping points, and becoming unstable.
In 2019, the Tipping Point Planner team worked with communities in Au Gres, Michigan; and Perrysburg, Ohio, to create action plans regarding conservation and ecological resource management. All told, more than 100 people in these areas utilized the Tipping Point Planner and collaborated in making the community decisions.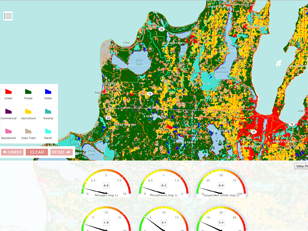 The science supporting TPP stems from multidisciplinary, collaborative work across several Big Ten universities and their associated Sea Grant and Extension offices. Lead researchers came from Purdue University, the University of Michigan, Michigan State University, the University of Illinois-Chicago, the University of Minnesota-Duluth, and NOAA's Great Lakes Environmental Research Laboratory.
Team members secured more than $14 million in extramural funding from the National Science Foundation (NSF), Great Lakes Fishery Trust, EPA's Science to Achieve Results Program, National Aeronautics and Space Administration (NASA), United States Geological Survey (USGS) Climate Change Program, Wege Foundation, and the Kellogg Foundation to enable the necessary data collection, modeling, survey work, and stakeholder interviews. The project also was funded as part of Purdue University Department of Forestry and Natural Resources' (FNR) Signature Areas (2005-2011), which supported five FNR students working on various aspects of the project.
Dr. Bryan Pijanowski, professor of landscape and soundscape ecology; Kara Salazar, assistant program leader and extension specialist for sustainable communities; Lydia Utley, data analyst; and Daniel Walker, community planning extension specialist, are the project leaders for the Tipping Point Planner.
The project also includes representatives from Purdue Agricultural and Biological Engineering, NOAA Great Lakes Environmental Research Laboratory and the Michigan State University Hydrogeology Lab. Other collaborators include the Eureka Aquatic Research, LLC; Michigan State University Center for Water Sciences, Michigan State College of Agriculture and Natural Resources, Michigan School for the Environment and Sustainability, the University of Albany College of Engineering and Applied Sciences, the University of Minnesota Duluth Natural Resource Research Institute and the U.S. Geological Survey Great Lakes Science Center.
The full Tipping Point Planner Team consists of:
NOAA Great Lakes Environmental Research Laboratory
Dr. Edward Rutherford – Research Fishery Biologist
Purdue University Human-Environment Modeling & Analysis Laboratory
Dr. Bryan Pijanowski – Professor
Dr. Kristen Bellisario – Post-Doctoral Research Associate 
Dr. Kimberly Robinson – Former Graduate Student
NahNah Kim, JD – Former Graduate Student
Purdue University Agricultural & Biological Engineering
Dr. Bernard Engel – Professor and Department Head
Dr. Larry Theller – Research Associate (Retired)
Dr. Yaoze Liu – Postdoctoral Research Assistant
Dr. Jingqiu Chen – Postdoctoral Research Associate
Michigan State University Hydrogeology Lab
Dr. David Hyndman – Professor and Department Chair
Dr. Anthony Kendall – Research Assistant Professor
Dr. Sherry Martin – Research Associate
Emily Luscz – Former Graduate Student
Quercus Hamlin - Graduate Student
Luwen Wan - Graduate Student
Michigan State University Center for Water Sciences
Dr. R. Jan Stevenson – Professor and Co-Director of CWS
Michigan School for Environment and Sustainability
Dr. Mike Wiley – Professor (Retired)
Dr. Catherine Riseng – Professor (Retired)
Eureka Aquatic Research LLC
Dr. Hongyan Zhang – Aquatic Ecologist
USGS Great Lakes Science Center
Dr. Yu-Chun Kao – Research Associate
University of Minnesota Duluth Natural Resource Research Institute
Dr. Lucinda Johnson –Associate Director for Water
Illinois-Indiana Sea Grant
Dr. Brian Miller – Director (Retired) and Project Manager
Kara Salazar - Assistant Program Leader and Extension Specialist for Sustainable Communities
Dan Walker - Community Planning Extension Specialist
Lydia Utley - Data Analyst
Ben Wegleitner – Former Outreach Assistant
Resources
Tipping Point Planner
Illinois-Indiana Sea Grant Tipping Point Planner
With GIS, Communities See How Land-Use Changes May Affect Local Water Quality
Tipping Point Planner curriculum available from Purdue Extension Education Store
Tipping Point Planner Online course