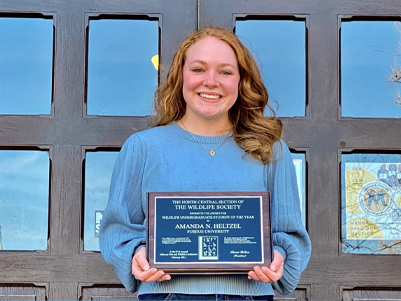 Senior Amanda Heltzel received the Outstanding Wildlife Undergraduate Student Award from the North Central Section of The Wildlife Society for her work in the classroom, in the field and in extra-curricular activities. Heltzel was recognized at the Midwest Fish and Wildlife Conference two weeks ago.
 Heltzel, a wildlife major and aquatic sciences minor, will graduate in May 2021, but not before leaving her mark on Purdue Forestry and Natural Resources.
 "Amanda truly is an outstanding student and clearly exceeds any metric of potential future success as a wildlife professional," Dr. Pat Zollner, professor of quantitative ecology, said in his letter of support for Heltzel's nomination. "Particularly noteworthy is her commitment to our student chapter of The Wildlife Society. Despite all of the challenges with keeping students connected and engaged during a global pandemic, I would ague that she has strengthened our student chapter during her tenure as its president. Beyond her leadership skills, Amanda has demonstrated distinguished intellectual prowess and a breadth of important work ethic characteristics that are all foundational to becoming a successful wildlife professional. Amanda is a highly motivated, dedicated, organized, efficient, hardworking, and very bright student with strong leadership capabilities and problem-solving skills. She is developing into a very influential leader for the next generation of wildlife biologists."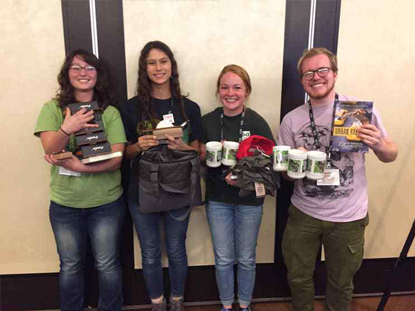 Heltzel has been on the Dean's list for semester honors since 2017, while pursuing a rigorous plan of study and even studying abroad in Sweden in the summer of 2019. She also has spent time in the classroom as an undergraduate teaching assistant for Dr. Elizabeth Flaherty's Wildlife Investigational Techniques course in the spring of 2020 and for Dr. Rob Swihart's Statistics for Natural Resources course in the spring of 2021. Heltzel also was a member of the Purdue's TWS Quiz Bowl team, which won first place among all wildlife programs at The Wildlife Society's annual convention in Reno in 2019.
 The Akron, Indiana, native has made the most of her time at Purdue, gaining work experience in a variety of fields, including working as a bird-banding volunteer and part of various research projects in the Dunning Lab. She acted as a breeding birds survey technician on the Hardwood Ecosystem Experiment in 2018. In the summer of 2020, Heltzel worked as an avian research technician at the University of Missouri. Heltzel has continued her education outside of the Purdue classroom walls, enrolling in multiple basic wildlife firefighter training courses, Indiana Trapper Education and Safe Zone training. Heltzel made a lasting impression when working as a point-count technician for Kristen Heath at the University of Missouri last summer.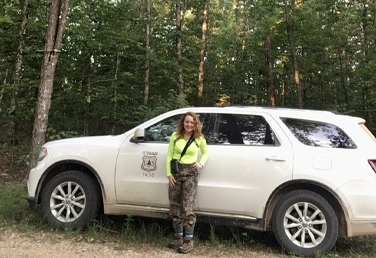 "Our work involved a vast amount of hiking over rough terrain, often swarmed by gnats and mosquitoes in the sweltering Missouri Ozarks," Heath said. "Amanda always managed, despite all this, to have a positive attitude. She worked diligently and was always reliable. Her work ethic stood out, but so did her knowledge of Midwestern flora and fauna. This was almost as impressive as her curiosity to keep learning. Her curiosity, her work ethic, and her passion for conservation will make her a strong researcher in whatever field she chooses."
 In addition to her field work and classwork, Heltzel has made a habit of serving her fellow students. She has acted as a student ambassador for Purdue FNR since August 2018, hosting prospective students and their families on campus, advising current students regarding selecting majors and minors, how to succeed in classes and how to find career experiences. She also has represented the department at College of Agriculture and university-level events.
Since August 2019, Heltzel has served in a leadership role in the Purdue Student Chapter of The Wildlife Society, acting as vice president before advancing to the position of president in May 2020. In those positions she has represented the chapter at department, college and university events; led a team of four other officers as well as working group leaders for the herps, mammals, hunting and birding groups; and helped plan chapter events. She has led social media efforts to advertise TWS activities, developed a system for collecting and sharing photos from chapter events, organized collaborations with other club officers and advisors (outside of TWS and even with other universities' student chapters) to plan club events, led outreach efforts for Spring Fest, and wrote grant proposals to obtain supplemental funding for club activities.

 "Because of her leadership these last two years and the general encouragement she provides to club members, our freshmen and sophomore students have been more active in the club than in previous years," said Dr. Liz Flaherty, associate professor of wildlife ecology and habitat management, and Purdue TWS advisor. "Furthermore, her creativity and leadership this year has led to a continued strong student engagement via online meetings. I was especially impressed with her idea for a winter break book club that was offered to anyone (TWS members both within and outside Purdue, Purdue faculty and staff, and the general public). Amanda truly is an outstanding wildlife undergraduate student and has exhibited a strong dedication to a career in wildlife."
 Outside of FNR, Heltzel also was an executive board member for the Devonshire Cooperative House from January 2018-May 2019. She has filled various roles from alumni chair to recruitment chair, academic chair, sisterhood chair and standards board member since joining the house in 2017.
 Heltzel's academic success and leadership have been recognized several times in the past few years. In 2020, she garnered recognition as the Wildlife Outstanding Camper at FNR Practicum for her interpersonal skills and teamwork abilities. She also earned the Involvement Award from the Purdue student chapter of TWS, was named as the wildlife junior academic merit award winner, and received the Durward Allen Memorial Award for Outstanding Junior in Wildlife and the Stanley Coulter Leadership Award.
 About the Outstanding Undergraduate Student Award
In order to be eligible for the Outstanding Undergraduate Student Award, students must be pursuing a degree in wildlife ecology, wildlife management, zoology or a closely related discipline. A GPA of 3.0 or better also is required. Student finalists are selected based on academic ability, scholarly achievement, work experience, letters of reference and extra-curricular activities in The Wildlife Society.