When 2020 graduate Cassidy Robinson came to Purdue from her hometown of Hagerstown, Indiana, a "really small town with cornfields, cows and Amish people," she was a biology major. All of that changed, however, as she and fellow student Garrett Cooney asked when they were going to begin learning about the plants and animals and were promptly directed to the department of Forestry and Natural Resources. The rest is history.
Robinson jumped into FNR with both feet and never looked back, serving in several clubs and taking several summer jobs to add to the knowledge she found in tree, plant and animal identification courses as well as those in ecology and ecosystem management.
"It is important to make sure you don't just strictly focus on your classes, make sure you have relevant experience, that not only builds your resume but just gives you that confidence," Robinson said. "Not only did I know forest stand improvement, based on the classes that I took, but I also had my boots on the ground out in the woods, doing forest stand improvement with a chainsaw in my hand. Each summer it was important to get some sort of relevant field experience or professional experience to go along with what we learned in class. That was really important and it gave me a lot of confidence to do the hands-on work that I'm doing now. 
Being involved in clubs at Purdue also was a huge benefit to me because it gave me the opportunity outside of the classroom to hang out, connect with and develop a comradery and see how we were connected together and those relationships have blossomed and that is super important because it's a small world in the natural resources field.

Her freshman year took her to Wisconsin and Minnesota, where she worked for an urban tree company and got to run a chainsaw, learn how to climb trees and improve her tree identification skills and ability to identify different tree diseases, insects and more.
As a sophomore, Robinson went to the Upper Peninsula of Michigan with her classmates for FNR Summer Practicum and also attended a 10-day wildlife practicum in Texas.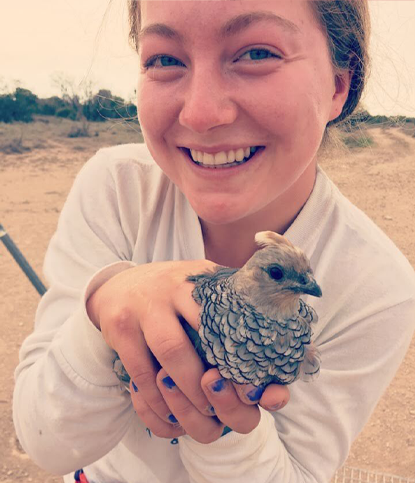 "At practicum, we learned relevant field experiences and applicable skills that tied in with what we learned in classes," Robinson recalls. "We toured different saw mills, did herbaceous plant ID and got to network with professionals in the field. As a double major, sometimes you can do the 10-day crash course wildlife practicum in Texas. That was awesome. We did wildlife surveys, camera surveys, trapping grids and all kids of really cool stuff. It was neat to work in a different ecosystem and habitat type."
As a junior, Robinson stayed in Indiana, but gained experience through a forestry technician internship with Purdue, working with farm manager Brian Beheler, forester Don Carlson and regional extension forester Ron Rathfon and helping them manage various Purdue properties through tree inventories, invasive species control, marking a timber harvest and using heavy equipment.
As she prepared for graduation, Robinson worked for Timberland Consulting alongside three other Purdue students under consulting forester Brad Engle doing timber stand improvement, invasive species control and equipment maintenance.
After graduating in May with a double major in forestry and wildlife, Robinson did a five-week internship with Blue Heron Ministries, a habitat restoration company that works on prairie and wetland habitats. The habitat management technician position allowed her to expand her experiences after being more focused on forestland in past jobs.
In January, a forestry specialist position with the Wildlife Management Institute in partnership with the Iowa Department of Natural Resources landed Robinson in Fairfield, Iowa, but a new opportunity arose shortly thereafter as one of the DNR district foresters retired.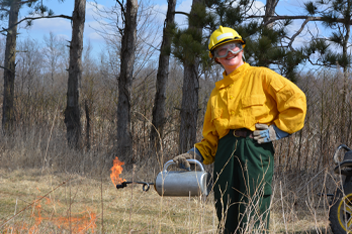 "I got an email through my DNR email that one of the district foresters was retiring," Robinson explains. "I was inspired by his story and sent him an email of congratulations. Then, I thought about it for a while and said, why don't I throw my name in the hat. I'm qualified for this and plus why not. I interviewed for it and now I'm sitting at the desk where he has been for the last 30 plus years. The person before him also was here for 30-plus years. Now I'm here and I could be here for the next 30 years.
"It's crazy and I am so excited, I can't even explain it. I am so blessed. When you are in college it's just you are here and then you're there and you go from this experience to that experience and it is never something long term and now I'm finally in a position that could be a career-long thing. I've had a gauntlet of experiences and I learned a lot throughout my career at Purdue and all of that led me to where I am now. At least once a day when I am working, I pinch myself and say I actually get paid to do this. It's my dream and I'm so thrilled and thankful to be here."
In the district forester position, Robinson is responsible for working with private land owners across six counties, doing site visits on their properties, talking to them about their goals, cost share programs available to help them with their goals and writing plans to be implemented to help reach those goals.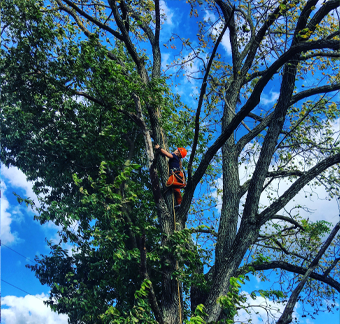 "The thing I am most excited about is that I get to work with landowners," Robinson shared. "I get to meet face to face with people that own land; some have five acres, some have 500 acres. It is fun to hear what their goals are for their property and then give them a little bit of information about what kind of trees they have and what they could do if they do this sort of conservation practice and then seeing the excitement in them when I explain it to them. It's awesome. 
It's what I love. And writing these management plans that will be implemented for the next 10 or 20 years, I am putting my mark on the land, helping landowners improve their properties and hopefully extending the excitement and enthusiasm for conservation and natural resources that we not only have in Iowa, but the United States and the world as a whole, to all of the people that I meet."
Robinson's desire to spread the word about forestry and natural resources is not new. She spent two and a half years doing just that as an FNR Ambassador. The Ambassador program is made up of student volunteers who share their passion for the department and Purdue with visitors to campus, from prospective students to alumni, tour groups and department stakeholders. The ambassadors also serve as mentors to freshmen and transfer students by sharing information about courses, career experiences, study tips and more.
Robinson also served her fellow students and the Lafayette community in numerous ways. She was the treasurer of the Purdue Student Society of Arboriculture and of the Purdue FNR Student Council for three years each, planning, attending and managing funds for activities. She also attended The Wildlife Society and Society of American Foresters meetings and events periodically over her time at Purdue. As a Hartford Hub volunteer in the Lincoln neighborhood, she promoted faith and broadened natural resources education in young students through leadership, by being a role model and by teaching interactive, hands-on activities.
"The biggest piece of advice I would give is to go into things with excitement," Robinson said. "It is going to be intimidating for most people to walk into things in full confidence before you have learned all of the information or had all of the experiences, but don't be afraid to join a club or get involved with someone that is a sophomore, junior or senior that has already had that experience.  Build a relationship with those people. You'll learn from them and they'll learn from you and you'll build those connections as well as your confidence and your skills, both inside and outside of the classroom."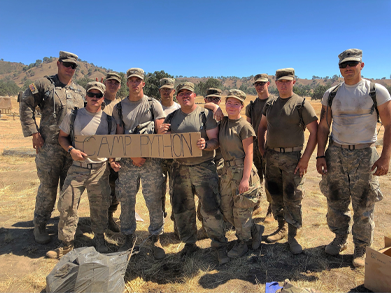 Throughout her time at Purdue, Robinson also served her country as a member of the U.S. Army Reserves. She swore in the day before she turned 18 and has one more year left on her contract before deciding whether to re-enlist or transition to two years in the inactive reserves.
In her role as an acting team leader for both the 428 th and 348 th squad in which she served, she is first in line to solve any military or personal problems her soldiers face and also sends out reminders about upcoming drill dates, activities, classes and re-certifications. As a military police officer, Robinson conducts custom missions with the responsibility for security as well as a law and order.
Her role in the reserves required her to attend drill at least one weekend a month in Iowa, causing her to miss classes and exams and communicate with professors to ensure work was done. After graduation, Robinson also was required to attend a three-week basic leadership course to become a non- commissioned officer, which taught her how to manage people, manage herself, what characteristics and traits leaders demonstrate and how she could improve those traits in herself.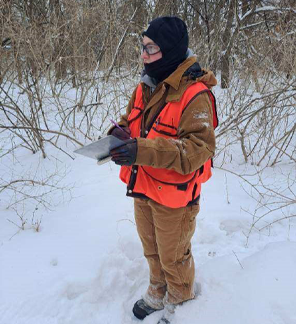 "It was definitely a struggle at the time, but throughout the four years it was a great experience," Robinson said. "It helped me with time management and I networked with a whole different type of people in the military. It also helped with my leadership skills, because I am in charge of three or four other soldiers throughout the month. It helped build my character as a person and all around it has been a good experience."
As she looks back on all of her experiences from classwork to internships and extracurricular activities, Robinson notes that all of the hard work was worth it to get her to where she is now.
"You've got to put in the work to get to places like this," she said. "There were multiple times when I was sweating my butt off working and thinking this is really, really tough. I was enjoying what I was doing but physically miserable. Now, being where I am, all of that stuff was worth it. All of the late night studying for exams, writing last minute papers or making sure I got my homework done early so I could have this experience or get that training, and being away from home every summer, it was all worth it. I loved every bit along the way, but, at the time, it can seem like really hard work, and it is, but it helps you grow as a person and allows you to step into opportunities like this when you get them and be successful."