The PCCRC partnered with Purdue Extension and the Indiana State Climate Office on a six-part virtual training series designed to familiarize Indiana educators and professionals with foundational
knowledge about
climate change
.
The PCCRC hosted a series of research conversations to spark new ideas and collaborations. Through six real-time virtual webinars, the Center shared the research efforts of its affiliates with the campus community.
The PCCRC added eight new faculty affiliates to its ranks: Peter Bermel (Electrical Engineering), Tara Grillos (Political Science), Beth Hall (Indiana State Climate Change Office), Yiwei Huang (Horticulture and Landscape Architecture), Erik Otárola-Castillo (Anthropology), Marissa Tremblay and Lei Wang (Earth, Atmospheric and Planetary Sciences) and Brock Harpur (Entomology).
Dukes served as a member of the U.S. Commodity Futures Trading Commission's climate risk subcommittee. He co-authored a new report "
Managing Climate Risk in the U.S. Financial System
"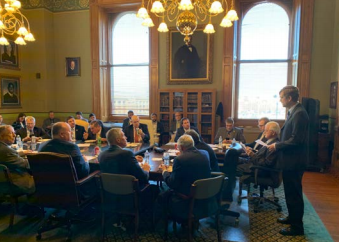 that warns of the emerging risks climate change poses to the U.S. financial system. 
Dukes also was a guest speaker at the Indiana Statehouse, presenting on "Water Resources in Indiana: Impacts of Climate Change." He also gave testimony to the Indiana Legislature's Agriculture and Natural Resources Summer Study Committee
on the prospects for incentivizing additional carbon storage in Indiana's forests and agricultural soils as part of a proposed state-run carbon credit program.
The Tropical HTIRC mission is to advance the science and application of tree improvement, management, and protection to improve tropical hardwood forests, with emphasis on the Hawaiian Islands.
The Tropical HTIRC hosted its annual advisory committee meeting in December 2019 in Honolulu. The committee provides guidance on the strategic directions of the center, prioritization of research themes, and staffing.
TropHTIRC had several projects in process in 2020: koa cold tolerance; koa population ecophysiology; koa seed scarification; koa breeding for fusarium wilt resistance; koa grafting; koa seed collection; community-based forest management; bird-mediated forest restoration; 'iliahi biology, ecology and management, 'ōhi'a disease resistance; and chemical ecology of rapid 'ōhi'a death.
In 2020, two TropHTIRC graduate students successfully defended their master's theses: Lilian Ayala Jacobo (Purdue) and Achyut Adhikari (Hawaii-Manoa). Ayala Jacobo is now a research forester at the Paraguayan Institute of Agricultural Technology. Adhikari is planning to pursue a Ph.D.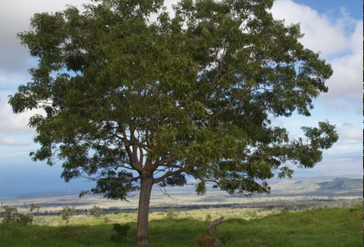 TropHTIRC recruited two new students, born and raised in Hawai'i, into graduate studies at Purdue:
Tawn Speetjens
and
Kylle Roy
. Speetjens is studying 'iliahi nursery propagation and restoration planting in collaboration with Hāloa 'Āina for his master's degree. Roy is studying the chemical ecology of beetles, fungi and 'ōhi'a trees in association with Rapid 'Ōhi'a Death for her PhD. Roy was awarded a Sloan Scholar to pursue her doctorate degree through the Sloan Foundation Indigenous Graduate Partnership.
Bee Redfield
began her Ph.D. program in January 2020. She is studying the role that birds play in forest restoration, the way that forest restoration impacts native bird populations and how to maximize the effectiveness of both through management strategies.