The Purdue Department of Forestry and Natural Resources mourns the loss of long-time and beloved professor Walter Lain "W.L." Mills, Jr. Mills was not only a Purdue FNR alumnus, earning his master's degree (1977) and PhD (1980) in forestry economics, but also an associate professor and the Director of the Office of Student Services until his retirement in December 2015.
After receiving his undergraduate degree in forest management from Auburn University in 1972, Mills served in the United States Navy from 1972 to 1977. He then served on the faculty at Auburn from 1980 to 1983 before returning to Purdue to teach forest ecosystem management, timber management and several courses related to information systems and GIS (geographic information system) mapping.
"W.L.'s personality was perfect for the role he played in the department," said Dr. Bill Hoover, professor emeritus of forest economics, former graduate advisor and Mills' long-time friend. "He was able to quickly identify what really mattered in discussions of department policies, especially curriculum and student life. It was very hard to end a collegial discussion with him on other than a positive note."
Mills' research focused on economic and financial factors that influenced natural resource decisions primarily by private, individual forest landowners. His PhD dissertation was the first application of modern portfolio theory to investments in timberland. This methodology is now widely applied and was critical to the transfer of timberland ownership from vertically integrated forest products companies to a variety of limited partnerships and other investment vehicles.

"W.L. was one of my closest collaborators ever since I joined FNR in 1997," professor of remote sensing Dr. Guofan Shao said. "He was so friendly and humble all the time, and his positive impression will stay with me forever."
As the Director of the FNR Office of Student Services, Mills was responsible for academic advising, academic administration, interfacing with university offices for academic scheduling and registration, curriculum development and management, and student job placement.
"Today's FNR students cherish the department's sense of family," said Dr. Rob Swihart, professor of wildlife science and former FNR department head. "W.L. was instrumental in instituting and cultivating that close-knit culture in his role as Director of Student Services. He had a knack for putting students at ease – they knew he had their best interests at heart."
Mills was named as the Richard MacDowell Outstanding Academic Counselor by Purdue in 2003 and also received the College of Agriculture's Outstanding Counselor Award that same year. In 2005, he was named as Outstanding Counselor by FNR.
"W.L. was a kind man," said Julie Pluimer, administrative manager of the Office of Student Services/academic advisor. "He rarely missed a day of work and always had a positive attitude. He cared deeply about students and his ultimate goal was to help each student he worked with to find their path. Family was important to him. He cherished his wife, sons, and grandchildren. W.L. exemplified care, compassion, and humility and I am a better person for having known him."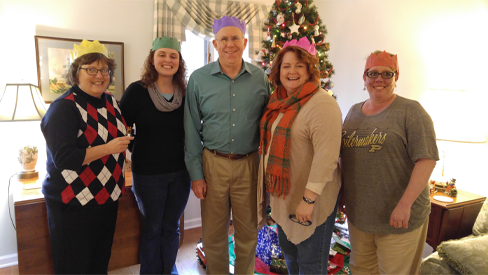 A full obituary for Mills, as well as a link to send flowers or share memories, is available here: Lawrence Brown-Service Funeral Home. To plant memorial trees in memory of Mills, visit the Sympathy Store.
Memorial contributions can be made to St. Andrew UMC (4703 N 50 W, West Lafayette, IN 47906) or Food Finders of Lafayette (1204 Greenbush St., Lafayette, IN 47904).
A celebration of life will take place in West Lafayette during the summer of 2021, date TBA.