When John and Joyce Moser were married in Hagerstown, Maryland, in 1964, their paths were already set for a new adventure. The pair was married on a Friday evening and by Monday morning, they were on their way to West Lafayette for John to begin his PhD work at Purdue, studying the application of quantitative science to forest resource management.

That move sparked a family tradition that is now three generations deep and impacted thousands of Boilermaker students in forestry and natural resources and computer science.
John completed his PhD in forestry in 1967. Joyce got a teaching job in West Lafayette, but also went to school alongside John, earning her master's degree in education in 1967. Dr. Moser went on to a 40-year career at Purdue, beginning as a graduate instructor and moving up to assistant department head before retiring in 2008 as a professor emeritus.
"John was offered jobs elsewhere, but we stayed on," Joyce recalls. "He was the president of the Society of American Foresters in 1994 and spent several years on the council for the national organization, but we have stayed here and we are still here."
Their three children – Joel, John and Jana – all earned bachelor's degrees from Purdue and each have gone on to successful careers in their respective fields. Jana Moser Davis earned her degree in hospitality and tourism management in 1990. John received his bachelor of science in industrial engineering (BSIE) in 1992. Joel completed his associate's degree of applied science (AAS) in 1991 and his bachelor's in mechanical technology in 1993.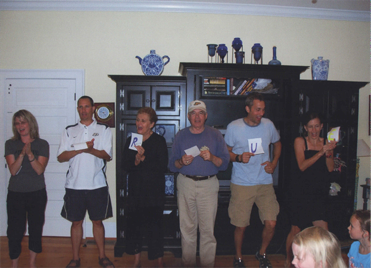 The Moser children even married Purdue alums, well, two out of three did. Jana's husband Boyd finished his degree in electrical engineering in 1990, while Joel's wife, Lori Smith Moser, graduated with a degree in accountancy-management from Krannert in 1995.
"We aren't all Purdue graduates in the family," Joyce says with a laugh. "We have a daughter-in-law, Brittany, in Atlanta, who graduated from Kansas. She was required to sing the Purdue fight song before the wedding. We didn't hold her to it, but she did know the words and they did get married."
Two of the Moser's grandchildren – Maebel (nursing 2021) and Oliver "Ollie" (construction management 2022) - are currently enrolled and set to graduate soon, and two more – Sherman Moser and Maggie Davis – will be coming to campus to begin their own Purdue journeys in the fall of 2021.
Even the family dog is named Pete after Purdue Pete, the Boilermaker mascot.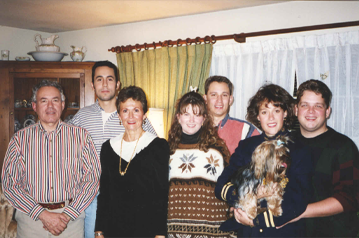 In addition to a family legacy full of Boilermakers or converted Purdue fans, the Mosers, who have been members of the Presidents' Council and Purdue Alumni Association for many years, have left their mark on campus in many seen and unseen ways.
A scholarship in forestry is dedicated in John's name (the John W. Moser Jr. Forestry Scholarship), while one in education bears Joyce's (the Joyce E. Moser Education Scholarship). The scholarships are available to in-state students of sophomore level or higher with at least a 3.0 GPA.
A bench in front of Pfendler Hall dedicated to the John and Joyce Moser Family offers a physical reminder of the family legacy for all to see.
The Moser family tree extends beyond biology through the 19 graduate students who worked under John's tutelage at Purdue and grew up alongside his own biological children and were often included as part of the family.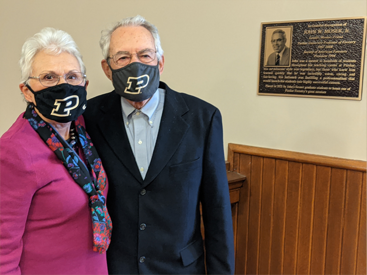 "The relationship between the graduate students and faculty was very collegial – family-like, really," 1979 Ph.D. alumnus David Hyink said. "This was a new experience for me and one that I always tried to perpetuate once I left Purdue.
The Mosers welcomed Steff and me into their family and we have fond memories of spending time with the Moser children, as well as with other family members of the Purdue faculty."
KaDonna Randolph, who completed her master's degree in 2000, remembers the bond that Dr. Moser shared with his family and passed along to his students through stories and photos.
"I remember best his dimly lit, wood-paneled office and stories about his children," Randolph said. "It was clear that he loved his family very much. One of my favorite memories is when his granddaughter Maebel was born. He was always quick to share pictures of her anytime I stopped by his office."
Joyce was also an important part of Moser's impact on his extended family of students.
"Shout out to Joyce," 1999 master's alumna Rachel Morse said. "She was a warm and welcoming presence for all of his students and graciously opened her home to us."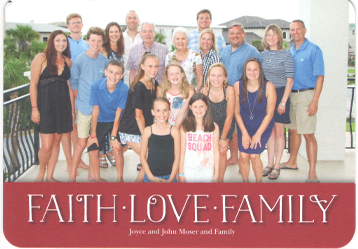 The Mosers return the love and feel a great sense of pride for the success of his former students.
"They have made great successes working for the government, working for Weyerhauser and other very respectable careers," Joyce said. "It has been very rewarding for us. It was very much a career well spent."
The Moser family will continue to impact future generations in Purdue Forestry and Natural Resources through a donation to the new FNR Building Fund.
"It is difficult to overestimate the tremendous contributions that Dr. John Moser and his wife Joyce have made to FNR and Purdue," FNR Department Head Dr. Bob Wagner said. "During John's 40-year career as a professor, he taught hundreds of students who went on to very successful forestry and natural resources careers around the world. This wonderful legacy continues with not only their many contributions to FNR student scholarships but now an incredibly generous contribution for a much-needed new FNR building. This gift will benefit students, staff, and faculty for many decades to come."