All our dreams can come true, if we have the courage to pursue them." – Walt Disney.
When Mary Cutler started her 40-year career with the Tippecanoe County Park and Recreation Department, the naturalist/environmental educator position she hoped to fill didn't even exist.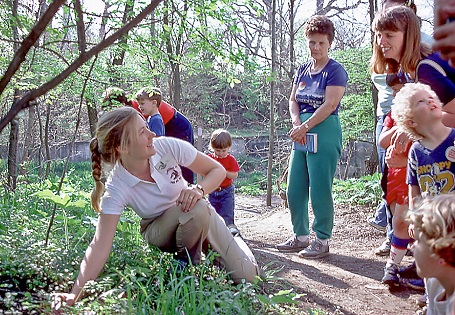 In fact, Cutler spent a year as a maintenance technician and then five years as a property manager before her dream job actually came into fruition.
Patience, the passion and drive to make it happen, and a forward-thinking supervisor paved the way to a career that saw Cutler named as the 2021 Lifetime Achievement recipient of the Chase S. Osborn Award for Wildlife Conservation, presented by Purdue Forestry and Natural Resources.
At the beginning of her journey, Cutler simply knew she had a love for animals and the outdoors after growing up in the suburbs on the northwest side of Chicago, playing outside and exploring her rural surroundings until the sun went down.
"There was a little kettle pond and there was a creek, so I could do all of those exploratory things on my own and that just created a connection with nature," Cutler explains. "I always had that connection and interest. It is pretty predictable really. You have those transformative and instrumental experiences when you are a kid and you develop that connection and then follow that logically into a career path."
Finding her footing in the exact path she would follow took time, however. Initially, her father pushed her toward veterinary school, thinking it would be a natural fit because of her love of animals. But Cutler says she didn't feel pulled in that direction and began investigating forestry and wildlife as academic options.
Still unsure of which aspect of forestry and natural resources she wanted to focus on, Cutler found comfort in the myriad of options Purdue University offered in terms of the various paths one could take within the forestry realm.

"I just planted myself at Purdue and spent a couple of years fine tuning what was the best fit for me," Cutler recalls. "I really felt that an all-encompassing systems approach of really appreciating and wanting to understand all aspects of the natural world, not just one piece of the puzzle, suited me. And then that notion of sharing that with others and communicating that with others became more and more important to me as I went through my career at Purdue. Wanting to take that beyond myself to share to the larger world pushed me into the environmental education and interpretation realm."
To Cutler's delight, Purdue offered a degree option in nature interpretation. But classwork and passion were not the only things that convinced Cutler that environmental education was the right path for her. She got her feet wet serving in a trio of seasonal positions, first as a nature program director at Camp Watervliet in Michigan; then as a seasonal interpretive naturalist at Dale Hollow Lake in Celina, Tennessee; and finally as an environmental educator at Camp Isaac Jogues in Madison, Ohio.
"On a very superficial level you think 'Oh, this seems like a good fit for me, this seems like something I'd want to do,' but the reality of what that looks like on a day to day basis can oftentimes be very different or can have elements that maybe aren't what you bargained for," Cutler explains. "So it was crucial for me, as it is for students today, to get those experiences and actually see what it looks like on a day to day, real world basis. Is this something I want to do day after day after day?
"Having experiences where I did a lot of things working with students at camps and environmental education centers and seeing how that looked and what that entailed in terms of a regular work environment, long hours, and sometimes stressful times of dealing with young people, hour after hour after hour, day after day after day, were critical and crucial. It takes a lot of patience, you need to be able to be flexible, you need to think on your feet, all those kinds of character skillsets that you have to either have or develop. Those summer experiences thankfully didn't turn me away, they made me want to pursue it. They told me this is what you are, this is what you really want."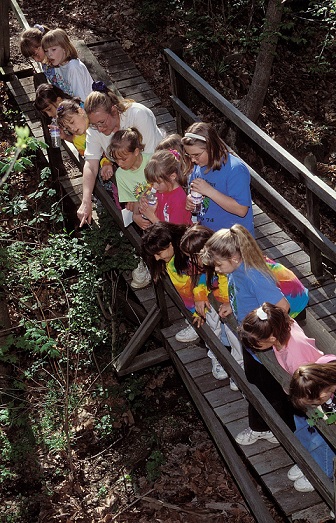 Unfortunately, for Cutler and her classmates, when she graduated in 1980 the job market was not ideal. Many of her friends ended up going back to school to explore other fields.
"It took a little grit and determination to want to stick it out through those tough job opportunity times and persist," Cutler said. "I think all of the professors really wanted us to be successful and they tried to provide opportunities for us and suggestions and information to help us stick it out so that we could become professionals in the field."
One of those professors, Dr. Doug Knudson, who was in charge of the nature interpretation and environmental education area of FNR, helped Cutler navigate the job market when she returned from her environmental educator job in Ohio.
"When I came back to Tippecanoe County, I checked in with him, not knowing what was out there or what the options were, and he said, 'let me make some calls,'" Cutler recalls. "And that's exactly what he did. He then connected me with the superintendent for the county park department. All they had was a very tenuous 35-hour a week, part-time maintenance position, but the idea was that it could possibly serve as a stepping stone to something else. In the beginning there was no naturalist position, no outreach at all within our department, but the superintendent at the time firmly believed that is where we wanted to go, that it was going to be an integral part of our department down the road. He said if I was patient and willing to put the time in the trenches prior to that and build toward that, he was hopeful that we could make it happen. And that is what happened.
"It really was one of those great serendipitous things where a professor was willing to stick his neck out and say 'hey, this is a student that I think has potential,' and a superintendent who was looking to the future at increasing what we could offer within the park department, and then myself being in the right place at the right time and being willing to be patient, because it wasn't you step right in and you've got the dream job, that had to be created over time."
After just 10 months in the maintenance role, Cutler was named as the property manager for the Tippecanoe Battlefield, where she was responsible for the maintenance of the grounds and facilities at the 103-acre National Historic Landmark. Although it wasn't a naturalist position, Cutler saw the opportunity to share not only the human history of the battle of Tippecanoe with visitors, but also the natural environment available on the property.
"I felt a sense of responsibility in the stewardship of that property, because it had its own reputation statewide and nationally as a historic landmark, which was cool," Cutler said. "You want to do the best job possible to really showcase the property, but in addition to the human history, there are more than 100 acres that haven't been disturbed much since that battle, so there was some great natural character there. That allowed me to take little baby steps and begin to provide environmental education related to the site, eventually open a nature center and utilize volunteers to staff it, all while I was still the property manager, due to the support and foresight of my prior superintendent, Ron Dye."
With the additional assistance of eminent ecologist Dr. Alton A. Lindsey, who lobbied for the creation of a naturalist position within Tippecanoe County, Cutler officially became the first County Naturalist in January 1988. In the time since, she has administered two nature centers, developed environmental education programs and overseen habitat improvement projects within the county park properties.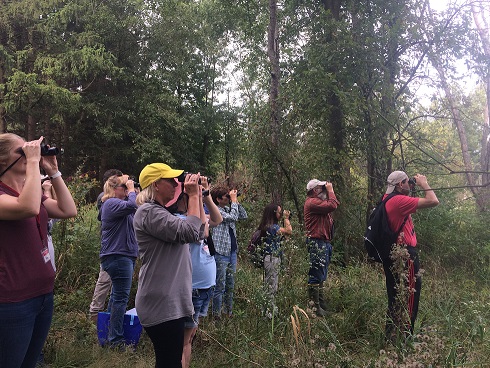 Her work has been recognized by agencies as varied as the Girl Scout Council (Bert Loeb Award 1990), the Environmental Education Association of America (Joe Wright Award for Environmental Education Excellence 1999; Howard Michaud Award for Career Dedication to Environmental Education 2009), Eli Lilly & Co. (Partners in Education Service Award 2003), Indianapolis Power & Light Co. (Golden Eagle Environmental Professor of the Year 2003), the Great Lakes Region of the National Association for Interpretation (Master Interpretive Manager 2016) and the Indiana Master Naturalist program (Indiana Master Naturalist Host of the Year 2017).
Cutler hit the ground running and did her best to fill the information gap both locally and across the region.
"In those early years in the late 1980s into the early 1990s, what I was doing for environmental education and nature interpretation was pretty much the only game in town," Cutler recalls. "There wasn't anything else happening in terms of things connected to wildlife conservation educationally in the area at all. It rapidly expanded from providing outreach and opportunities not only at the battlefield site and in the county, but then the region as well as the state. It really snowballed and took on a life of its own, because they were just so many opportunities and people wanting the outreach. They wanted someone to take what researchers and people who are learning how the natural world works and trying to serve as that conduit to share what people have learned about our amazing natural world with the general public. There was just a thirst for that."
Cutler is quick to note that she could not have made an impact without her partners across the state.
"A big part of why I've been able to do this as long as I have, and any successes I've had are always a part of partnerships and collaboration," Cutler said. "They have extended the ability to share messages related to the environment with audiences of all ages in very large areas, whether that's part of presentations or collaborative partnerships on projects with soil and water districts, water enhancement organizations, with the division of forestry and parks and natural resources at the state level and beyond. Those collaborations have also become a source of great joy in terms of great friendships that we've developed over the years. Truly all of the partnerships I've developed, which enabled me to do what I have done, are part and parcel of this award."
Whether it is developing widespread programs for the public or speaking one on one to park visitors, Cutler hopes her interactions create lasting connections that drive individuals to get involved and spread the word to others.
"It is often the little individual things or connections you remember, when an adult or a student shares with you that what you shared with them mattered; it changed their view about something and got them excited to learn more," Cutler said of what makes her career worth it. "You hope that people will want to use that experience as a springboard to further deeper understanding and, hopefully not only awareness and understanding, but stewardship of our natural resources. To get in the game, to get engaged. You'd like to hope that it's that ripple in the pond idea, that they can share what they know with others. Any one of us, we're just single individuals, but if we can impact other people who then impact others, you get that ripple effect. That's what I hope happens, that it's carried beyond those initial contacts to something bigger down the road."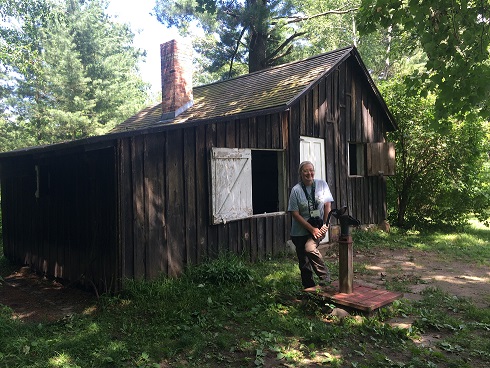 One of the long-running programs that gives Cutler great joy is the Wednesdays in the Wild program, which sees the county host a natural history related outreach event free to the public every Wednesday. Cutler along with community volunteer Joan Mohr Samuels are in their 20th year of producing the series.
"One thing that's mattered so much to me and has been so impactful over time is Wednesdays in the Wild," Cutler said. "We go to a lot of different venues and have an amazing slate of presenters. It's connecting people with natural resource professionals who can share with them what we know about our amazing world. I think about the impact of 20 years of something like that. And you'd like to think that over time, it has made some kind of impression."
There is no doubt that Cutler has made an impression on the many visitors to the properties she manages in the county and beyond, but finding out that she would be receiving the Chase S. Osborn Lifetime Achievement Award stunned her.
"I was incredibly humbled and overwhelmed when I talked to Dr. Barny Dunning and he shared the news with me," Cutler shared. "This just came out of left field. I had no idea I was even being considered for this and it was really overwhelming to receive notification that I was going to be granted this award. When I think about Indiana and our wildlife heritage, we have really oftentimes not appreciated and not provided good stewardship for our wildlife resources. To feel that I was being acknowledged as someone who, over the course of my career, helped to bring that awareness of the importance of our state's biodiversity and our wildlife heritage and the conservation of those resources and appreciation of those resources, that I was being honored for that was very, very humbling. It will certainly stand out as one of my most cherished awards to have received, especially coming from my alma mater. It really meant a lot to me to feel that I've been worthy of the time they invested in me way back when. Those four years as an undergraduate has paid off for them in terms of what I've been able to give back as a citizen of Indiana to our state and bring the knowledge and resources they shared with me to larger audiences. I'm deeply appreciative and very overwhelmed by this honor."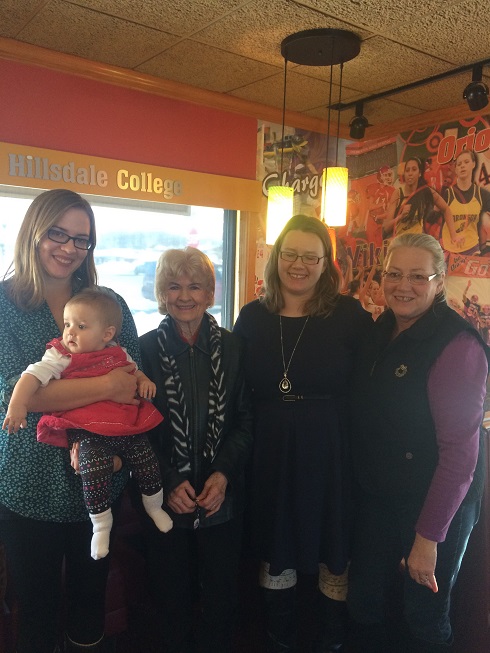 Cutler's appreciation was not only directed at her alma mater for giving her the award, but also toward the many individuals who have helped her make her dream of being a naturalist a reality, including her family, many collaborators and especially the volunteers who have assisted her.
"I certainly should start with my family - my husband Matthew and my two daughters Maureen and Laura - because one thing about this line of work is it isn't a nine to five job and you put in way more hours than what you are being paid for because you care about what you do and you want to do the best job that you can," Cutler stated. "There are just innumerable professionals doing work like this, day after day after day and they're making a difference and making an impact. I just want to give a shout out to all those amazing people.
"It's kind of crazy, but I do not have a staff. Occasionally I'll have part-time helpers, but for the most part what I've been able to do has relied heavily on volunteers. We have a group of approximately 50 community volunteers who staff the nature center at the Battlefield and I also supervised an equal number of volunteers who staffed the Lily Nature Center at the Celery Bog Nature Center when I administered that facility. Those people are gold. They are the unsung heroes because they're giving their greatest treasure, which is their time, to enhance the initiatives that we are providing the community in terms of outreach related to wildlife and natural resources."