FNR Assists with Natural Resources Teacher Institute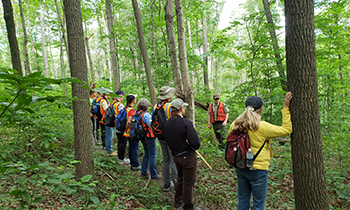 The sixth edition of the Natural Resources Teacher Institute (NRTI) took place at Morgan-Monroe State Forest and nearby locations from June 21 to 25. The five-day program introduced classroom teachers and other educators to Indiana forests through the lenses of public and private forest management, a long-term forest research project, forest products and industry, and the diversity of plant and animal communities supported by forests.
"One of the strengths of this program is having the time and locations to expose and involve the teachers in multiple aspects of forest management, benefits, and research," said Lenny Farlee, Purdue Forestry and Natural Resources Extension forester and sustaining hardwood extension specialist. "This exposure provides teachers new perspectives on the importance and complexity of forests, which they can pass along to their students. I think a better understanding of forests can lead to better decisions related to their use and management in the future."
Lead instructors for the NRTI were Farlee; Donna Rogler, Forestry Education Specialist and Project Learning Tree Coordinator for the Indiana Department of Natural Resources Division of Forestry; and Mary Cutler, Tippecanoe County Parks and Recreation naturalist.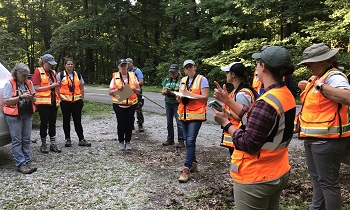 Participants are sponsored by individuals, companies, and organizations to attend the NRTI at no cost. Each teacher is provided with a tool kit of forestry equipment; reference books; a flash drive of teacher activities, resources, references and publications from The Nature of Teaching and Purdue Extension; handouts, and environmental education training and guidebooks for Project Learning Tree, an education program that uses the forest as a window on the world with activities specifically designed for classroom use.
The nine classroom teachers selected for the 2021 program were provided hands-on experiences and classroom-ready curricula, tools, and references to encourage them to incorporate what they learned into their classrooms. Previous programs have hosted up to 18 participants, but COVID restrictions limited capacity in 2021.
"Aside from the obvious benefits of exposing formal and informal educators to the science of modern forest management and its sustainable multi-use methodology, the NRTI also provides opportunities for participants to have impactful discussions with a host of woodland stakeholders," Cutler said. "In the course of one week, our educators are exposed to a wide range of perspectives. Through wide-ranging discussions with Institute presenters, we hope that they can begin to wrestle with pre-conceived notions about forest ecology, management and the wood products industry. The Institute fosters an atmosphere of open discussion, networking and collaboration which we hope will bear fruit as each participant returns to their own educational arena to share what they have learned with others."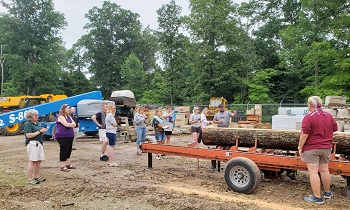 During the program participants interacted with several aspects of forest management and research. Public forest land managers from the Indiana Division of Forestry demonstrated forest management techniques and explained the practices they use to enhance the health and diversity of state forests. A visit to a private forest helped participants see the important role private forest landowners play in conservation of forest land.
Participants were introduced to research techniques and measurements they can use in their classroom by Charlotte Owings and Danielle Williams of the Hardwood Ecosystem Experiment, a long-term, large-scale study examining forest management impacts on a wide variety of wildlife and plant communities.
Purdue Extension specialist Jarred Brooke and Extension intern Rylee Tomey assisted participants with wildlife monitoring techniques they can integrate into their teaching. Conservation organizations also made presentations regarding the natural resource issues they are addressing.
Throughout the program, each teacher also worked on a lesson plan for their class, which they presented at the end of the five-day session.
"The Natural Resources Teacher Institute is the highpoint of my year and of my career," Rogler said. "Being able to provide these educators with hands-on learning as well as truthful, science-based information on the management of Indiana's forests is what I have dreamed of since college. The fact that our forestry organizations and forest products companies in Indiana find this program to be beneficial allows us to offer the Institute to these educators at no cost to them, giving us the ability to compete with other summer professional development opportunities. When we started the NRTI in 2014, I didn't know if it would make a difference. Each year I see the perceptions of forest management transform from negative to positive during this week. I finally feel that I am making a difference."
Past NRTI participants have shared feedback regarding their experiences:
"Excellent in every way."
"Very well organized, I can't wait to get back into school to get my students engaged."
"NRTI exceeded my expectations."
"The greatest value is the new perspective I have on forest management."
"This is new information for me to share with students."
"Great tools and lesson plans to directly impact instruction."
"A 100-year experiment is awesome, and it is just great to talk to those leading/doing research."
"This was a truly exceptional experience."
The NRTI is made possible through the cooperation of the following program partners: Indiana DNR Division of Forestry, Purdue University Department of Forestry and Natural Resources, the Hardwood Ecosystem Experiment, Indiana Forestry Education Foundation, and the Indiana Forestry and Woodland Owners Association. Additional financial support is provided by the Indiana Society of American Foresters, Indiana Hardwood Lumbermen's Association and many additional individuals, companies and organizations.
Primary, secondary, and other youth educators interested in attending future programs may contact Donna Rogler, Indiana PLT Coordinator, at drogler@dnr.IN.gov.