As part of National Volunteer Month, the U.S. Forest Service honored volunteers, partners, employees and resource assistants for their outstanding contributions to the Forest Service mission across the areas of restoration, cultural diversity, leadership, citizen stewardship and partnerships, and enduring service.
Each region nominates deserving volunteers and the Volunteer and Service Program office in Washington, D.C., coordinates selection of the winners.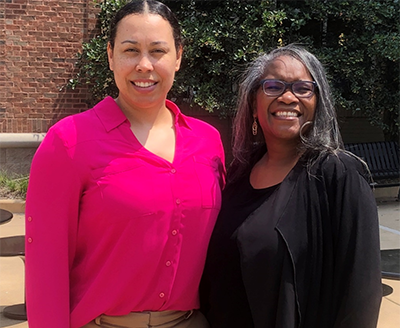 Dr. Shaneka Lawson, a USDA Forest Service Research Plant Physiologist and FNR adjunct assistant professor, was selected as the winner of the Cultural Diversity Award, which recognizes accomplishments that engage diverse abilities, skills, backgrounds, and cultures, and promote inclusion and cultural transformation. The recipient of this award demonstrates awareness of and serves as an advocate for the benefits of cultural transformation to further the Forest Service mission "to sustain the health, diversity, and productivity of the nation's forests and grasslands to meet the needs of present and future generations."
"With the number of individuals and teams participating in volunteer efforts across the Northern Research Station, receiving this award was an unexpected honor," Lawson said. "I am thankful that colleagues at Purdue and connections within Alpha Kappa Alpha Sorority, Inc., provided me with opportunities to support the educational enrichment of local youth. I am also grateful for the journey of self-development I embark on during each effort. Volunteering taps into your creative side and pushes you to come up with unique ways to make each experience positive and memorable for all involved. I have accepted this award during National Volunteer Month not just for myself, but on behalf of everyone whose influence made it possible."
Lawson, who received her PhD from Purdue in 2011, has been a plant physiologist and Special Emphasis Program Manager with the Forest Service's Northern Research Station based at Purdue since October 2011. Her primary research involves use of RNA-seq and molecular biology for comparative analysis of differentially expressed genes related to abiotic stress in tropical and Central Hardwoods Region forest tree populations. Most recently, Lawson's research focus has been improving establishment practices of pure and mixed hardwood plantations by refining soil suitability indices.
In addition, Lawson has initiated multiple programs geared toward creating a more diverse and inclusive work environment for minorities and youth.
In its awards announcement, the Forest Service summed up Lawson's diversity work:
Dr. Shaneka Lawson, a Forest Service employee with the Northern Research Station, collaborated with faculty at Purdue University to engage diverse populations of youth in a variety of activities and presentations, all geared towards environmental sustainability and opportunities to serve within the Forest Service. Her volunteer work focuses specifically on Cultural Diversity and has enhanced the experiences of those she has engaged. In FY2021, Dr. Lawson concentrated her efforts in three projects. She wrote a grant which funded an 8-week in-person summer immersion program for underrepresented students, who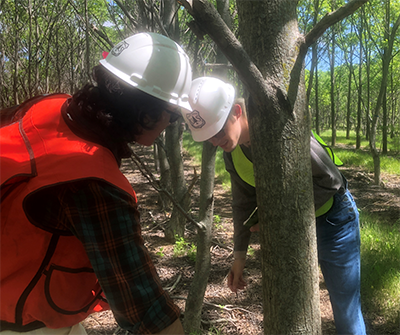 were introduced to natural resources disciplines and whom she led and mentored. She worked with Purdue's Office of Multicultural Programs to teach a 2-week virtual summer camp to introduce students to various careers and to write a manuscript that provides a historical account of the representation of women and minorities in agriculture. She collaborated with a Purdue sorority and the local library to engage minorities and minority youth programs to consider nature in poetry. Dr. Lawson reached a total of 192 students ranging in age and has steered her two interns to pursue careers in the USDA!
More information on the REEU Familiar Faces 8-week program and blog entries from participants are available at the links.
Dr. Keith Woeste, Project Leader for the Hardwood Tree Improvement and Regeneration Center and research geneticist with the Forest Service Northern Research Station, said that Lawson is a great ambassador due to her passion for the environment and ability to relate to the public.
"Shaneka is an outstanding spokesperson for our research unit," Woeste said. "Her volunteer efforts bring the message and values of the Northern Research Station and the USDA Forest Service to a public who cares deeply about the forests, grasslands, water and wildlife of our region. The people she meets trust her because of her professionalism, her knowledge, her care to reach out to persons who have been underserved by resource management agencies, and her winning smile. Shaneka's volunteer work shows she is a leader and a public servant. She makes the Forest Service a better place to work and better at meeting our commitment to all Americans."