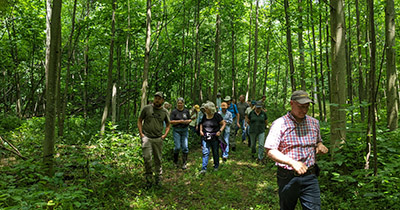 Purdue Forestry and Natural Resources student interns and staff participated in the Wednesdays in the Wild nature program this week, presenting an educational program to local residents and leading a tour of the site at Stephens Forest, a 105-acre forestland located seven miles northeast of Delphi, Indiana.
As they walked through the FNR-managed property, attendees learned about the history of the property, the unique diversity of species, deer control, invasive species identification and control methods, how to measure trees, timber quality and marketing, and various FNR research projects on site.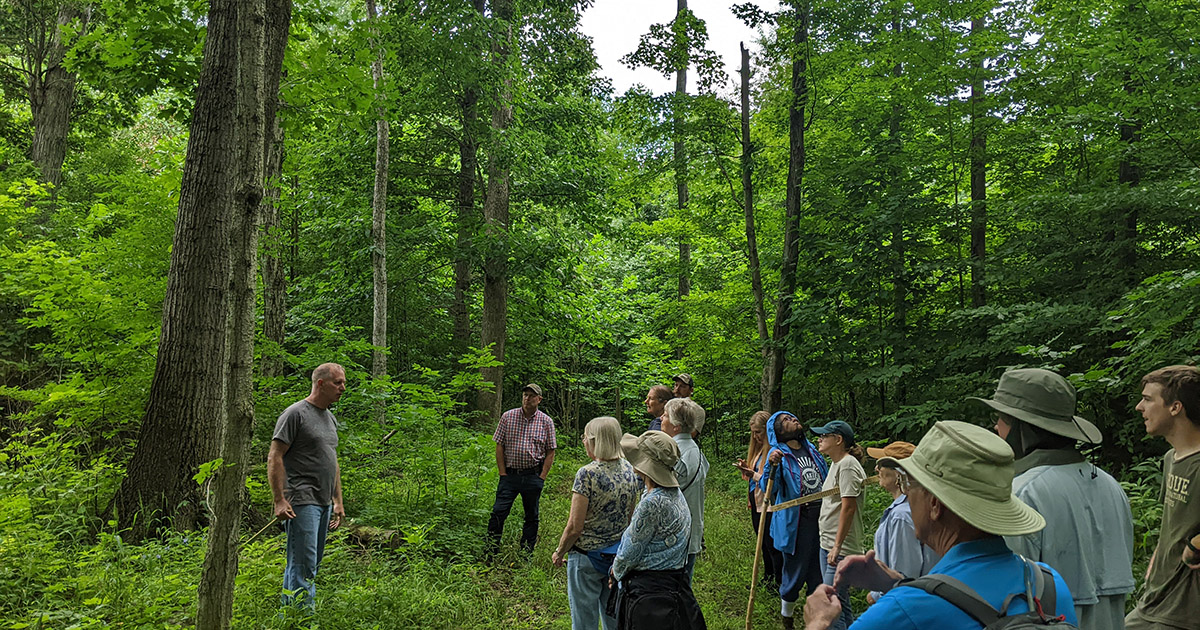 The forest features a mix of upland hardwood species, including oak, maple, walnut, ash, yellow poplar, beech and hickory. Black cherry, sweet gum and even patches of cucumber magnolia also can be found on the landscape. The property also includes a 3 1/2 acre wetland, which is home to wildlife, birds, reptiles and amphibians.
Stephens Forest includes two research plots, both featuring rows of red and white oak, walnut and cherry trees. In 2015, a research project on chickadee and titmouse began on site.  
Speakers at the event, which was organized by Tippecanoe County naturalist Mary Cutler, a 1980 FNR alumna, included FNR farm manager Brian Beheler, forester Don Carlson, assistant property manager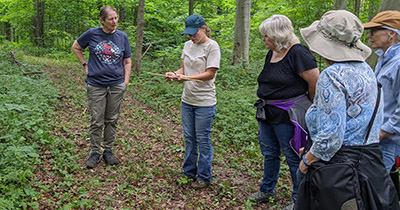 Clayton Emerson, assistant forester Stephen Volz, summer employees Summer Brown and Noah Ehmen and interns Russell Duke and Lauren Laux.
The history of Stephens Forest
In 1963, the research property was purchased by Frank Stephens Sr. Prior to that, the Peterson family owned it. In the 1950s, The Petersons planted several unique tree species, including bald cypress, cucumber magnolia, sweetgum, white pine and southern pine. They also are thought to have planted some of the walnut trees located along the field edges.
When Frank Stephens Sr. purchased the property, he sold some of the timber off the property to recoup some of his financial investment and also to remove some of the mature timber and release the better trees from excessive competition.  He soon developed a special appreciation for this property and decided to keep it for a recreational get-a-way for his family.  They built a cabin on the property and enjoyed many days relaxing and enjoying the beauty of the land. 
In 1971 or 1972, the Stephens hired a nursery to plant fields of approximately 24 acres of trees. Seeing the quality of the walnuts growing in the woodlands around his fields, he decided to plant the majority of the upland fields to a monoculture of walnut trees.  He also planted an acre of red oaks and another acre of tulip tree and some yellow poplar and sweetgum. 
In 1976, the property was transferred to Frank Stephens, Jr. and other family members.  They continued to enjoy and protect the property for the next 27 years.
In 2003, the family transferred the property to the Purdue Research Foundation to ensure it would continue to be enjoyed and protected from development, while providing a good resource to teach, research, and demonstrate forest stewardship in central Indiana. Purdue FNR strives to maintain this conservation legacy through wise management, innovative applied research projects, and the development of educational programs.