Each year, FNR recognizes a freshman, sophomore, junior and senior outstanding student. The Outstanding Student awards are given to the most outstanding student in each class as demonstrated by educational accomplishment, research, community service, student organization involvement and leadership, and involvement at the department, college, or university level.
Meet Outstanding Senior - Madison Kresse
Hometown: Elkhart, Ind.
Majors: Forestry and Wildlife
Madison Kresse is an FNR Ambassador. She is a member of Purdue's chapter of the Society of American Foresters, for which she served as president for the 2021-22 school year. She is a part of the Purdue Student Chapter of The Wildlife Society and has served as both treasurer and vice president. She is currently serving the Purdue Student Society of Arboriculture as its treasurer in 2022-23.
Kresse also has been a member of the Purdue Student Chapter of Environmental Education, the Environmental Science Club, the Botany Club and the Nature of Wild Things Learning Community. She also served as part of the College of Agriculture's Awards Committee.
Kresse was honored as FNR's Outstanding Junior, Durward Allen Memorial Award and Forestry Leadership Award honoree in 2022. She received the forestry sophomore academic merit award in 2021.
Kresse has gained hands-on experiences through a variety of research and work opportunities. She was a field technician for Dr. Mike Saunders' research lab in 2020, collecting data for white oak regeneration research and salamander research. She worked as an overstory field technician on the Hardwood Ecosystem Experiment in 2021, collecting data by measuring trees and checking the health condition of overstory trees and saplings. Kresse worked on Cassens Tree Farm during the winters of 2021 and 2022.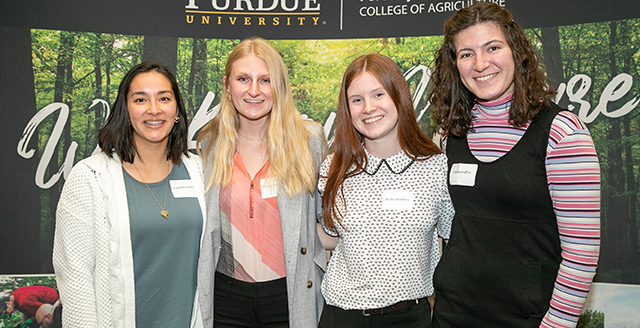 She spent the summer of 2022 working as a forestry technician with the U.S. Forest Service, assisting in the timber preparation process by tallying sample cruise trees and marking both cut and leave trees.
"While Madison worked for me on the HEE, she always had a positive attitude and a great work ethic," said Charlotte Owings, formerly the project coordinator on the HEE. "At one point in the summer, we needed help getting a project done that was different from the one she was currently working on. Madison volunteered to help and made it possible for us to finish both projects in time. She learned a new set of data collection protocols quickly and jumped right in. Madison is dependable, hardworking, and enthusiastic. I have enjoyed watching her take on leadership positions and new challenges in FNR the last few years. She has accomplished a lot in her four years at Purdue."
Kresse is currently a lab technician in Dr. John Couture's entomology lab, where she has performed lab analyses to determine the chemical composition of milkweed since December 2021.
She also has volunteered with NICHES Land Trust and Wolf Park and participated in bird banding and invasive plant removal through clubs and other involvement.
"Madison was a great help on my salamander project," master's student Alison Ochs said. "She had a great attitude, asked a lot of questions and showed a strong interest in the project, wildlife management and professional advancement, beyond just doing her job. She worked hard through some long days in the field. I appreciated that as it shows a strong willingness to learn and expand her skills and I was happy to help her learn more."
Academically, she has been on the Dean's List every semester since the fall of 2019. She earned an Alpha Lambda Delta Phi Eta Sigma Honor Society nomination in 2019 and 2020.
During her time at Purdue, Kresse has received the Roy C. Brundage Memorial scholarship, Rex Hall Memorial scholarship, Martell scholarship, Fraser Memorial Agriculture scholarship, Claude M. Gladden Memorial Fund scholarship, the Walter Hillis Guyer FNR scholarship, Purdue Club of Elkhart County scholarship, LaGrange County Community Foundation scholarship and the Purdue Presidential scholarship.
"I have had the pleasure of interacting with Madison in two different roles," graduate research assistant Eli Gaffney said. "First, I worked alongside Madison as a fellow field technician during the summer of 2021 at the HEE. I was also afforded the opportunity to see Madison's abilities as a student when I served as a TA for silviculture. Madison is a very intelligent individual, and the speed with which she learns to apply new concepts is impressive. In working with Madison in both the academic and field work spheres I have been continually impressed with her abilities. I have no doubt that wherever life takes her after Purdue, she has a bright future." 
The 2022-23 FNR Student of the Year award honorees are: