Illinois-Indiana Sea Grant, including the diversity and inclusion committee, was named as a finalist for the Purdue Office of Diversity, Inclusion and Belonging's Team Excellence Award.
IISG was honored at the inaugural Diversity, Inclusion and Belonging awards and recognition banquet Tuesday evening in the Purdue Memorial Union. The event recognized and celebrated the outstanding work of individual faculty and staff members and college teams who have prioritized innovative scholarship and/or practices that enhance inclusive excellence and a sense of belonging at Purdue. Nominees were considered for recognition for:
Impact on faculty, staff, or student experience through efforts that advance equity, inclusion, sense of belonging, and success of Boilermakers.
Excellence in scholarship through the creation of new knowledge, pedagogies, scholarly publications, and resources needed to advance understanding of diversity, inclusion and belonging at and beyond Purdue and support cutting-edge, transformative practices.
Impact on a national or international level through activities that foster diversity, equity, inclusion, belonging and success for underrepresented and/or underserved groups.
"This important work that we were recognized as a finalist for was made possible through the dedication,
talent, and persistence of our Illinois-Indiana Sea Grant colleagues and collaborators who inspire and motivate us," IISG Diversity Committee Lead Kara Salazar said. "It is a joy to work with such an inspirational group of people who work consistently and consciously to foster inclusion and belonging." 
Illinois-Indiana Sea Grant was nominated for the team excellence award by the Purdue Forestry and Natural Resources' Diversity, Equity, Inclusion and Justice committee for their efforts in all three areas.
"Our colleagues at Indiana Sea Grant have not only made increasing diversity, inclusion and belonging a priority in the way they conduct business internally, but they also have impacted the entire Department of Forestry and Natural Resources, as well as Purdue Extension personnel and Sea Grant programs across the nation by sharing their best practices," the DEIJ committee's letter of support said. "IISG also has made a difference for communities and underserved individuals from across the Great Lakes region through their outreach, scholarship and grant programs."
Illinois-Indiana Sea Grant strives to make research, outreach, education, and employment opportunities available and accessible to everyone, regardless of race, color, religion, place of origin, gender, sexual orientation, age, socio-economic status, disability, or veteran status. IISG formed an inclusion team in May 2018 to address and further diversity, equity, and inclusion in its engagement and research efforts and internal organizational processes. The inclusion team spearheaded efforts to support multiple advancements in DEI efforts that impact IISG partners and communities. The Illinois-Indiana Sea Grant values and land acknowledgment statements reflect this work, and IISG's decision to allow staff members the option of including personal pronouns on their staff profile pages was hailed across the Sea Grant network as a strong step toward including non-gender binary staff members.
The inclusion team meets monthly to identify priorities and conduct educational efforts, open to all IISG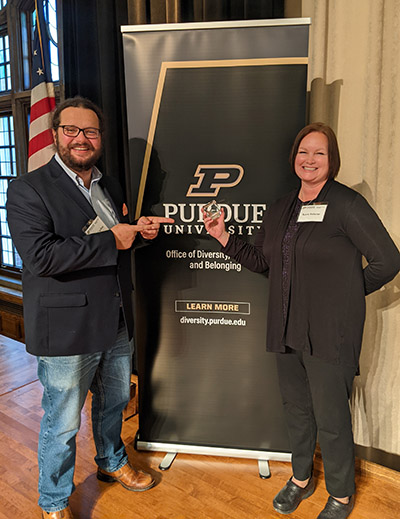 staff. The team has created a guidebook focused on Baseline Accommodations for Accessibility and Inclusion: Programs and Events to support engagement and outreach efforts. The guidebook is available on the Purdue FNR Diversity, Equity, Inclusion and Justice website and has been shared as an operating standard within FNR and also within Purdue Extension when planning events. It includes ways to ensure inclusion from making accommodations for dietary restrictions and ADA compliance to making presentations accessible to utilizing respectful language to create a welcoming environment for all.
IISG is also planning to conduct an internal organizational assessment for diversity, equity, and inclusion in 2023, and spent much of 2022 reviewing potential tools to be adapted for use in this effort. Their work has benefited from the collaboration with the College of Agriculture's Office of Multicultural Programs and several Purdue Cultural Centers, but IISG has in turn benefited others, particularly those in the Purdue Department of Forestry & Natural Resources (IISG's administrative home) and Purdue Extension, as IISG has shared their findings. 
By explicitly incorporating diverse perspectives and inclusive collaborating across stakeholder groups, IISG aims to foster more equitable and sustainable natural resource management. IISG celebrates the diversity of both people and nature as well as the complex interactions between them.
Through various engagement, outreach and other opportunities, IISG has exemplified its commitment to diversity, inclusion and belonging in all aspects of their work. 
Freedom Seekers
The Freedom Seekers curriculum is a collaborative project between several organizations and schools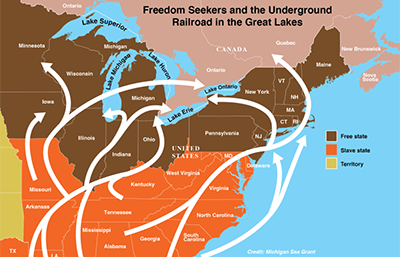 throughout the Great Lakes. Freedom Seekers were environmentalists who learned to navigate the land as they escaped slavery. The lessons featured in this free curriculum, Freedom Seekers: The Underground Railroad, Great Lakes, and Science Literacy Activities, acknowledge the enslaved Africans who had to rely on environmental science principles in their quest for life, liberty and the pursuit of happiness. These lessons provide educators with cross-curricular teaching opportunities for middle and high school students. This program is part of a professional development effort for educators to increase their knowledge of the Great Lakes and environmental issues while incorporating Environmental Justice Education (EJE) approaches to K-12 teaching. These EJE approaches leverage cross-curricular connections that focus on increasing the awareness of local issues and history in the Great Lakes region.
One Block at a Time
Community-driven planning and equitable adaptation through multi-benefit green infrastructure Great Lakes communities face multiple water-related climate challenges. Frontline communities, those marginalized due to income insecurities and effects of redlining, experience these challenges most acutely, yet have the fewest means to respond to stresses. Three Great Lakes Sea Grant programs (Illinois-Indiana, Minnesota,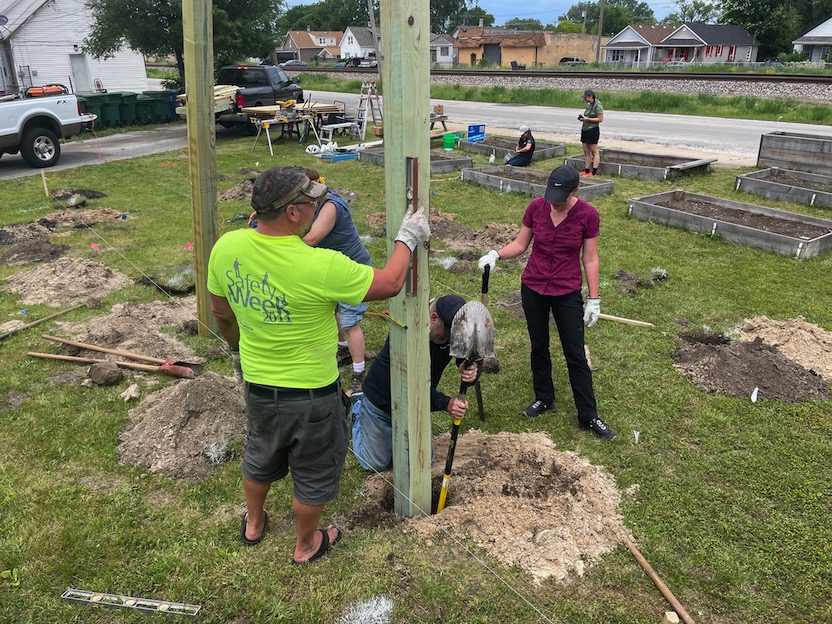 Pennsylvania) partnered to address the community impacts of flooding and extreme weather events through equitable and inclusive stormwater management planning and green infrastructure implementation. Efforts focus on improving resilience, one block at a time, with paired projects in four marginalized communities across the three states. In Michigan City and Hammond, Indiana, neighborhoods with high social vulnerability index scores are challenged with managing the complexities of flooding, extreme heat and drought, which are coupled with social issues such as food insecurity. Through IISG, the Northwest Indiana project team enhanced neighborhood resilience through site-specific focus groups that guided the installation of rainwater harvesting practices and rain gardens in community gardens. These community-centric engagement processes increase opportunities for diverse groups to access climate information and participate in planning, as well as increase environmental literacy surrounding climate hazards and mitigation strategies. The College of Agriculture released a story about the project in November 2022, which highlights the community collaborations and project impact.
Internship program
IISG has used its internship program to advance DEI goals in Illinois, Indiana, and beyond. In partnership with Shedd Aquarium in Chicago and the National Sea Grant Program, IISG's Community Engaged Internship (CEI) was an internship available in Summer 2022, which explicitly targeted applicants from underserved communities. The CEI program, which is a nationwide program available to any Sea Grant program, offered a chance for the intern to work at Shedd Aquarium, a world-class aquarium, education, and research facility in Chicago, and participate in professional development training sessions and activities. The CEI program was an immediate success, attracting 10 times more applicants than IISG's typical internship opening. In response to the demand, IISG is partnering with Shedd Aquarium again in 2023, while adding two new CEI opportunities: one with partners at the Indiana Dunes National Park and one with Chicago Wilderness. The CEI program is one of the several ways in which IISG is working to build a more diverse future workforce.
Research program
IISG issues competitive research opportunities (RFPs) at least once per year. Since 2020, the structure and review process in IISG-issued RFPs has changed in an attempt to encourage more meaningful engagement with, and support of, historically underserved communities, where a community may be underserved because of geographic location, racial and ethnic status, and/or other special needs (such as language barriers, disabilities, citizenship status or age). IISG's RFPs now feature language on the front page that indicates they will prioritize research projects that meaningfully engage with students, postdoctoral researchers, or other individuals from these communities, or will otherwise result in outcomes that benefit these communities. IISG RFPs also include bonus review criteria that are intended to help a project that reviews well from a science perspective but also has a strong plan to meaningfully engage with and support underserved communities compete with a project that reviews extremely well from a science perspective but makes no effort to engage underserved communities. 
IISG is currently supporting a collaboration between the University of Illinois at Chicago and the Boys and Girls Club in the Chicago area to engage marginalized middle school students in local conservation, the scientific process, and antibiotic discovery, and a project by researchers from the Ann & Robert Lurie Children's Hospital in Chicago who are using an equity lens to promote water safety in Chicago.
The individuals from IISG who were recognized as Diversity, Inclusion and Belonging Team Award finalists were:
Illinois-Indiana Sea Grant (IISG) is one of 34 Sea Grant Programs in the United States. At Purdue, IISG is housed within the Department of Forestry and Natural Resources and works collaboratively with Purdue Extension. IISG is funded through the National Oceanic and Atmospheric Administration (NOAA), the University of Illinois, and Purdue University. IISG works in partnership with key organizations, institutions, and agencies in the region to reach broader audiences and multiply opportunities for success. IISG brings together scientists, educators, policymakers, community decision-makers, outreach specialists, business leaders, and the general public to work towards a healthy environment and economy. Their focus is on the 104 miles of heavily urbanized and industrialized shoreline of southern Lake Michigan in Illinois and Indiana.