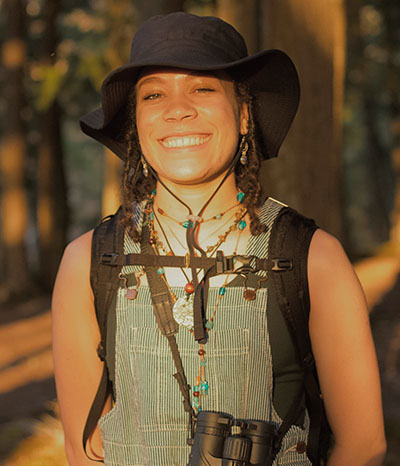 Senior wildlife major Sophia Flores has received a scholarship to study abroad in Tanzania, the Purdue National and International Scholarships office announced in May.
Flores has received a scholarship from the Benjamin A Gilman International Scholarship program, a part of the U.S. Department of State's Bureau of Educational and Cultural Affairs, which offers grants to pursue academic studies or credit- bearing internships abroad in any discipline. A Gilman Scholarship enables American students to gain proficiency in diverse languages and cultures, skills that are critically important to their academic and career development.
The Indianapolis native also is the recipient of a Boren Scholarship, which funds study abroad opportunities to countries with languages critical to U.S. national security. Boren scholars and fellows from diverse fields of study immerse themselves in the cultures in world regions underrepresented in study abroad, including Africa, Asia, Eurasia, Latin America, and the Middle East.
"Studying abroad was a goal of mine prior to college. it wasn't until my sophomore year that I decided that Africa was the first place I wanted to go. I have always been fascinated with African wildlife and have dreamt of conducting research there for a long time. Through the School for Field Studies, I will be completing the semester-long Wildlife Management program in Fall 2023. I am beyond excited about the wildlife I will see and the experiences I will get through this wildlife-specific program. My goal in completing this program is to learn more about East African culture, Swahili, habitat, wildlife ecology, and wildlife techniques. I hope this opportunity will open future doors for jobs in Tanzania or other African regions"
Flores, who is set for a May 2024 graduation, has gained natural resource-related experience through a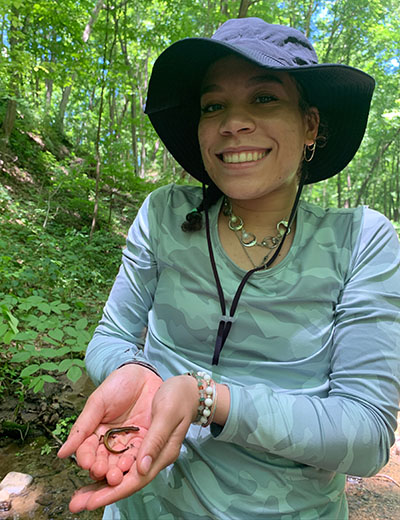 number of internships, lab and field positions.
In the summer of 2021, she participated in the Research and Extension Experiential Learning for Undergraduates (REEU) – Diversity in Faces, Spaces and Places of Natural Resources Science eight-week internship.
During the 2021-22 school year, Flores acted as an undergraduate lab technician for Dr. Liz Flaherty, conducting research related to Senegal chimpanzees.
She attended FNR's mandatory five-week Summer Practicum in May 2022, learning about orienteering, forest communities, mammals, birds and herpetiles and related field work skills. In June and July 2022, Flores took her newfound skills to the Morgan-Monroe and Yellowwood State Forests, where she worked as a wildlife field technician for the Hardwood Ecosystem Experiment.
Flores has also been involved with FNR clubs and student organizations, acting as the student council representative for the Purdue Student Chapter of Environmental Education (SCEE) and as an FNR Ambassador.
With classwork and field positions under her belt as well as an understanding of how to do research, Flores is excited to take those skills outside of Indiana, while immersing herself in another culture and environment.
"During my study abroad program, I will combine fieldwork and the study of African wildlife in
Rhotia, Tanzania, where I will be spending a semester studying and working at the Moyo Hill Camp, to gain a better understanding of wildlife management, East African culture, and language," Flores explained. "The multi-camping expeditions and field trips to indigenous communities, wildlife management areas, and varying ecosystems will expose me to life-altering experiences essential for my success as a wildlife biologist and proficient Swahili speaker. I am most excited to be completely immersed in indigenous culture while seeing charismatic wildlife along the journey.
"Given the influence of East African culture on natural resource conservation, I will also gain better insight into cross-cultural differences in wildlife management and research. After my study abroad, I intend to gain full fluency in Swahili before or while attending a master's program in Africa. After earning my bachelor's, I will pursue a master's degree in wildlife behavior and conservation at a program that encourages fieldwork alongside research, particularly as it concerns management in Africa. Such a degree will serve me well as I transition into a career focusing on wildlife behavior research, ideally within the U.S. Fish and Wildlife Service."