Students from Purdue Forestry and Natural Resources took their classroom knowledge to the field for summer internships and paid positions across the country, gaining valuable experience, hands-on training and career guidance. The FNR Field Reports series will offer updates from those individuals as summer positions draw to a close.
Autumn Hall, a sophomore wildlife major from Bedford, Indiana, worked as an intern with the Indiana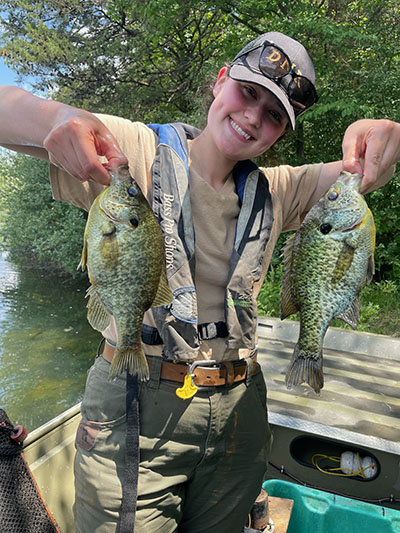 Department of Natural Resources alongside district fisheries biologist Dave Kittaka.
The duties of her position were to assist the District 5 fisheries biologist in surveys, district operations, and standard equipment maintenance.
"I learned a lot about the general duties of a district biologist, how to set a few different types of nets, including trap nets and gill nets, and I learned the procedure of how to perform electrofishing surveys," explained Hall, who is minoring in aquatic sciences. "My favorite parts of the job included having the opportunity to go to different properties and see the beautiful lakes and landscapes surrounding them and the opportunity for cross training and exposure to different biologist duties. The most challenging part was having little to no prior knowledge of what my position would entail. However, my boss was very patient and thorough when explaining new concepts to me."
While she developed new skills during the internship, Hall also was able to apply lessons from her classwork at Purdue as well.
"I was able to apply my exposure to the different information such as net types from my Intro to Marine Biology course," Hall said. "Also, courses such as Intro to Botany and Lab Ecology: Birds and Mammals helped me to identify species in a natural setting."
During the internship, Hall was able to participate in a Michigan style trap net survey at Grouse Ridge Lake, which exposed her to a number of fish of a variety of species and sizes. An electrofishing survey at Greene Sullivan State Park allowed her to get hands-on in processing fish, taking measurements and using various weights and scales.
Among other experiences, Hall was part of a search for endangered Kirtland's snakes on an Indiana
Department of Transportation property in Bloomington. She also observed a barn owl banding in southern Indiana.
"I do not have a set career in mind yet, but I really enjoyed this internship," Hall said. "One experience that really stood out to me was how passionate each biologist was about their specific area of study. It was inspiring to see."
With the internship behind her, Hall is focused on the future including involvement in the student organizations and classes FNR has to offer.
"I plan to be more active in The Wildlife Society and possibly join the American Fisheries Society," Hall shared. "This internship gave me some reassurance that I chose the right major for me and I am so excited to start this new semester."