Students from Purdue Forestry and Natural Resources took their classroom knowledge to the field for summer internships and paid positions across the country, gaining valuable experience, hands-on training and career guidance. The FNR Field Reports series will offer updates from those individuals as summer positions draw to a close.
Ren Schiller, a senior interdisciplinary agriculture major with a minor in aquatic sciences, served as an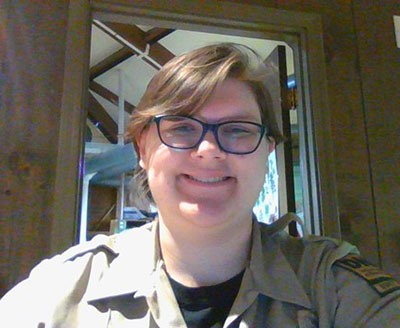 interpretive naturalist with the Indiana Department of Natural Resources.
As an interpretive naturalist stationed at the Nature Center at Deam Lake State Recreation Area, the Sellersburg, Indiana, native, led programs ranging from hiking to kayaking and fishing as well as events related to pollinator week, s'mores and more.
"I led programs introducing people to different parts of the natural world and answered lots of questions," Schiller said. "I led programs on the weekends and, during the week, I talked to people at the nature center. I was able to share what I've learned with other people. If people wanted to talk about fish, we would talk fish! I also have a soft spot for reptiles and amphibians, so I loved it when kids told me about the frogs they caught (and let go)."
The interpretive naturalist position not only let Schiller share knowledge with others, but also allowed them to grow personally.
"I learned a lot from this job and I learned a lot about myself as well," Schiller shared. "I enjoy interacting with people, I just need more practice. I gained more confidence in my ability to teach and guide. The most challenging parts of the job for me were convincing myself that yes, people do want to talk about this stuff and that you can talk to them. I have social anxiety pretty bad sometimes and I had to push through it a lot here. Some days I just didn't want to deal with people and I wanted to hide in my office all day, but part of my job was to talk to people, so I couldn't do that. I think this job was good for me."
The job also exposed Schiller to new skills and experiences.
"My favorite part was learning to kayak," Schiller said. "I had never kayaked before, but I got in and just kind
of went with it. I love kayaking now and I even taught some others to do it. It was always so much fun and cool to be out on the water and see different things.
"I also loved talking to the little kids. Kids can be either really fun or little terrors. I already knew that, but this solidified it. They are always so eager to talk about something. One little girl even gave me a hug before she had to leave the nature center. She was the one who asked me why I didn't have any kids. She was hilarious. Another child gave me snowflake art that looks like a Rorschach test, and I will always treasure it."
Schiller's summer was not without a few bumps in the road, however.
"One of the first things that happened after I had been told I was hired was that I crashed my car," Schiller recalled. "I was literally on my way home to grab some documents and I managed to total my car. I was at fault and I was fine with just a few burns and scrapes from the airbag. I had to get a new car and take out a loan for the first time. I can look back and laugh now just because of the circumstances, but man, I wish that hadn't happened."
After the rough start, Schiller met several impactful people and had memorable experiences.
"I held a Pride event in June at Deam Lake, and I am so very proud of that as a Queer person," Schiller said. "I learned that the DNR has practically no funding and that the people who work there genuinely want to help people have a good time and learn about the world around them. I worked with the assistant manager of Deam Lake a lot. He is amazing and does so much and really wants the park and its events to be successful. This position didn't really change my career goals as my love for aquatics was pretty well established, but I had a lot of fun this summer."
Schiller also made a new friend and picked up a new hobby.
"We got an eastern box turtle in the nature center this summer and he was my little grumpy companion for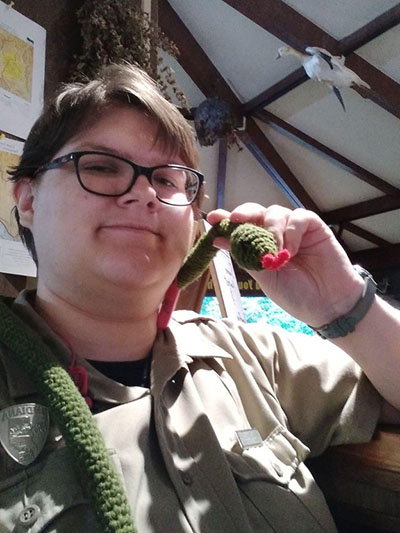 the last half of the summer," Schiller shared.  "We are not supposed to name them to discourage people from seeing them as pets. They are illegal to capture from the wild. This turtle's story is wild and long so I won't tell it all here, but to make it short, if we hadn't taken him, he and his tank mate would have been killed. I will miss him. I also got really into crochet this summer. On really slow days, I would have nothing to do, so I started crocheting."
Previously, Schiller gained hands-on experience within Purdue FNR as a research assistant in the Aquaculture Research Lab, working with Yu-Ting Chu and her experiment on shrimp and aquaponics, and also was part of the Marine Biology Club.
Schiller has two semesters left of course work at Purdue and has big plans for the future.
"What I want to do has a bit to do with talking to the public, so hopefully I will get better at that," Schiller said. "I want to graduate with my current degree and then someday go to vet school and help to rehabilitate injured sea animals. I wanted to be a vet as a little kid, then I realized that I really love the ocean and marine life, so I just put them together."