Indiana Farmland Values and Cash Rental Rates
Purdue Farmland Value and Cash Rent Survey
The Purdue Farmland Value and Cash Rent Survey is conducted each June. The survey respondents are knowledgeable of Indiana's farmland market and include farm managers, rural appraisers, farmland brokers, agricultural loan officers, farmers, and Farm Service Agency (FSA) county office directors.
These professionals provide an estimate of the market value for bare poor, average, and top quality farmland in the prior December, June of the current year, and a forecast for the upcoming December. To assess productivity of the farmland, respondents provide an estimate of long-term corn yield for top, average, and poor productivity farmland. Respondents also provide a market value estimate for land transitioning out of agriculture and for recreational land.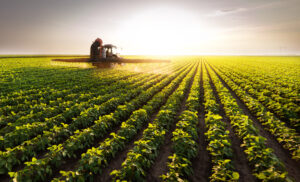 Indiana farmland prices once again hit record highs in 2023, according to the recent Purdue Farmland Value and Cash Rents Survey.
Read More
Purdue ag economists Todd Kuethe, James Mintert and Michael Langemeier discuss Indiana farmland values and cash rental rates on two episodes of the Purdue Commercial AgCast discussing the 2023 Purdue Farmland Values and Cash Rents Survey results.
Indiana farm real estate index numbers from 1912 through 1986 were taken from various USDA publications. Beginning in 1987, USDA discontinued publishing the index but continued publication of dollar estimates of farm real estate values and annual percentage changes. The index numbers from 1987 on were calculated from these published figures and were not adjusted to reflect census-based revisions on dollar values published by USDA. For this reason, year-to-year percentage changes in the index may differ from those based on dollar values published by USDA.
The data reported here provide general guidelines regarding farmland values and cash rent. To obtain a more precise value of an individual tract, contact a professional appraiser or farm manager that has a good understanding of the local market.