Search our entire resource library
You're viewing a specific archive. Looking for something and want to search by keyword or just take a general look at ALL our resources? Click Search below!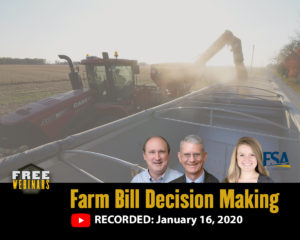 Recorded January 16, 2020 | Purdue agricultural economists, Michael Langemeier and James Mintert, and Kaitlin Myers, State Agricultural Program Specialist from USDA's Indiana Farm Service Agency, discuss options for enrolling your farm in the 2018 Farm Bill program. Slides, the video recording, and the University of Illinois spreadsheet tool presented during the webinar are available.
Read More