Search our entire resource library
You're viewing a specific archive. Looking for something and want to search by keyword or just take a general look at ALL our resources? Click Search below!
Top Farmer 2020 slidedeck presentation by Chad Hart, Associate Professor of Economics, Iowa State University. Examine the current outlook for corn and soybeans, but also take a longer view of what's ahead for the U.S. ag economy and the management implications for the next several years.
Read More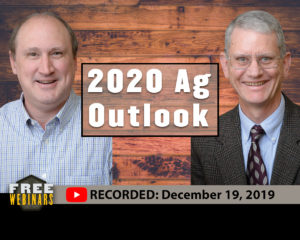 Recorded December 19, 2019 | Michael Langemeier and Jim Mintert provide an overview of key supply and demand drivers for corn and soybeans, examines basis patterns and possible storage returns, provides updated 2020 crop budget projections, and takes a first look at pricing opportunities for the 2020 corn and soybean crops.
Read More