Farm Success and Technology Adoption
Full Abstract 
by Michael Langemeier
A business can outperform its rivals only if it can establish a difference that it can preserve.  Identifying and utilizing unique resources that are difficult to obtain is a key component in sustaining a firm's competitive advantage.  In production agriculture, adopting technology and increasing productivity is a critical ingredient for success.  Productivity has historically created large increases in output and improved resource use, and is critical for feeding a growing population with a growing per capital income.  Adopting precision agriculture technologies is one of ways to further improve productivity.  The adoption of precision agriculture will have payoffs for agricultural producers, the agribusiness value chain, and the environment.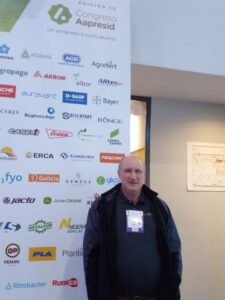 Short Bio: 
Michael Langemeier is a Professor of Agricultural Economics in the Department of Agricultural Economics at Purdue University. Primary areas of interest include agricultural finance, farm management, and farmer sentiment.
Short Abstract:
This presentation will discuss competitive advantage, technology adoption and productivity, and precision agriculture. The adoption of precision agriculture technologies is critical to world food security.
Farm Success and Technology Adoption slidedeck presentation by Michael Langemeier given in Rosario, Argentina as part of the Edición 30 Congreso Aapresid.
langemeier_argentina_presentation_august 2022