Jian Jin, Assistant Professor of Agricultural and Biological Engineering, knows to make progress, one must continuously move forward.  The mindset is reflected in his life, and in the plants in his automated greenhouse.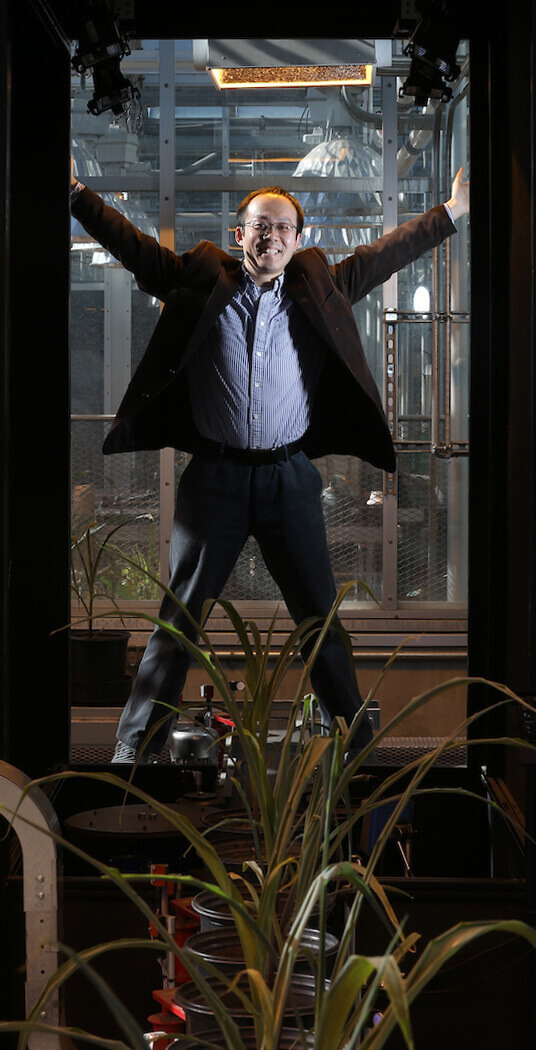 Jin first found success in the phenotyping industry, designing imaging systems for plant screening. After finishing a milestone facility construction project in the industry, he decided to switch to academia to continue the exploration of new phenotyping technologies. Jin joined Purdue, drawn by the opportunities to bring new ideas to life.
"We do higher risk, higher reward research as we explore frontiers," says Jin. "Then, when we find something, we publish those findings. Many other people can adopt those new developments or technologies to be applied."
In one of the greenhouses his lab oversees, Jin utilized conveyors for an advanced imaging system that enables researchers to perform automatic hyperspectral imaging of over 100 potted plants on an hourly basis. Stationary plants are affected by microclimates within a greenhouse.  In a single room, factors like lighting, sunshine, temperature, and air circulation can vary significantly.
"We had a crazy idea: why don't we shuffle all the plants 24/7?
Can we remove that microclimate issue and collect continuous phenotyping data at the same time?"
Jin's studies show that the conveyor system can eliminate 90% of plant variance. This assures the recorded differences between plants stem from genetics, not environmental factors.
Scanning the plants hourly provides a crucial advantage for Jin. Rarely are other plant imagers and manual measurements performed on a single plant more than once a day.
"Plants have a biological clock.  It's very different from time to time," says Jin. "If, when I'm sleeping, you measure my heartbeat or blood pressure, those features are very low.  Right now, I'm actively talking.  If you measure my biological features now, everything is actually much higher.  After jogging, you can imagine, it's very different. It's actually the same situation for plants."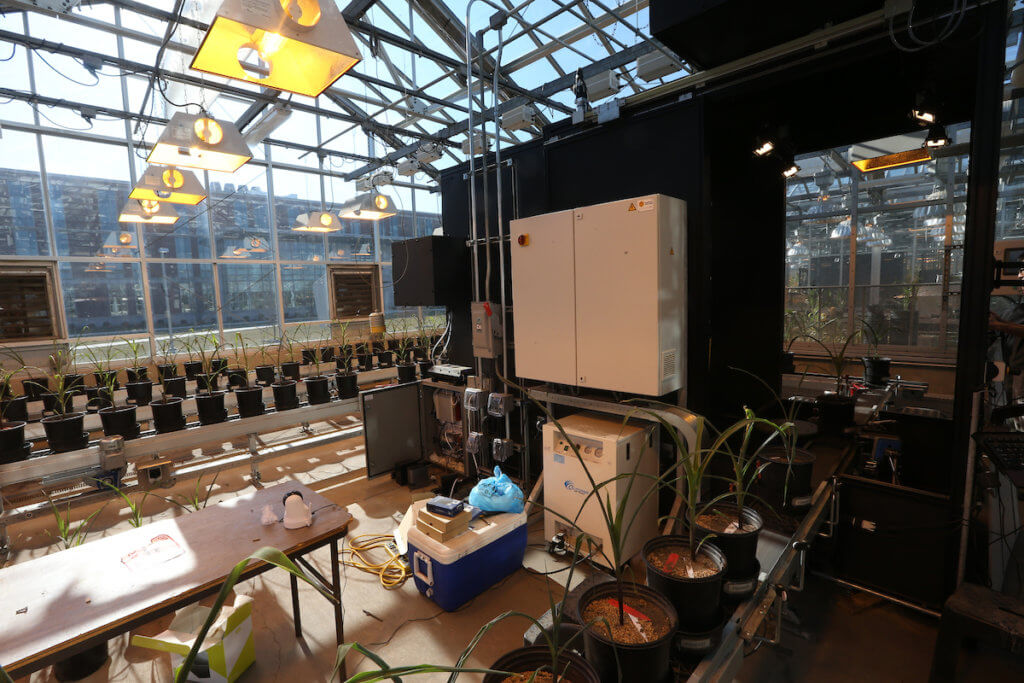 Precision is also the reason Jin uses hyperspectral imaging.  While human eyes see visible light in three bands, hyperspectral imaging detects a broader spectrum and measures in narrower bands.  The hyperspectral cameras can gather up to 10 terabytes of data each day. With such an influx of information, Jin places a high value on colleagues with the expertise to sift through vast sets of data.
"The image processing and data processing scientists behind the equipment are very important.  For hyperspectral cameras, each pixel can have hundreds or thousands of values. How do you store and process that data?  With better processing, you can see your imaging results in just a few hours or even immediately after the imaging. "
Digital agriculture innovations continue to stem from Jin's lab.  A second automatic high-throughput phenotyping greenhouse utilizes an overhead collection of cameras that travels to the plants.  The greenhouse system simulates the remote sensing of a drone in the field and offers a combination of hyperspectral, thermal, and 3D imaging.
Purdue engineers developed a handheld hyperspectral imager with Jin's lab as well.  It compactly provides the benefits of a precise signal with a lower price than similar offerings.
Jin's next endeavor is an outdoor automatic imaging system at the Agronomy Center for Research and Education. Upon its completion this summer, a hyperspectral camera will automatically traverse a rail approximately 25 feet above the field, providing remote sensing at a fairly high frequency.
"My goal here is to keep developing ideas," says Jin. "The best sensor system for the next generation… We have to take some risks.  We have to do something people have never done before. With all those new ideas, many will fail.  We've failed several times already, but sometimes we try some new ideas that work and improve the value for farmers and consumers."
Jin continued, "This is a really exciting time at Purdue. Different modes of automatic phenotyping, and different cameras. We've learned a lot from these facilities."
Photos by Tom Campbell